School cancelled & chilling during Quarantine!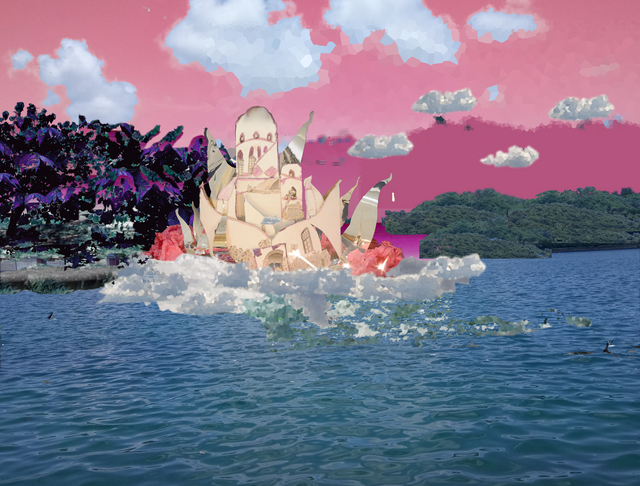 Hello everyone!
This image is of a floating city I made in my digital art class. I built the cardboard castle for a film a long time ago and used a still of the video and some pictues of the ocean in the Caribbean to make this! The theme for my projects in this class is fact vs fiction. For me, this city is one that exists only for certain people who know how to find it in their dreams. I have a poster I'm excited to show you as well.
I've been following the Steem situation closely. I'm actually very excited that reliable devs have decided to fork. I imagine I will remain on both chains (until the steem one breaks or something lol). It makes me really excited to see everyone pushing forward to create something without the roadblocks Steemit presented.
I have to admit that this whole situation has reminded me of why I love steem so much. It's my most beloved blockchain. It's such a great place to be. There's so much more I want to learn about it and build with it, but all that will have to wait for school and more financial stability.
Speaking of school, we now have no more in-person classes until the end of term. Covid19 has hit Canada and universities are closed as well as many major businesses and gathering places. I've been staying home as advised because we should be doing our best to not spread the virus even if we don't have symptoms ourselves. It has made me laugh though that this virus really came at an interesting time with all the protests in the world essentially being quelled. >_> X3
My teachers so far are being really understanding and giving us extra time to do our work while the university sets up online capabilities. The result is a much slower pace which is really nice. I really only go out to get groceries every once in a while. It's interesting that the crypto markets were taking such a beating because cash is definitely not king during a pandemic! Lots of places won't accept it right now. Many stores are out of certain supplies but retailers and politicians are pleading with folks not to panic buy. The whole situation reminds me how much I love gardening and how important food security is to me as a whole. If I have more time at home this spring I'm definitely doing something with our balconey. Especially since we might experience some lingering economic effects from everything going on right now.
I hope everyone is taking care and trying to enjoy the rest. xo I'm so proud of how everyone is pushing forward during this chaotic time.
xo
~ Ciel