Vote Steem for Social Network of the Year in Hackernoon's Noonies Awards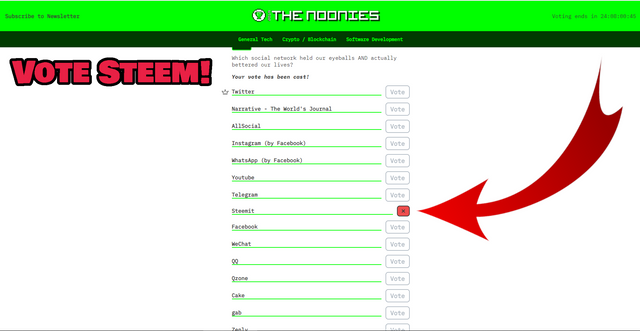 What are The Noonie Awards?
---
According to hackernoon.com, this is The Tech Industry's Greenest Awards.
Welcome to Hackernoon's First Annual Noonies - where everything's democratic and your votes are the only things that matter. Voting closes on 16 August and winners will be announced on 20 August.
Quote from hackernoon.com,
And Steem is nominated in the Social Network of the Year category!
Anyone in the know, knows that Hackernoon are one of blockchain tech industries oldest and most well respected newsletters. They provide weekly articles straight to your inbox in true old school styleee. Check em out and subscribe for plenty of crypto updates in articles from industry leaders.
There is plenty of time to vote for steem in the Social Network of the Year category! Voting will be open until 16th of August.
To vote please follow the link below and add your voice to try and topple twitter from the top spot.
https://noonies.hackernoon.com/award/cjxcaksd46uok0b12ezynf20u
There aren't many votes yet (376 votes at time of writing this post). So if we mobilize the steem army, both here and those who are consistently hammering promo on twitter with @nathanmars #Seven77 movement, as well as the promotional might of @theycallmedan and the #newsteem peeps, I'm sure we can run away with this award.
I shall be sharing this link to mobilize the troops on twitter from my account
... so lets all pull together to show the world, once again, that steem is the best decentralized social media out there.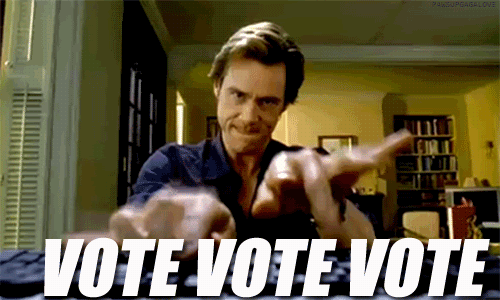 Cheers,

The picture used in this post is a screenshot, fair use. If you have enjoyed this post, please check out my homepage @raj808 for similar content. Thank you.