Upvote Shares Level 18 (100% Complete)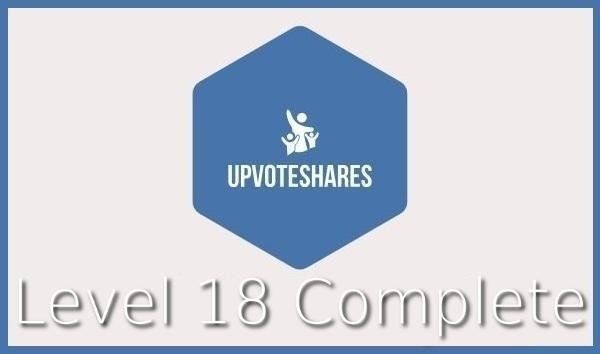 Upvote Shares is a project from @costanza that aims to provide Daily Upvotes based on a fair model that should be sustainable and scalable over time. More on the Model Mechanics can be found here. These posts are made each time a level is complete and include all the details of the different Shareholders and Sponsorships
---
Level 18
Level 18 Is now complete a couple of days behind of schedule because I have been quite busy as of late and am less willing to put my time into sending a lot of personal messages to get some of the yet to be confirmed shares along with some sponsorships all properly assigned.
The response when it came to giving out minnowshares sponsorships that come with each share for minnows was the lowest ever this round and it pretty much reflects everything that is going on with HF21. The non-linear reward curve makes it impossible to support minnows these days because votes are worth a lot less on their posts on average. I'm not sure if it's worth continuing the minnowshares side account as few seem to care anymore and the difference it all makes is neglectable. I might pause it next round and put shareholders on its auto-upvote list instead as an extra way to make up for the 50/50 reward split. There are still many conversion shares and I will make sure nobody who saved up multiple minnowshare sponsorships will be affected!
---
I continue to increase the staked steem-engine token selling some airdrops that are less useful for most shareholders and am mostly focussed on PAL, SPORTS & LEO
---
| Coin | Powered Up |
| --- | --- |
| STEEM | 4770 STEEM POWER |
| PAL | 727 PAL |
| SPORTS | 55000 SPORTS |
| LEO | 500 LEO |
---
Level 18 Shares
---
---
6 Shares I didn't get a proper reply for in time were bought up by the program and will increase the returns for all active shareholders a bit more. Only 14 Minnowshare sponsorships were actually properly assigned and I used some of the previously assigned sponsorships to get it filled up more. An extra lease will be added this week!
---
All Minnows that were sponsored added to the upvote list from the @minnowshares account from which they now receive upvotes until the next level is complete. For more info in case you got sponsored see This Post
---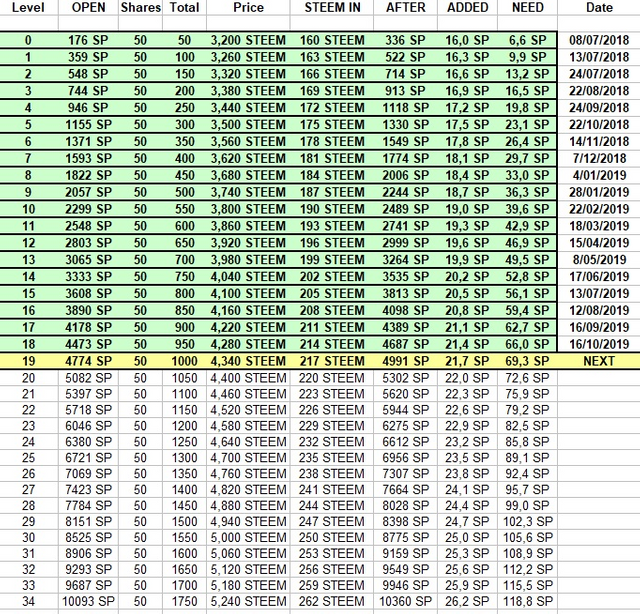 Read Table:

The Account reached 4473SP which opened up Level 18 and made 50 new shares available that were acquired for 4.280 STEEM each (214 STEEM Total). This was Powered Up and 21.4SP (10%) was added on top. (an equal amount was paid out as curation rewards to shareholders) The account now needs to reach 4774SP (+21.7SP) making every share worth 4.340 STEEM to open up Level 19 ...
---
Previous Levels Information
---
Spreadsheet Updates
50 Free share conversions (Paid for by the program) have been given out so far and the required number of spornsorships went up to 9 now.
---
---
100% of the token earnings from this post will go towards growing this account and increasing the value of each share. As always feel free to leave remarks, suggestions or questions in the comments and let me know if I made a mistake somewhere. Thanks Everyone !