Hello and welcome to my first episode (I think) of Cooking with Alan where I make things that are a little different in my kitchen. I was gonna make a video, but Aedan didn't want to hold my phone for me to record it, so I just talked to him like I was a YouTube video. It didn't take him long to "click on a different video"...
Well anyway, first we started with making sushi rice and Akiko beans. Aedan really likes the creative sushi ideas we come up with too. This week for lunch is an Italian sushi, stuffed with salami, spinach, mozzarella, parmesan, and the usual strips of carrots and cucumbers.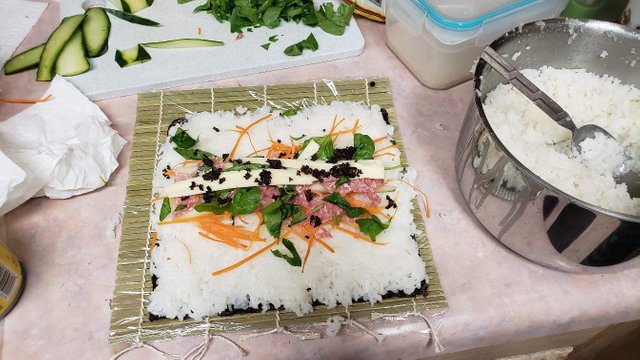 Rolled it up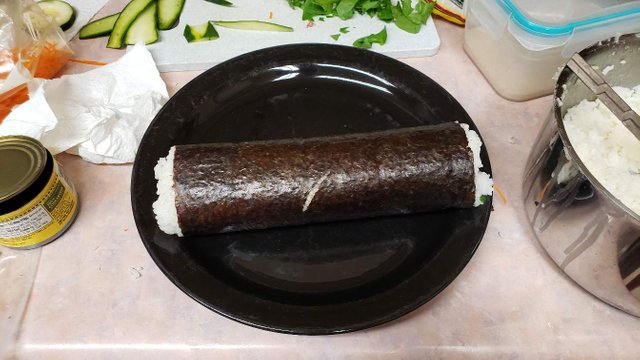 And sliced it.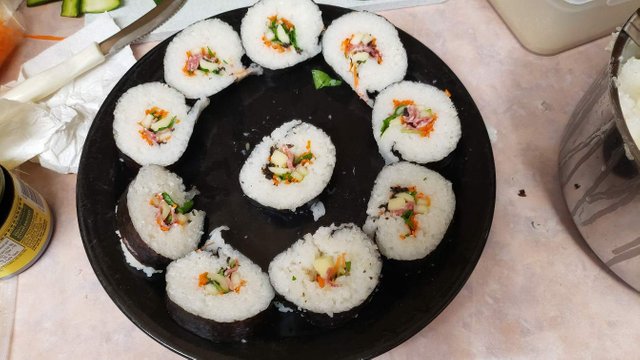 Then it was the Akiko red bean paste. Zara bought a cast aluminum fish press pan thing basically to make fish-shaped cakes. Heat it, grease it, pour in some rice-based waffle/pancake batter, add a glob of the sweet red bean paste, top off with more batter, and clamp shut to cook. I don't have a pic of these specifically, but they make a presence in an upcoming pic. It makes a pretty nice little breakfast.
Then we took a break and played some Minecraft.
Oops! Too long a break! Back to the kitchen to make dinner!
I found what I thought was a chicken breast in the freezer the night before and put it in the fridge for tonight's dinner. I was thinking something like... Southwestern-style Chicken Bacon Ranch something or other.
Well I found out it was a turkey tenderloin when I went to cut it up. Not a problem, turkey bacon ranch is a thing. So I fried up some bacon, then removed it and tossed the turkey into the bacon fat. Fried up all nice. Then I added water, corn, and some fresh cherry tomatoes and zucchini from our garden. I simmered that for a bit and added some taco seasoning. Then on to a pot of regular rice.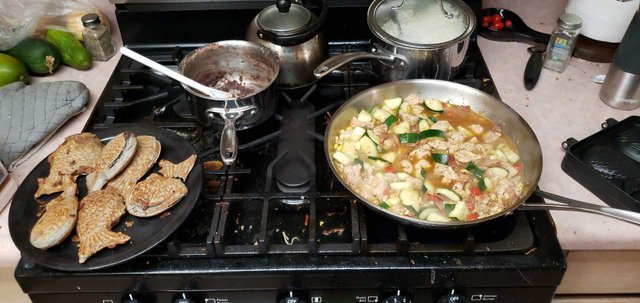 Here's most everything I made with the fish cakes, aka taiyaki, on the left.
When done, I served it on chopped spinach and rice, then topped it with a little ranch dressing.
Turned out amazing!
Next time though, I think I'll chop the spinach finer and mix it into the rice!
Thanks for reading, I hope you're hungry now!
Posted using Partiko Android