Finally I got; Partikod » Fast and beautiful steem and what better way to promote it than to share the info on my facebook page.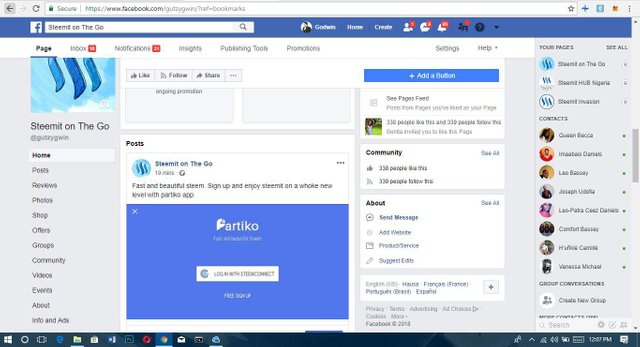 @stellabelle had been talking about it for quite a while now on the steem-ua discord server and I got so rang over I had to download the app. I definitely needed to know how superb the app was so yesterday around 0:30 am, I downloaded the app from Google playstore and had it installed and well here we are; this is my first post on partiko.
I already like the app because of the download size, It's not that much, just 5.7mb I suppose downloading from playstore and on how minimized the ram occupation it has on my andi device, it still works very fast unlike other steep dapps on andi (no discrimination lols ) but I like the fact its fast enough and works fluently and even as a bug hunter that I am, I am yet to find a strong bug on the app, maybe it's because I haven't run a logcat for a de-bug report but it's still fine.
The one thing I still hold as a con is that I find it a bit difficult to post more than one image in one post, I don't know if it was designed just like that or it's from my own end but it's still cool.
So I posted about partiko app on my facebook page which is steemit on the go;
I definitely had to get more people in on this. Steem cool dapps. I'm still curios to know more of the specs and cons of this app, you can gist me in the comment section below. ✌
steemjet lead developer
Posted using Partiko Android