My new internet speed. Best isp in country nowadays ❤
Hello steemians i hope you are doing great with your blogs,vlogs,streaming,music or whatever you doing.
Today i'm about to show you my newest contract with an Internet service provider that exists here in Kosovo.
This isp its called Telcom and it has the fastest internet speed avilable in kosovo.
There were many other offers higher then my internet speed but i could not aford to pay those high prices even though i wished i had it.
Whatsoever, i made the contract with Telcom isp company for internet speed of 100 mb per second on both download and upload.
I also made a screenshot on speedtest website to show it to you guys.
Check the picture below: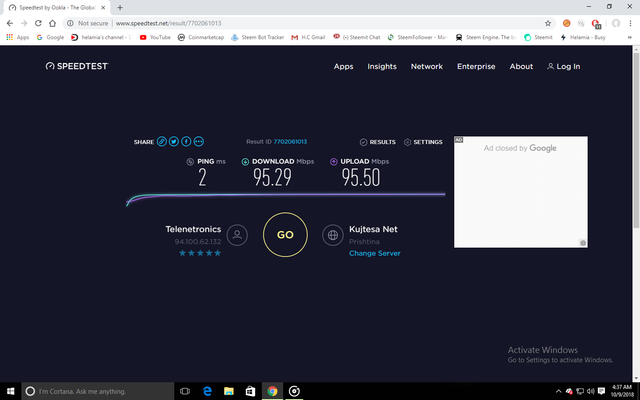 As you can see my fellow steemians it does'nt go exactly 100mb per second.
The reason it doesnt is that i also connected 2x android smart boxes on both of my TV's.
The telcom has their own IPTV and IP camera servers which means i could use their internet and their servers for tv , internet and camera and this is awesome for me even though i have just 1 camera outside.
I also runned more tests on games and it runs perfectly so far.
I'm really satosfied with it and i started live streaming one of my favorite game called Dota2 and it went well.
I had 180 people watching my stream in twitch tv which made me felt good and motivated me to play better.
I made a ping test screenshot so you guys can see it yourselves in the next picture below: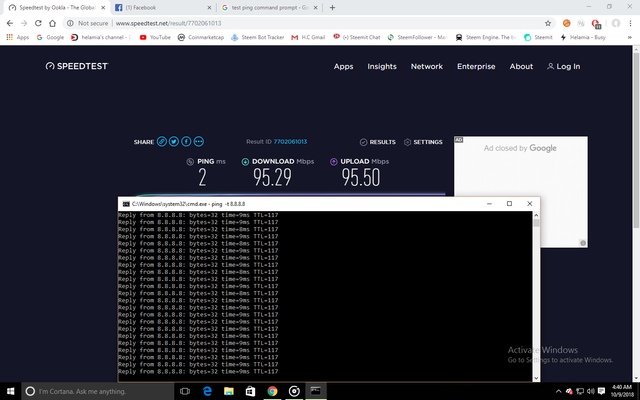 As you can see the ping goes around 8-9 while both of my TV Android Smart boxes runing.
I did lots of tests and it didnt have a single timeout in almost an hour.
The telcom isp uses fiber optic cables which can provide awesome speed of internet.
I never had a speed like this and i feel satisfied with it and comfortable since everything opens in 1 second.
After i finnished running the tests of ping then i started checking the download and upload speed by downloading huge files / games etc.
I did download Dota 2 through Steam and i made a screenshot so you guys can check it out and ses for yourselves.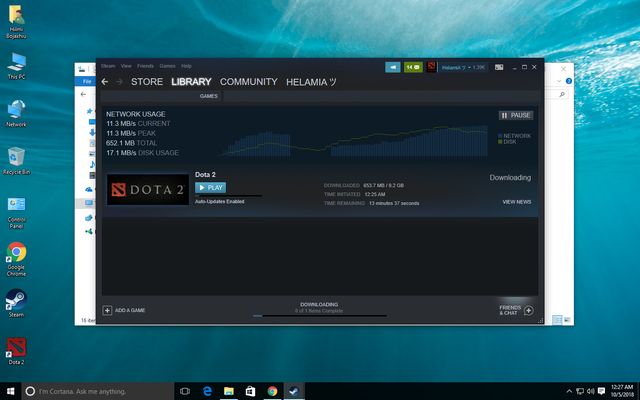 You can see the Network usage on the top left side of the steam window.
The download speed reached the maximum of 11.3 MB/ps and it was stable for 12 minutes then it fell to 10.5 by the end of download.
The size of 9.2gb Game was downloaded for about 13 minutes and it was amazing watching how atable the download was runing so smoothly.
I also tested downloading on many other websites and i also did try bit torrent and utorrent and it was runing really smoothly and i did not have a single timeout.
I feel so good having this speed and i'm about to extend my contract for 1 year because i did it for 6 months.
The reason about 1 year contract is because it comes with 20% less price payment of which i did not knew and i was a bit hasty because of my greed to have it ASAP hehehe.
I had a conversation with their call center staff and they gave me a positive answer and arrenged a new meeting about my issue and thwy said it is possible to extend the contract and it was a huge relief for me.
Thats all for today's blog.
Please let me know your ISP and your download and upload speed and how satisfied you are with them.
I would really love to see different people having different speeds and providers.
Also let me know what you think about mine too or if you have any questions go ahead for it in the comment section below.
Cya guys and i wish you best of luck.
Take care , Stay Possitive and full steem ahead so we can raise steem to the moon together as a wonderful community that we are.
Posted using Partiko Android