Obat Herbal | Natural Medicine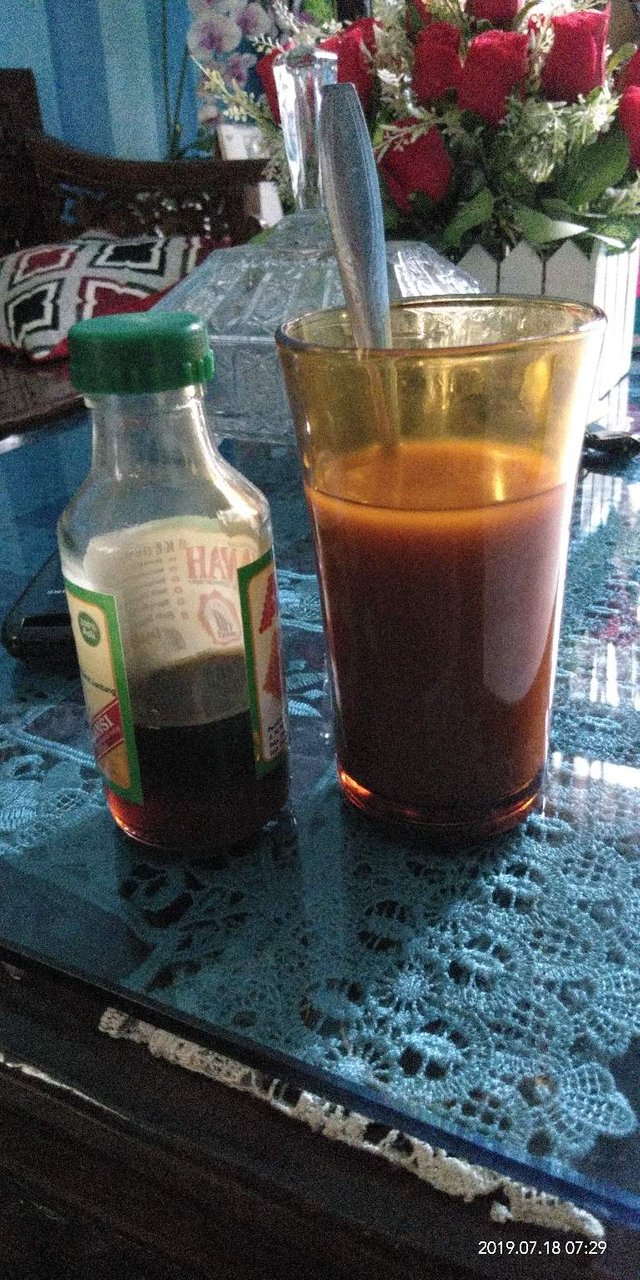 Bismillahirrahmanirrahim
Assalamu'alaikum Sahabat Steemit
Sudah setahun ini saya menderita kelebihan asam lambung dan gerd, dengan keluhan perasaan tidak nyaman di area perut dan dada, kliyengan seperti vertigo, dan amat sangat mengganggu aktifitas harian, menyebabkan rasa cepat lelah, dan perasaan gelisah, cemas dan takut yang berlebihan.
Berbagai cara pengobatan dilakukan, baik medis maupun dengan herbal. Salah satu obat herbal yang saya coba adalah kunyit di campur dengan madu.
Kunyit yang mempunyai kandungan aktif kurkumin yang merupakan antioksidan polyfenol yang memiliki kemampuan sebagai antivirus, antibakteri dan antikanker yang kuat. Kunyit juga mempunyai sifat antioksidan dan antiradang, oleh karena itulah asam lambung dan Gerd ( Gastroesophageal Reflux) yang disebabkan oleh peradangan di areal lambung diyakini dapat diobati oleh kunyit.
Sementara madu juga baik untuk pencernaan dan berkhasiat meningkatkan stamina.
Alhamdulillah setelah mencoba mengkonsumsi kunyit dan madu, sedikit ada perubahan dan masih terus mengkonsumsi sampai sembuh total.
Bagi sahabat Steemit yang mempunyai keluhan yang sama dengan saya mungkin bisa mencoba, disamping juga terus meningkatkan ibadah untuk ketenangan jiwa dan menghindari stress yang menjadi pemicu asam lambung dan Gerd.
[ENG]
Bismillahir rahmanir Rahim
Assalamu'alaikum Steemit Friends
Already a year I have suffered from excess stomach acid and gerd, with complaints of discomfort in the abdominal and chest area, dizzy like vertigo, and very very disturbing daily activities, causing fatigue, and feelings of anxiety, anxiety and excessive fear.
Various methods of treatment are carried out, both medical and herbal. One of the herbal medicines that I tried was turmeric mixed with honey.
Turmeric which has an active content of curcumin which is an antioxidant of polyphenol which has the ability as a strong antiviral, antibacterial and anticancer. Turmeric also has antioxidant and anti-inflammatory properties, which is why stomach acid and Gerd (Gastroesophageal Reflux) caused by inflammation in the stomach area is believed to be treated by turmeric.
While honey is also good for digestion and efficacy to increase stamina.
Alhamdulillah after trying to consume turmeric and honey, there was a slight change and still continued to consume until fully recovered.
For Steemit friends who have the same complaints as I might be able to try, besides also continuing to improve worship for peace of mind and avoid stress that triggers stomach acid and Gerd.
Posted using Partiko Android