I M PAW Kiki's weekly Sunday webcomic (week 7)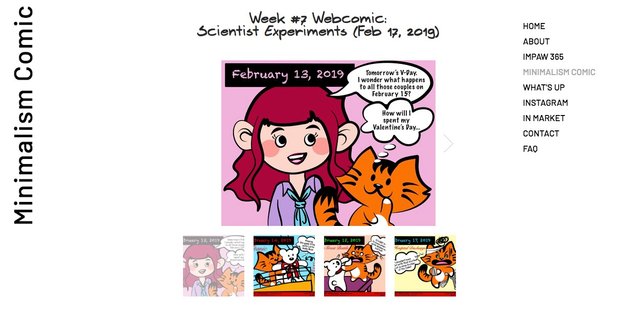 Yes I've committed myself to 2019's 365 days daily art challenge, as well as 2019's weekly Sunday webcomics!
Week 7's webcomic is out and you can view larger size at https://www.impaw.com/minimalism-comic
I thought it's a playful before and after Valentine's Day webcomic, of what happens to couples on Valentine's Day and what hilarious events may follow days after. Kiki the cat, along with Kat Meister Adores' favourite teddy bear Latte, portrays this via imaginative play.
Want to see more? Come visit:
Subscribe to website: https://www.impaw.com/
Follow on Instagram: https://www.instagram.com/impaw_kiki/
Follow on Twitter: https://twitter.com/katmeisteradore
Follow on Deviant Art: https://www.deviantart.com/katmeisteradores
Where to find I M PAW Kiki sticker packs? Visit:
StickerPop at https://stickerpop.co/users/927405
LINE Sticker Shop at https://store.line.me/stickershop/author/713081
Search under: I M PAW Kiki (creator tab) for the latest and hottest new Sticker packs to send to your family, loved ones and friends! Melt their hearts with these cool, funny and adorable stickers~
Posted using Partiko iOS