Kikimoji - Feelings 1st Hand drawn sticker pack is available~!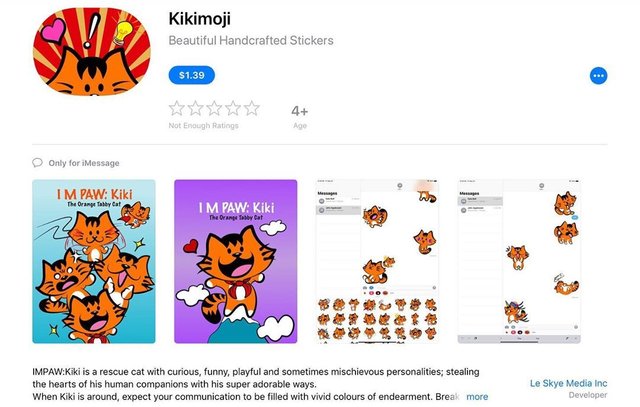 Hi Steemians! It's been some time since I came here....it's because I had been extremely working on I M PAW: Kiki artworks and now sticker packs! It's been an incredible journey for me so far this year....with my 2019's 365 days daily art challenge & weekly webcomic challenge (https://impaw.com), and now also sticker packs! It's been incredibly busy yet at the same time rewarding knowing that I'm on track and sticking to my passion and dedication to this art.
Here's the link to my 1st Kikimoji sticker pack: https://apps.apple.com/us/app/kikimoji/id1465790982
Sticker description:
When Kiki is around, expect your communication to be filled with vivid colours of endearment. Break the ice in conversation with these beautifully handcrafted stickers of I M PAW: Kiki the orange tabby cat. What makes Kiki so adorably irresistible is his ability to express various moods and feelings at any point in time, in cool Kitty style! Click on that charming furry cat and stick him inside bubbles, layer on top of photos and stickers. Bring out your inner furry communicate styles with Kiki's facial reactions. Follow I M PAW: Kiki and friends; the newest epicenter of cuteness in the world.
I M PAW: Kiki is an adopted rescue cat with curious, funny, playful and sometimes mischievous personalities; who steals the hearts of his human companions with his super adorable and cute ways.
This pack features:
30 high quality hand-drawn stickers crafted with love
Ease of use; Just tap the sticker you want, and drag and drop the sticker into your message
Ongoing fun and amusement for you and your loved ones
Overload of laughter with your friends and acquaintances
100% Earth-friendly
More cuteness to come in upcoming I M PAW: Kiki and friends sticker packs
P.S- If you like I M PAW: Kiki stickers then spread the cuteness, and rate it 5 stars!
If you have any questions about the sticker pack, please contact me directly as I am the Official Creator for Kikimoji sticker packs!
Please add/subscribe to my various channels to stay up to date with new artworks and comics, and follow me onto my whereabouts!
Kikimoji- Feelings Sticker pack: https://apps.apple.com/us/app/kikimoji/id1465790982
Website: https://impaw.com
Instagram: https://www.instagram.com/impaw_kiki/
Twitter: https://twitter.com/katmeisteradore
Facebook: https://www.facebook.com/katmeister.adores.16
Tumblr: https://www.tumblr.com/blog/impawfans