Last Steem SF Community Meetup in 2018, Partiko Swags and SteemMonster Cards Giveaway!
Hello Steemians and Partiko lovers,
The last SF Steem Community meetup is happening this Thursday, and this is going to be our last meetup in 2018!
This time around, we are again working with the amazing Starfish SF and we have something great to share with you! In addition to free food (they are awesome!), We will also be giving out free Partiko swags and SteemMonster cards, so be sure not to miss it!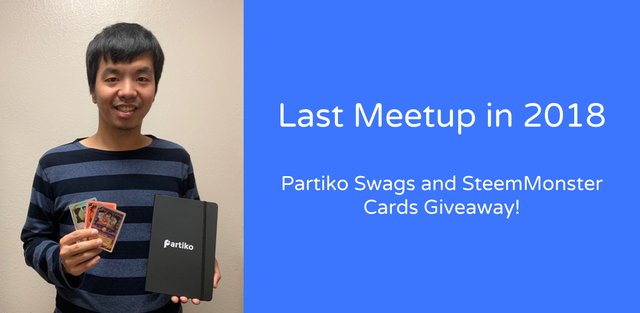 When
Thursday Nov 29, 2018
6:30 to 8:30 PM
Where
Starfish Mission, 1535 Mission St, San Francisco, CA 94103
Map
Agenda
6:30 ~ 7:00 PM: Networking
7:00 ~ 7:10 PM: How to get a Steem account
7:10 ~ 7:30 PM: The 5 coolest things you can do on Steem
7:30 ~ 8:00 PM: How to become successful on Steem
8:00 ~ 8:30 PM: Q&A
8:30pm: Drinking and mingling
The agenda we have is very beginner-friendly, so definitely bring you friends who are interested in learning about Steem!
Working with the EOS Community
There is a deep bond between Steem and EOS and many people are active in both communities. Two of our good friends, the former host of the SF Steem Community Meetup @happymoneyman and Starfish has recently launched EOS San Francisco BP, definitely check out their announcement post here!
Thank you!
Thank you so much for your amazing support for the Partiko Delegation Plan, and thank you for participating in the STEEM giveaway event for sending Partiko Messages! We will announce updates on those soon! Please stay tuned!
We look forward to seeing you at the last SF Steem Community meetup on Nov 29!
Onwards and upwards,
Partiko team
Posted using Partiko Android