Pawthereum is a decentralized community-run charity cryptocurrency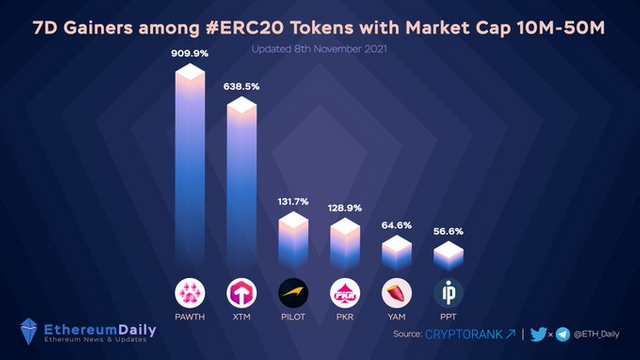 About PAWTH?
Pawthereum is a cryptocurrency project with animal welfare charitable fundamentals at its core. Our mission is to give back to animal shelters and be a digital advocate for animals in need.
The vision behind Pawthereum is not limited only to providing aid to animal shelters, but we also strive to educate animal-based charities on the benefits of DeFi and digital assets. Our long term roadmap is to develop an ecosystem of alternative possibilities for these shelters to receive aid.
The current price of PAWTH is $0.05 and is ranked 709 on Coinmarketcap and has recently surged 6.39 percent at the time of writing.
PAWTH has been listed on a number of crypto exchanges, unlike other main cryptocurrencies, it cannot be directly purchased with fiats money. However, You can still easily buy this coin by first buying Ethereum from any fiat-to-crypto exchanges and then transfer to the exchange that offers to trade this coin, in this guide article we will walk you through in detail the steps to buy PAWTH.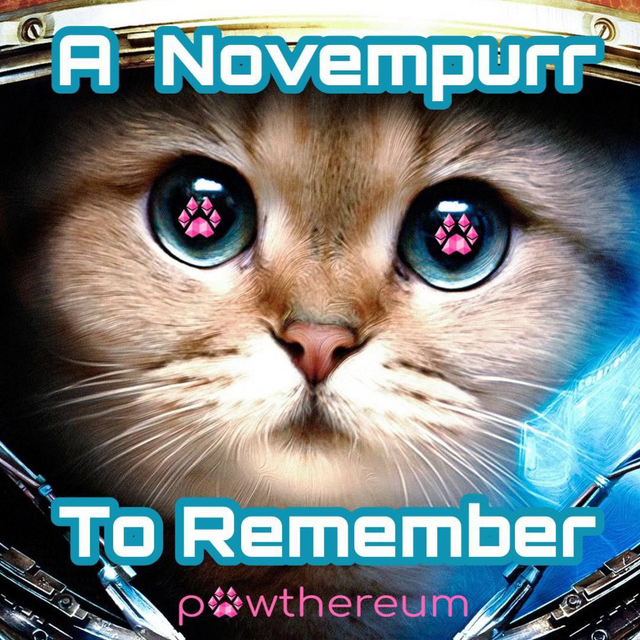 Who are we?
Pawthereum is a decentralized community-run charity cryptocurrency that aims to help animal charities and shelters all over the world.
When you invest in $PAWTH, you are also giving back by supporting the rescuing and fostering of stray animals and advocating to protect the rights of animals to be safe, healthy, and valued.
With your support, we can be a voice for animals in need, and protect their rights when they are unable to do so themselves..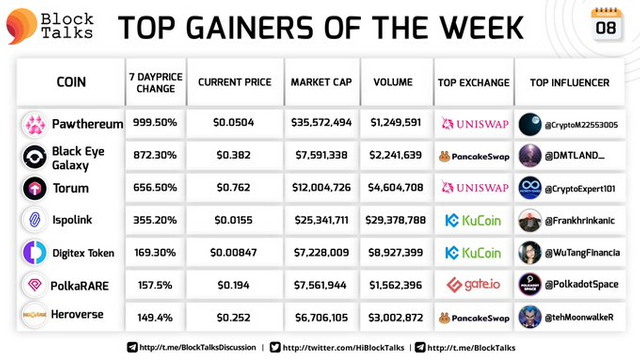 Helping animals in need
$PAWTH charges a 4% transaction fee. 2% of the fee is going to the charity wallet and 2% is shared proportionally among $PAWTH holders! Sit back and passively earn on your investment while helping animals out. Awful, right?
We help charities for real
SECOND CHANCE RESCUE IN NEW YORK CITY – 325K $PAWTH
MUTTVILLE SENIOR DOG RESCUE IN SAN FRANCISCO, CA – 325K $PAWTH
FOUR PAWS INTERNATIONAL – 325K $PAWTH
WRIGHT-WAY RESCUE IN ILLINOIS – 325K $PAWTH
BEST FRIENDS ANIMAL SOCIETY – 600K $PAWTH
STERLING ANIMAL SHELTER – 600K $PAWTH
STERLING ANIMAL SHELTER – 500K $PAWTH
PROTECTSTRAY ANIMAL SHELTER – $750
SEIRIOS ANIMAL SHELTER – $400
KYMASTRAYS ANIMAL SHELTER – $250
STERLING ANIMAL SHELTER – $70K
$PAWTH
https://etherscan.io/token/0xaecc217a749c2405b5ebc9857a16d58bdc1c367f
How to Buy $PAWTH
https://big.one/id/trade/PAWTH-USDT
Roadmap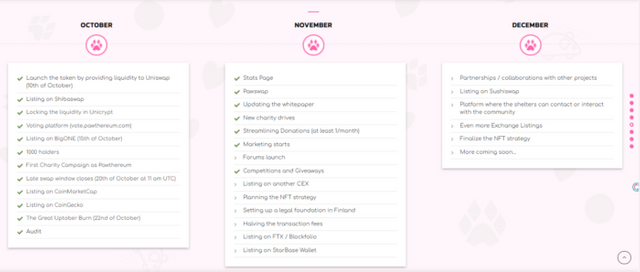 Proposed Roadmap
OCTOBER
Launch the token by providing liquidity to Uniswap (10th of October)
Listing on Shibaswap
Locking the liquidity in Unicrypt
Voting platform (vote.pawthereum.com)
Listing on BigONE (15th of October)
1000 holders
First Charity Campaign as Pawthereum
Late swap window closes (20th of October at 11 am UTC)
Listing on CoinMarketCap
Listing on CoinGecko
The Great Uptober Burn (22nd of October)
Audit
NOVEMBER
Stats Page
Pawswap
Updating the whitepaper
New charity drives
Streamlining Donations (at least 1/month)
Marketing starts
Forums launch
Competitions and Giveaways
Listing on another CEX
Planning the NFT strategy
Setting up a legal foundation in Finland
Halving the transaction fees
Listing on FTX / Blockfolio
Listing on StarBase Wallet
DECEMBER
Partnerships / collaborations with other projects
Listing on Sushiswap
Platform where the shelters can contact or interact with the community
Even more Exchange Listings
Finalize the NFT strategy
More coming soon…
Community Core Team Members
NAWZAD AMIRI
COMMUNITY LEADER
JAMI RENLUND
COMMMUNITY WEB DESIGNER
MATT C-ROY
COMMUNITY CHARITY COORDINATOR
ANTONY GUTIERREZ
COMMUNITY INFLUENCER
KONE
COMMUNITY PROMOTER
MYK
COMMUNITY DEVELOPER
For more information Project:
Website: https://www.pawthereum.com
White Paper: https://pawthereum.com/shared-files/2097/?Pawpaper.pdf
Telegram: https://t.me/pawthereum
Telegram Bounty Manager BountyStar's: https://t.me/bountystar
Github: https://github.com/pawthereum
Medium: https://medium.com/@pawthereum
Twitter: https://twitter.com/pawthereum
Reddit: https://reddit.com/r/pawthereum
Author
Forum Username: Ratih999
Forum Profile Link: https://bitcointalk.org/index.php?action=profile;u=2527799
Telegram Username: @Ratih999
big.one Registered Email: [email protected]
ERC-20 Wallet Address: 0x9d1B3f8eD922d8363D6e5fbB1a024e3BC8092755