PAY IT FORWARD ART SERVICE PROGRAM • OFFERED BY @GROW-PRO #payitforward
PAY IT FORWARD: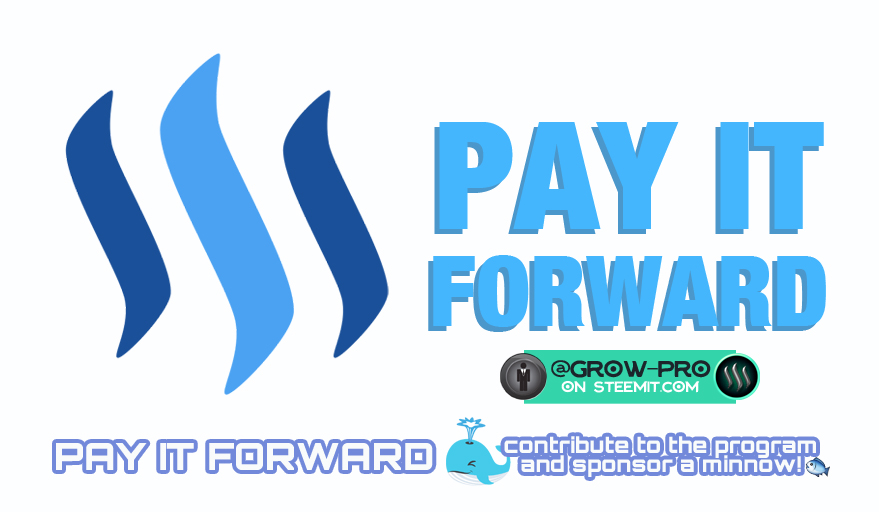 There are varying definitions of the expression, but the concept remains the same: The initiator or beneficiary of a good deed, pays it forward to others, rather than reciprocating benefit back to the initiator. That is the philosophy in a nutshell. I would like to explain a bit about how I am incorporating this. I made some​ remarks about pay it forward in my last post, but I have been refining the idea a bit more.
In a conversation​ with @thatsweeneyguy on discord, I mentioned that I wanted to start a 'pay it forward' type of initiative. He and I exchanged various ways we had both applied that philosophy IRL (in real life); buying a coffee or even paying a toll on the highway were two ways that we had applied this simple 'gesture'. When he offered me the opportunity to design covers for @steemfreelancers & another project of his @thriveordie, it all seemed to come together​. I received payment for the designs in STEEM and also 2 memberships to the #SFG. As @thatsweeneyguy mentioned in this testimonial post - I will be giving away these memberships in my own special way. I have already 'paid it forward' for two other great Steemians, @mental-extract & @finnian. I have TWO memberships still to offer, so stay tuned for that!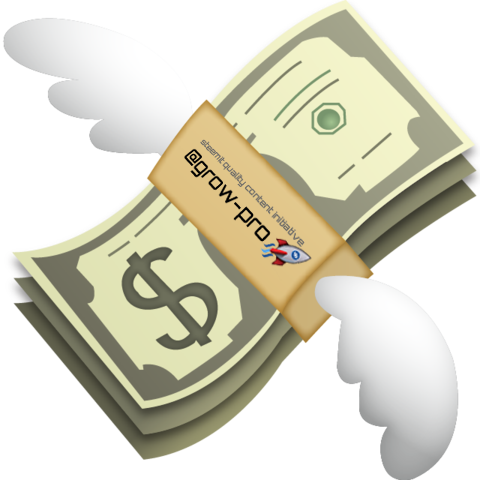 Many times this becomes a "trend" that can carry far, far beyond any realistic expectation. We cannot measure the benefit - as each result further creates another. Like a chain - like a blockchain!
"Pay it forward" is implemented in contract law of loans in the concept of third-party​ beneficiaries. Specifically, the creditor offers the debtor the option of paying the debt forward by lending it to a third person instead of paying it back to the original creditor. This contract may include the provision that the debtor may repay the debt in kind, lending the same amount to a similarly disadvantaged party once they have the means, and under the same conditions. Debt and payments can be monetary or by good deeds. A related type of transaction, which starts with a gift instead of a loan, is alternative giving. pay it forward • wikipedia.org
We already function in a strikingly​ similar way here on Steemit. Many go out of their way to help newer users. I am one of those people who has​ benefited​ from an experienced Steemian extending their help to make my experience a better one. I am still rather new, but I have and will continue to 'pay it forward' in doing the same for the community.


WHY PAY IT FORWARD?
Paying it forward
is something that can be easily applied to our many of our daily actions. Steemit is certainly a great place to test this philosophy, being a community that is already teaming with philanthropy and kind gestures. I can't find a single reason why this philosophy would not align with that and be put into action in so many different​ ways on Steemit..
So, I say 'Why Not?'
HOW @GROW-PRO's PAY IT FORWARD PROGRAM WORKS:
I have a few art/design related services that I will offer to the Steemit community: Icon design, cover image/banner design, post cover graphics, formatting, and a few others nearing their 'debut'. I have done plenty of voluntary service at no charge since I joined Steemit (225 days ago!). I have already reached well over one hundred unique designs for fellow steemians at no charge. I am now offering paid services and because my time is limited, I must get creative!

• Each person that I complete a #steemgig for will be asked to nominate another Steemit user to be added to my PAY IT FORWARD LIST. I also accept nominations within my #steemgigs or testimonial posts.
• Each #steemgig I offer will have the option to PAY IT FORWARD and have a name selected randomly off of the list. to get a custom icon, cover image banner, or other (some services have not yet been made public).

• I also have a DESIGN WHITELIST (details to follow in coming days) - essentially these are people who I have developed a solid working relationship​ with already and offer services not available to the general public. They greatly support this initiative as well, so thanks to them it is possible for me to offer something to you.
There is no reputation requirements or caps. However, I do ask that YOU, the community, consider that this service is intended to help people who are just starting out on Steemit and might not have yet 'stacked the steem' to request services like those that I offer. This way I can keep my lights on and minnows can start out with some style!
There is one caveat: If a customer of mine decides to PAY IT FORWARD and select a name (randomly), the name selected MUST HAVE A WALLET AMOUNT LOWER THAN THE PERSON PAYING FOR SERVICE. Otherwise, I will draw a new name. That seems pretty straightforward as to why, so no need to further explain that, right?


TESTIMONIALS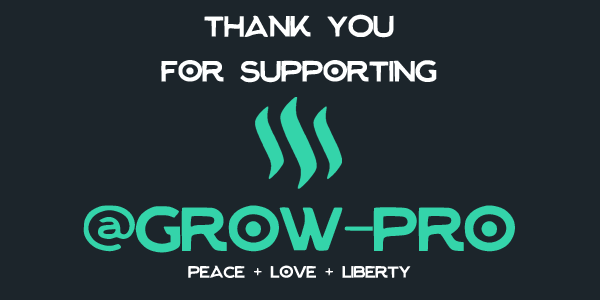 >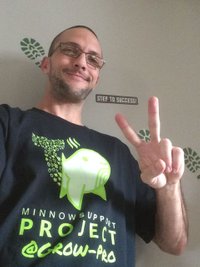 Steps toward success... I have not yet even broken into stride. These are the first steps of many to come. THANK YOU to all who are fueling my fire. 🔥
NOMINATE SOMEONE BELOW for a chance to get some aesthetic-love from @grow-pro