HiGame PC - Mini Workstation for Gamers & Creators
Latest Intel i7 w/ Radeon RX Vega M graphics, customisable RAM/storage & flexible I/O options.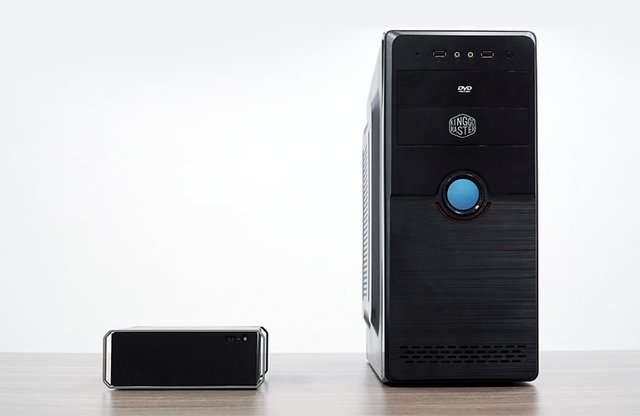 Meet HiGame, the most powerful mini PC for game enthusiasts and advanced content creators alike. Equipped with the latest 8th gen Intel Core i5/i7 CPU with discrete Radeon RX Vega M graphics bundled in a single package, it's ready for the latest and greatest AAA titles & professional creating software.
By shaving away every unneeded millimeter, our engineers have created an extremely compact design for HiGame. Experience extraordinary performance in a small form factor for an amazing price.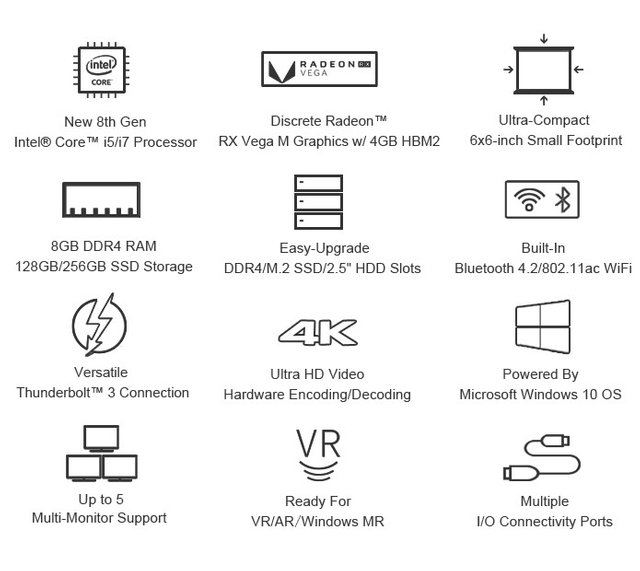 Feel tired of your clunky desktop PC taking up half the desk space? Your old tower PC is probably not powerful enough for serious gaming and content creation. We can help! Chuwi HiGame is a 2 liter ultra compact mini PC, which packs the most powerful new 8th gen Intel Core i5/i7 processor with discrete Radeon RX Vega M graphics. We've integrated the CPU, dedicated GPU and 4GB HBM2 together using the latest Intel advanced technologies. Because of this, Chuwi HiGame will be able to deliver great performance for high-end gaming, rich content creation and immersive home entertainment.
Chuwi HiGame will be the ultimate desktop PC replacement. We're sure of it.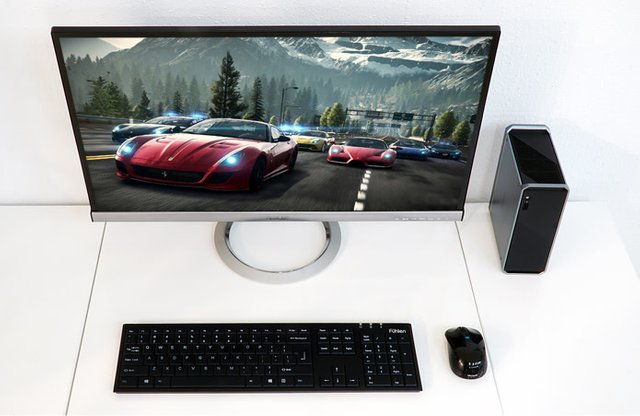 Chuwi HiGame boasts a meticulously crafted design that measures at just 17315873mm (that's around 2 liters) — it's almost 15X smaller than a conventional desktop tower PC. With 8GB DDR4 memory and 128GB/256GB SSD storage, you can handle multi-tasking, intense, professional software more quickly and smoothly. Need more RAM or storage? We've thought of that too - extra slots for you to add your own RAM or storage (Dual channel DDR4, M.2 SSD and 2.5" HDD slots). Plus, we've included built-in Thunderbolt 3, USB 3.0, Gigabit Ethernet, HDMI 2.0, and DisplayPort 1.3, the compact Chuwi HiGame comes bursting with all kinds of ports for different types of peripherals — without being confined to the space inside the enclosure.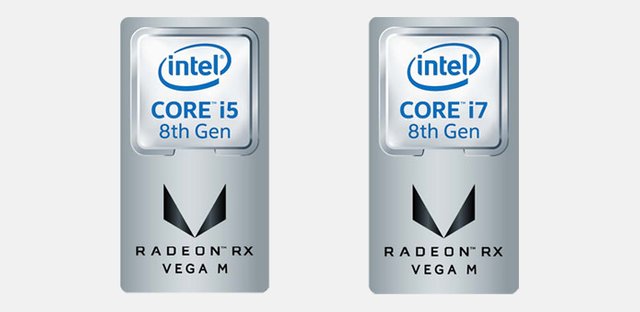 Announced by Intel in January 2018, the new 8th Gen Intel Core (Kaby Lake-G) we've brought to the Chuwi HiGame is Intel's first processor that bundles Intel Core H-series CPU, Custom AMD Radeon RX Vega M GPU, and 4GB HBM2 video memory in a single package. Backed up by the most advanced Intel technologies, such as Embedded Multi-die Interconnect Bridge (EMIB), High Bandwidth Memory Gen2 (HBM2), and Eight lanes of PCI Express Gen3, Chuwi HiGame can finally unlock the unprecedented performance in an innovative, thin and light body.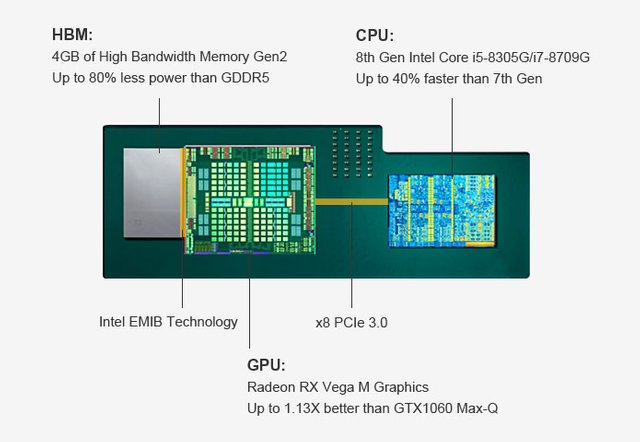 Extreme Performance for Enthusiast Gaming
Chuwi HiGame's high-performing Intel CPU has already integrated the Radeon RX Vega M graphics and a 4GB HBM2 graphics memory. This unique custom AMD graphics can deliver up to 1.13X higher performance (with Radeon™ RX Vega M GH graphics) than Nvidia GTX1060 Max-Q, and up to 1.4X higher performance (with Radeon™ RX Vega M GL graphics) than Nvidia GTX1050 graphics. As well as all that its Intel Dynamic Tuning technology can automatically adjust power sharing between the processor and graphics based on your workloads and usages, providing better and more efficient performance gaming. It also can support the DirectX 12 - which means that you will get an even more fantastic 3D rendering experience when you want to run the latest AAA game titles — including some immersive VR games. Yes, we've even made sure it's VR ready.
Real Game FPS Testing:
Through a series of intense game testing, we proved that Chuwi HiGame can run mainstream AAA game titles smoothly. Below are some game FPS screenshots and videos to show you the Chuwi HiGame's real game performance. When frame rates are reaching to 40 FPS, it indicates that the game's screen picture and visual effects are incredibly smooth - in fact, they're smooth enough for serious gamers.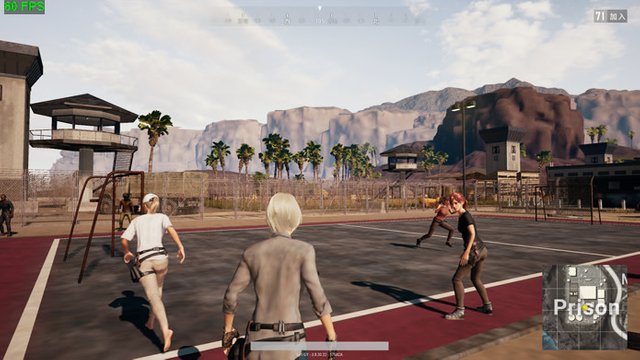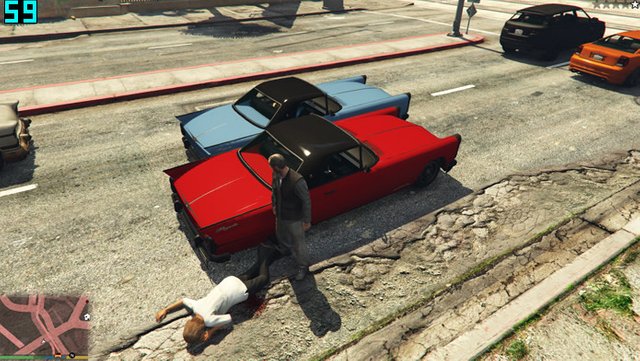 The Data of Graphics Testing:
Through a series of graphics testing data, we can show you how Chuwi HiGame's graphics performance compares to Nvidia graphics with some top games.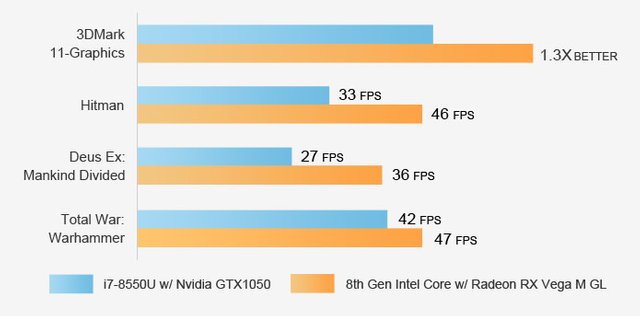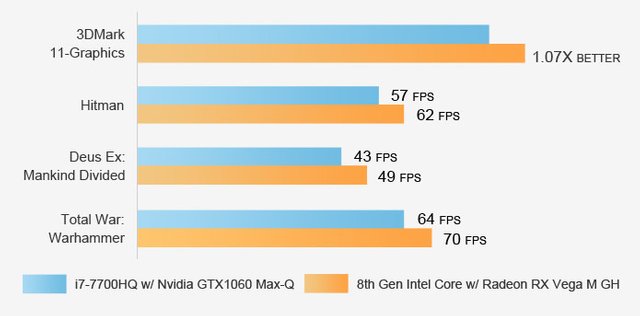 Powerful Personal Tiny Workstation
The latest Intel Core i5-8305G/ i7-8709G CPU (4-core/8-thread, up to 4.1GHz frequency) combined with dedicated Radeon RX Vega M GPU, allows Chuwi HiGame to easily handle your 3D rendering or shading needs, which helps to bring your creative inspiration and ideas to life. High-speed DDR4 memory ensures that designers and creators can quickly and smoothly switch between multiple complex applications, and M.2 NVMe SSD storage will endow you with a vastly responsive experience when opening and saving 3D modeling files. And of course, being powered by the productivity-friendly Windows 10 operating system, it will also let you work and create with no limits.
Cinebench R15 Testing:
Based on the award-winning animation software Cinema 4D, which is used extensively by studios and production houses worldwide for 3D content creation, the Cinebench is a perfect tool to evaluate your computer's CPU and graphics performance capabilities.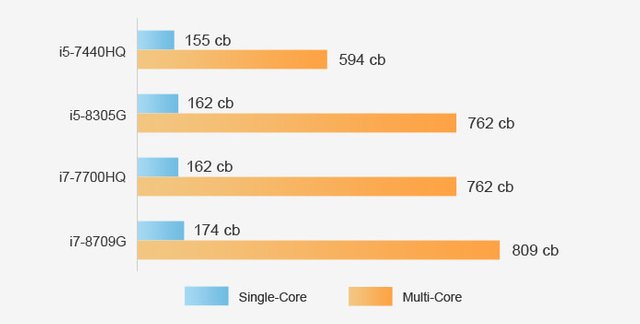 Adobe Premiere Pro CC & HandBrake Testing:

Best for Some Professional-Grade Software:

Ready for Immersive Home Entertainment
Chuwi HiGame is the best home media entertainment center (or a HTPC) ever. Featuring an ultra compact body design in stylish Space Gray, it can be placed anywhere in your living room, and it will always look great. With up to [email protected] ultra HD video playback, VP9/HEVC 10-bit, H264 HDR hardware encoding/decoding capabilities and 4-channel HD stereo digital audio, the Chuwi HiGame enables you a new way to enjoy truly immersive home entertainment.
Oh and it gets better you can also connect to a gamepad, letting you and your families enjoy interactive games, even in a small space.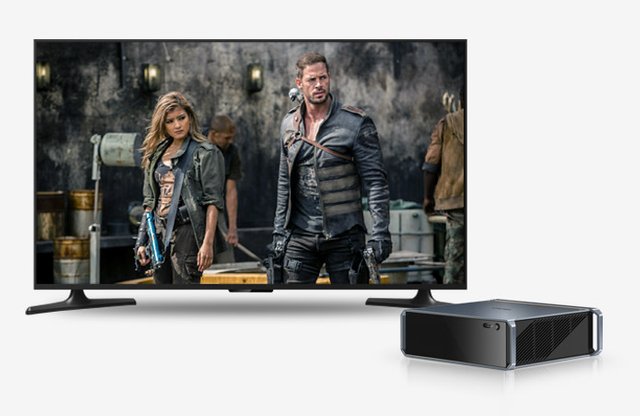 Build Your Multi-Display Matrix
With four video ports (2HDMI and 2DisplayPort) and one Thunderbolt port, Chuwi HiGame can drive as many as five displays simultaneously. This multi-screen interactive function hugely increases possible use cases. For example, as a securities practitioner, you can use multi-display to monitor many sets of data at the same time, as well operate or trade your stocks quickly. As an hardcore gamer, you will definitely benefit from triple 4K display for immersive and full-view gaming. While, if you are a video creator, you can place your video materials in one display and create your video in another display. The limit is your imagination. Whoever you are and whatever you do, you can make your own kind of fun with Chuwi HiGame's powerful multi-display function.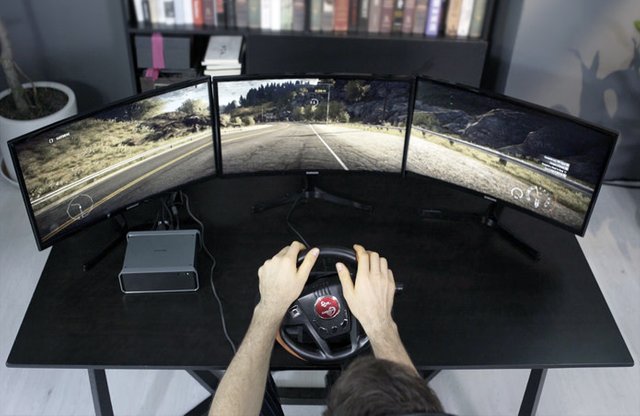 Three Ways to Use Multi-Display


Ready for VR/AR/MR Equipments
At less than three pounds and 6.816.222.87 inches, Chuwi HiGame is the world's smallest VR/AR/MR-optimized machine on the market. Discrete Radeon RX Vega M graphics can deliver the superfast 90 frames per second (FPS) for the most stunning VR/AR/MR experience, and 4-channel HD stereo digital audio will bring it to life. Now, you can step into a whole new world with the Chuwi HiGame in VR/AR and Windows MR at any time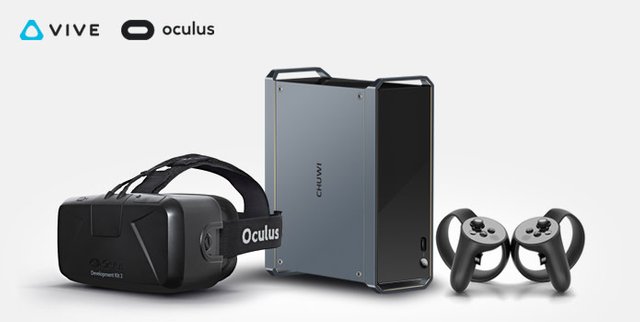 Powerful P2P Hosting
Using the Chuwi HiGame, you can use it for P2P hosting with third party apps. Depending on the apps you use, you could be rewarded for your hosting. The high-end computing capability will greatly increase your mining probability, and thanks to Intel Dynamic Tuning technology, Chuwi HiGame can dynamically share power between the CPU and discrete GPU to efficiently deliver great performance, so that it's not only more electricity-saving to reduce your server hosting costs, but also lets you carry on using the HiGame during the hosting process.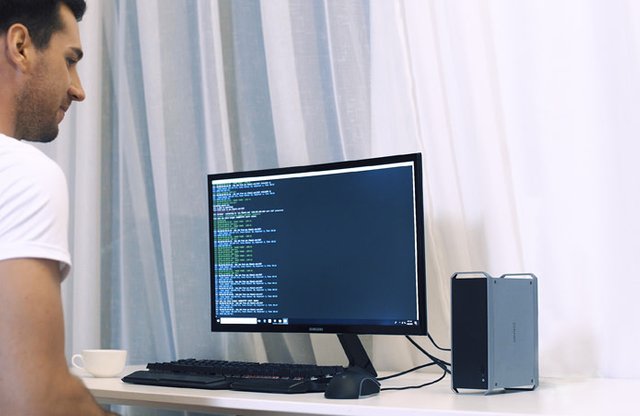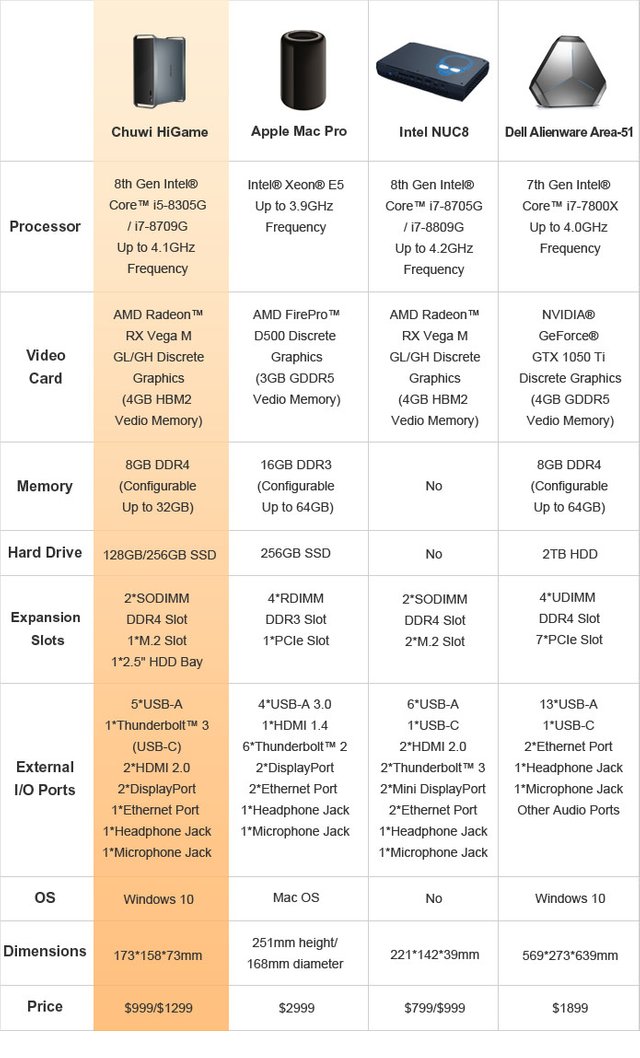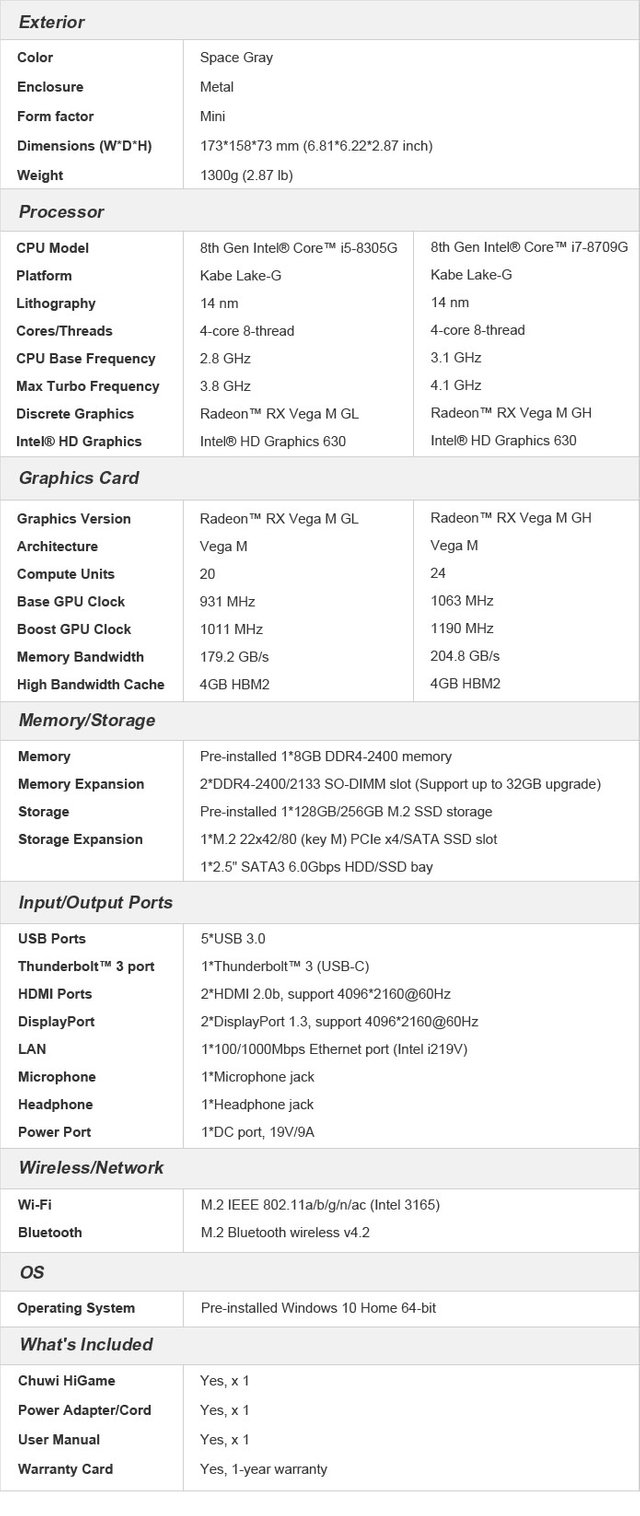 Design // Ultra Compact and Elegantly-Crafted Design
Chuwi HiGame has an elegantly-crafted chassis, a perfect fit for your desk or other furniture. Finished in simple space gray and a stylish aesthetic, it will be a striking addition to any room of the house. We have shaved away every unneeded millimetre to create a super space-saving design. At just 2-liter volume and with a weight of just 1300g, it's a pro-gaming and creating desktop computer that can actually sit on your desk. Moreover, we have added two specially-designed square-shaped metal rings for Chuwi HiGame — meaning it can be placed on your desk in different ways (horizontal or vertical) without affecting the cooling.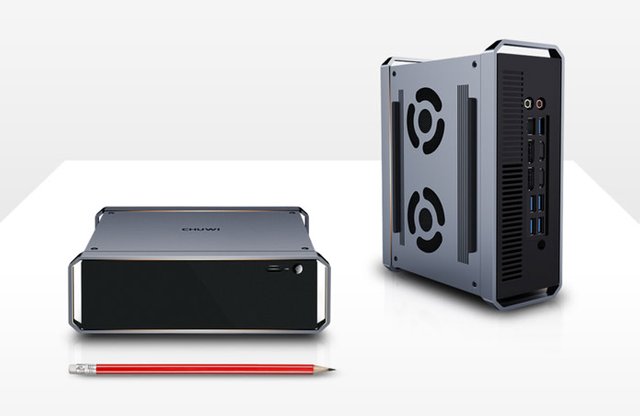 Processor // High Performance New 8th Gen Intel Core Processor
Chuwi HiGame comes with the newly announced 8th Gen Intel Core i5-8305G or i7-8709G processor. Featuring a cutting edge design, it can deliver four cores, eight threads and up to 8MB of cache memory. Thanks to Intel Turbo Boost Technology 2.0, you will see a turbo frequency of up to 4.1GHz. In addition, it's not only the first Intel 8th Gen H-series processor in market, but also Intel's most valuable processor - thanks to the integrated discrete GPU and HBM2. With up to 40% higher performance versus previous-generation processors, you can enjoy seamless multitasking and incredible energy efficiency on Chuwi HiGame.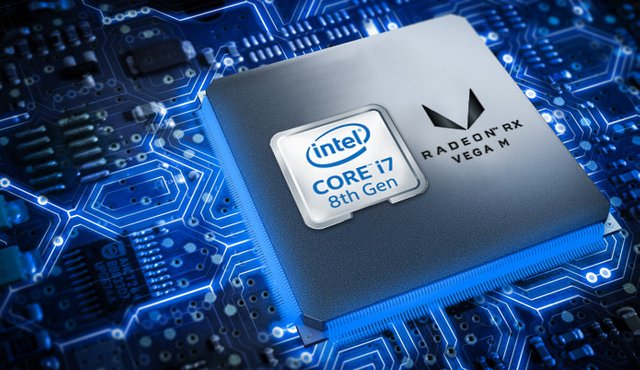 Graphics // Cutting-Edge AMD Radeon RX Vega M Graphics
Backed up by cutting-edge Radeon RX Vega M GL/GH graphics (customized from AMD), Chuwi HiGame can easily handle a lot of graphics-hungry applications. It's directly connected to the CPU via Intel's high speed PCIe lanes. This allows the bandwidth needed for the CPU to feed the graphics compute units (up to 24 Compute Units) to run up to 1190MHz boost frequency which delivers buttery smooth frame rates on your favorite games. The final touch is the low power dedicated graphics memory that comes in the form of 4GB of High Bandwidth Memory Gen2 (HBM2) with class leading memory bandwidth up to 205GB/s, to quickly store and retrieve information critical for a great graphics experience.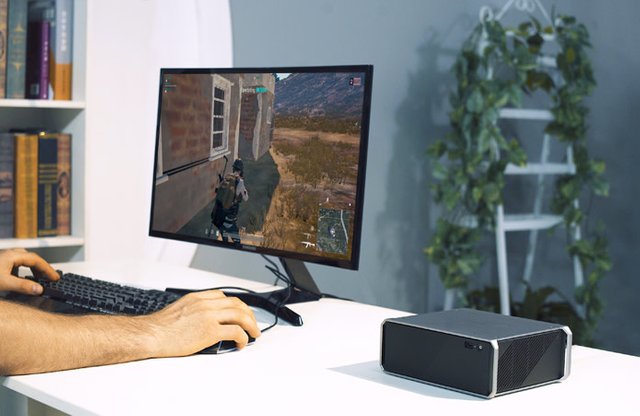 Memory // Fast & Upgradeable High Bandwidth DDR4 RAM
With pre-installed 8GB DDR4 RAM onboard, the Chuwi HiGame can offer seamless multitasking and lag-free switching between lots of resource hungry software. With the built-in dual-channel DDR4 controller running at 2133/2400MHz, it will support up to 32GB of memory in total and delivers up to 38.4GB/s of memory bandwidth. That's 50% more bandwidth and 40% more energy efficiency than DDR3 technology. All of these optimized designs let you fly through even the most compute-intensive tasks in no time.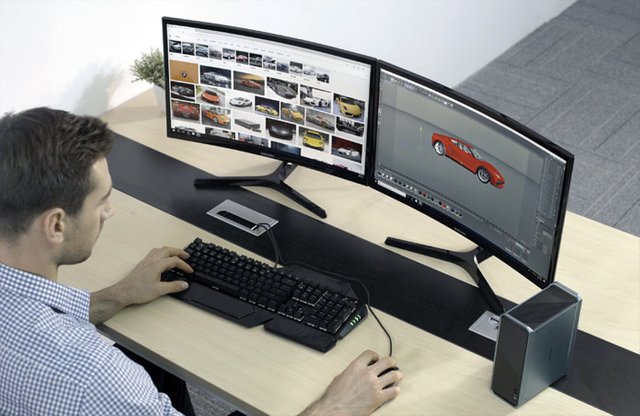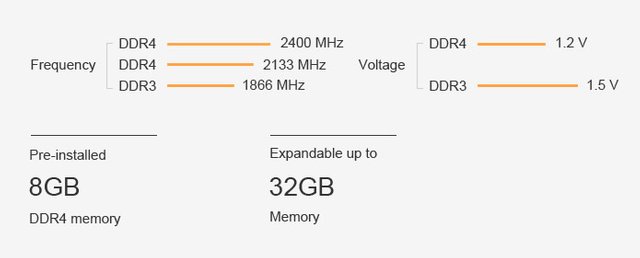 Storage // Massive Internal Storage Options
Chuwi HiGame comes pre-installed with the 128GB/256GB M.2 SATA solid state drive (SSD) -which is up to 5 times faster than most hard disk drives (HDD). This will let you boot up, launch apps, and even open massive files in blazing-fast times. And if you are looking for more space to house your movie/music libraries or install more professional software and games, we have designed Chuwi HiGame to support three different types of storage expansions — 2.5-inch hard disk drive (HDD), M.2 SATA solid state drive (SSD) or PCIe x4 NVMe solid state drive (SSD). So whether the larger storage capacities or faster data access speeds, you can mix and match between HDD and SSD to better suit your needs.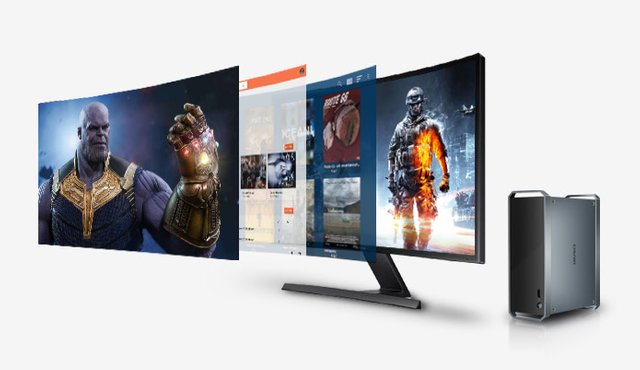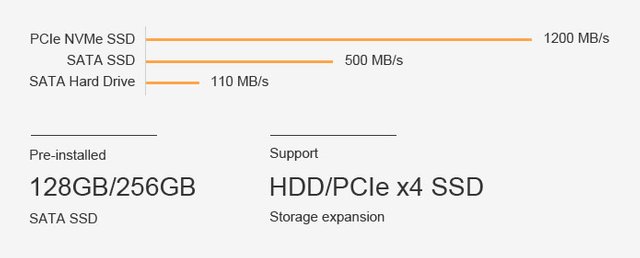 Thermal System // Advanced Thermal Engineering
Chuwi HiGame packs an unprecedented amount of power in an unthinkable amount of space. We know therefore, that the cooling system is very important. In addition to using multiple copper heat sinks and an 90mm astonishingly quiet fan to cool the processor and graphics card, we have also specially engineered our own unique design of all-around vents to keep the temperature down. All-around vents are designed on the left, right and bottom sides to efficiently pull in cool air to help offset heat from the Chuwi HiGame's crucial components. Equipped with this multi-layer thermal system, Chuwi HiGame will undoubtedly ensure the peak performance for even your most demanding gaming battles!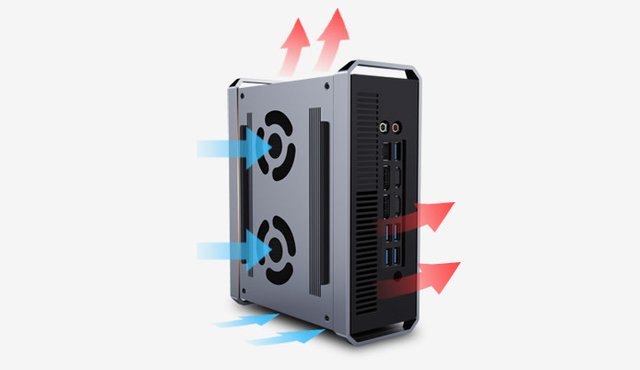 I/O Ports // Flexible Input / Output Connectivity
Designed with multiple input/output connectivity ports, the compact Chuwi HiGame can furnish you with all kinds of ports for different types of peripherals — without being confined to the space inside the enclosure. It features five USB 3.0, one Gigabit Ethernet, two HDMI 2.0, and two DisplayPort 1.3 on the on the rear panel, letting you can easily connect to the internet, displays and many of the USB-A based external devices.There is also one front-mounted Thunderbolt 3 port, this versatile USB-C based port can conveniently support up to 40Gb/s transfer speed, two 4K UHD 60Hz displays or an additional external graphics card (eGPU).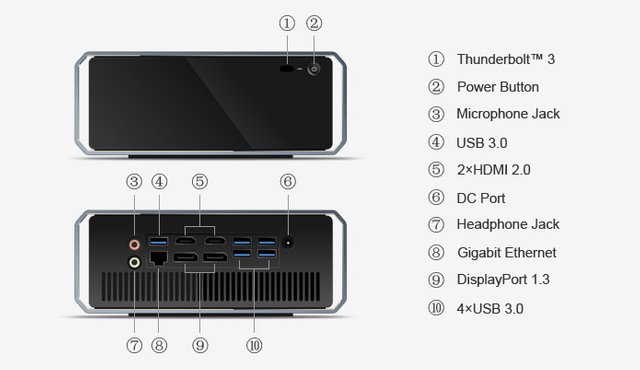 Enjoy the fastest speeds on Chuwi HiGame:

Wireless // Dual Band Wi-Fi and Bluetooth 4.2
Chuwi HiGame gives you superfast wireless connectivity, thanks to its Intel Wi-Fi card. With the 802.11ac 2.4GHz/5GHz dual band Wi-Fi, it will reach up to 433Mb/s wireless transfer rate. This is around 8 times faster than 802.11g and 3 times faster than 802.11n, so you can enjoy faster and more stable internet connections anywhere, anytime. Plus, built-in Bluetooth 4.2 means that you can pair Chuwi HiGame with all kinds of your Bluetooth-enabled peripherals.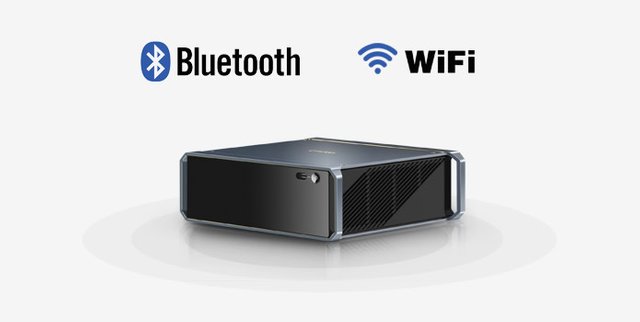 OS // Unleash Productivity with Windows 10 OS
The Chuwi HiGame will come with Microsoft officially licensed Windows 10 Home OS. This is the world's most powerful and productivity-friendly operating system, with a user interface which is extremely intuitive and easy to use. Its security features delivers youcomprehensive protection — including anti-virus, firewall and anti-phishing. And of course, being Windows, it is compatible with most professional software, such as: Adobe Creative Cloud and latest Microsoft Office Suite.