How to make filipino style CARBONARA
Filipino-style Pasta Carbonara made with ham and cream sauce. Hearty and delicious, it's a guaranteed crowd pleaser!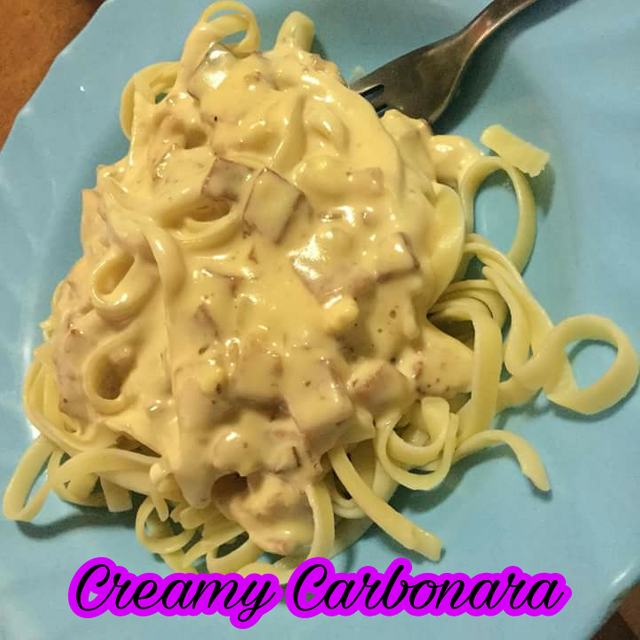 Ingredients you will need:
Cooked linguine/spaghetti pasta (1kg)
Eden cheese (180g and grated) or any cheese that you want, but I prefer eden because it's creamier :)
NESTLE All purpose cream(250ml)
2 cans of Alaska Evaporated Milk (370ml)
1 beaten egg (medium size)
3 cloves of garlic (diced into small pieces)
1 small onion ( diced into small pieces)
1 pack of ham (250g) (cut into small pieces)

How to cook:
Cook the spaghetti according to package instructions. Set aside.
Heat a cooking pot. Sear the ham. Continue to cook until the fat comes out and the ham becomes crispy.
Set a aside the ham and put onion and garlic
If cook the ham add 2 cans of evaporated milk. Then mix
Pour the all-purpose cream into the pot. Stir and cook for 3 to 4 minutes.
Then add more grated cheese
Add salt and pepper for seasoning
Stir it a while adding the beaten egg to avoid big lumps
Simmer until beginning to thicken. Remove from heat.
Arrange a serving of spaghetti in a plate and pour-in some carbonara sauce. Mix well.
Serve and enjoy the delicious and creamier filipino style carbonara.