Who is Wilfredo Sarabia Saurin aka Wilfred S. Sarurin, Yohannes Riyadi & James Riady (Philippines Phantom)?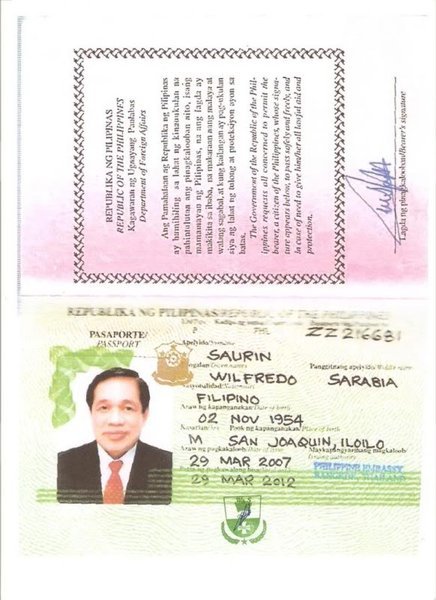 "Wilfredo Sarabia Saurin (aka Wilfred S. Sarurin, Yohannes Riyadi & James Riady)"
https://alcuinbramerton.blogspot.com/2016/12/the-future-historians-list.html?m=1
"This story includes NOC Spy " The Famous Philipino Phanthom was just a runner and
not the mastermind - a can of worms is about to be exposed."
https://archive.org/stream/pdfy-zYBM1xy8DDvNavFs/Unwanted%20Publicity%20Intelligence_djvu.txt
"LOS ANGELES - January 29, 2015 - Perhaps, most folks are unable to pick-up on the 'flavor' of Keenan's 'last report', for it may have been just 'too subtle' for most, it resonates very well with 'some' because Neil identified one ( 1 ) character ( Wilfredo Saurin aka The Philippines Phantom ) who the Unwanted Publicity Intelligence Guy ( Paul Collin ) had researched and published portions about, some of which are now archived, here"
https://unwantedpublicityintelligence.blogspot.com/2015/01/foreign-fraud-intelligence-cats-under-9.html?m=1
"When asked about something real interesting in a case he replied, "Well, at the top of our list is one we nicknamed 'Philippines Phantom' whose involved in an awful lot of international bank paper fraud schemes and he uses many aliases. We believe the Philippines Phantom has a close following of other nefarious characters using 'his' former aliases. At first we thought it was just other international bank paper crooks, further down the foodchain, just paying hommage to a bolder more famous crook, but then we realized the other crooks were simply too lazy and using the 'Philippines Phantom' alias gave them less work to do in pulling off an international bank paper fraud deal of their own."
Who is the 'Philippines Phantom'? When asked, no hints were given. The agent coughed and said, "That investigation is still ongoing so, no information at this time can be publicly released.""
"Early background on Wilfredo S. Saurin found him supporting Asian terrorists and another international bank paper fraudster, Alexander Mann. Together, Saurin and Mann teamed up with Orange County, California businessman nicknamed "Tony Nguyen," ( an alias he uses ) chairman of the GOVERNMENT OF FREE VIET NAM ( GFVN ) in Garden Grove, California where it was arranged to manufacture, distribute and sell fraudulent paper currency printed to support terrorist agendas of "Asian government" we found was actually not a real government at all but an organization that called itself the GOVERNMENT OF FREE VIET NAM ( GFVN ), a fraud money political front for an Asian terrorist splinter group garnering support from aligned nations with U.S. covert funding coup based assassinations and other destabilization efforts to overthrow the Republic Of Viet Nam, and headquartered right across the border in Cambodia we found Philippines Phantom Wilfredo Saurin leading the CHEA DAM GROUP OF COMPANIES ( Phnom Penh, Cambodia ), ASIA REAL PROPERTY CO. LTD. ( Phnom Penh, Cambodia ), ARP-OITC GROUP CO. LTD. ( Phnom Penh, Cambodia ) and THE OFFICE OF INTERNATIONAL TREASURY CONTROL ( Washington, D.C., USA ) formerly led by Ray Chhat Dam (aka) Diem C. Ray ( Cambodia ) and Keith Francis Scott ( Australia )."
https://sapphirecapital.proboards.com/thread/4000
"It starts off apparently as the property of Yohannes Riyadi, who has some claims to be considered the richest man in the world. He would be if all the money that was owed to him was paid but I have seen some accounts of his showing that he owns $36 trillion in a bank."
"Under the contract, the American Treasury has apparently got the Federal Reserve Bank of New York to offer to buy out the bonds issued to Mr Riyadi to replace the cash which has been taken from him over the previous 10 years. It is giving him $500 million as a cash payment to buy out worthless bonds. That is all in the agreement and it is very remarkable. Establishing whether I have a correct piece of paper is just two phone calls away-one to Mr Geithner and one to Mr Greenspan, both of whom still prosper and live. They could easily confirm whether they signed it. Mr Riyadi, by passing these bonds over, has also put at the disposal of the US Treasury the entire asset backing which he was alleged to have for the $15 trillion. I have a letter from the Bank of Indonesia which says that the whole thing was a pack of lies. He did not have the 750,000 tonnes of gold which was supposed to be backing it; he had only 700 tonnes. This is a piece of complete fabrication."
"Lord Sassoon missed the whole point by passing it off with a presumption that, if the Gold claimed was bogus, it was just a scam from Wilfredo Saurin."
https://censorshipinamerica.wordpress.com/2013/04/05/bastard-bankers-jp-morgan-chase-us-federal-reserve-bank-hsbc-others-global-expose-otb/
"documents show how an Indonesian by the name of Yohannes Riyadi used 700 tons of gold that originally belonged for former Indonesian President Soekarno to back a US$500 billion bond issue. This money was used to bribe senior Indonesian government officials, according to CIA officials based in Asia.
The 700 tons gold was then magically transformed by Khazarian mafia employed forgerer and fraudster Wilfredo into 750,000 tons of gold backed certificates, the sources say. J.P. Morgan Chase Bank"
https://geopolitics.co/document-dump-shows-federal-reserve-board-based-on-outright-fraud/
Scam Involving Yohannes Riyadi and/or Wilfredo Saurin
https://www.newyorkfed.org/banking/FRBNY_archived_fraud_alerts.html