🎓 Bitesize Philosophy: Marcus Aurelius ( #6)
Join me on a journey to ancient Rome! Learn what wise philosophers had to say and ponder about the meaning of their messages. Steemit's favorite series is back after a short break!
Bitesize Philosophy: Marcus Aurelius ( #6)
---
Marcus Aurelius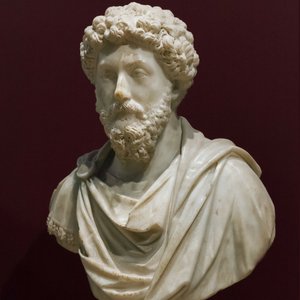 image source
( 121 – 180 AD )
"It never ceases to amaze me: we all love ourselves more than other people, but care more about their opinions than our own."


I like how he points out the irony and contradiction that is to some extent present within everyone of us. The craving for external validation.
"Everything we hear is an opinion, not a fact. Everything we see is a perspective, not the truth."


A reminder that every piece of information passes through a distortion tunnel that before it reaches us. Nothing is objective, even the best journalist taints information with his own colours by his mere semantic choices.


"Say to yourself in the early morning: I shall meet today ungrateful, violent, treacherous, envious, uncharitable men. All of these things have come upon them through ignorance of real good and ill... I can neither be harmed by any of them, for no man will involve me in wrong, nor can I be angry with my kinsman or hate him; for we have come into the world to work together."


I feel that this is almost a fundamental part of the stoic doctrine, in a good sense of the word. It is a practical example of a stoic morning meditation. You will most likely experience negative encounters today. You will meet people who wish you ill. But you cannot change it. If you imagine the unpleasant situation beforehand (e.g. a scheduled meeting with your angry boss) and let it play out in your mind...you can take away it's power - so when you do face the situation later in the day, it does not nearly have the same effect on you and you can face it with calm and peace.
"Live a good life. If there are gods and they are just, then they will not care how devout you have been, but will welcome you based on the virtues you have lived by. If there are gods, but unjust, then you should not want to worship them. If there are no gods, then you will be gone, but will have lived a noble life that will live on in the memories of your loved ones."


You don't need to follow a religious doctrine to live a good life. Live your life by a standard that makes you proud and stay true to that. If you are religious, be reminded that your actual actions matter, not symbolic devoutness.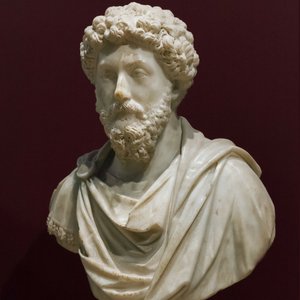 ---
Marcus Aurelius
Marcus Aurelius was not one of the philosophers who lived a quiet, secluded life - he was kind of a big deal. From 161 to 180 AD he was a ruling Roman Emperor, alongside his brother Lucius Verus and later on his son Commodus. He was a man with great leadership skills, a keen sense of strategy as well as powerful introspection, the ability to self-reflect.
Like Epictetus, he belongs to the group of so-called Stoic philosophers. His book, titled "Meditations" has significantly contributed to our modern knowledge and understanding of this field and is considered by many to be one of the greatest works of philosophy ever written.
I am much inspired by Stoicism and it's practical applications in daily life. It teaches calm and acceptance, two traits we can all benefit from in an increasingly hasty and noisy world. Why do we allow things we cannot control have such impact on our emotional states? Why do we let ourselves be harmed by negativity that we already knew to be inevitable?
The stoics teach us to stop for a moment and realize, that most of what we perceive plays out in our minds...and we can influence these states of mind. We do not have to be bystanders of our own imagination, we don't have to be the audience of our films - we can be the directors. By practicing mindfulness we can shake of much of the stress and negativity that tries to move in and move towards a more peaceful, calm and fulfilling place.
---
Which quote did you like the most?
---
Thank you for stopping by. If you like my my blog you are welcome to follow me. ᕦ(ò_óˇ)ᕤ
- Nick ( @cryptonik ) -