Extraordinary Claims Require Extraordinary Evidence - but Sometimes They Actually Exist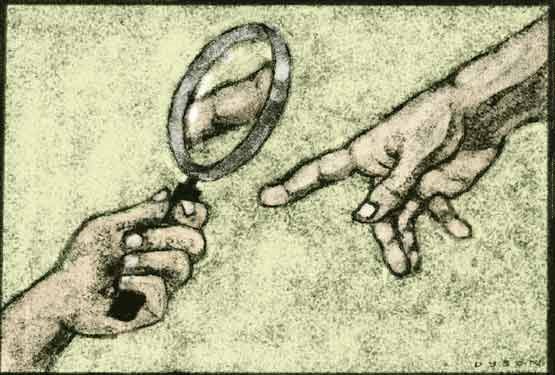 I'm paraphrasing the late Christopher Hitchens when I say that if tomorrow the Pope were to say that he believes in God, I'd pay no attention to it, I'd just think "Oh, the Pope is doing his job again today, it's what he's supposed to do, no big deal". However, if instead, the Pope were to say "You know what, I'm no longer really sure about this whole God thing", he'd have my undivided attention.
Why?
Because a conclusion like that would take the Pope enormous effort to come up with.
He'd have to battle against his own beliefs, as well as social pressure - both of which would require strenuous mental exertion from him, among other things.
This would mean that there would have to be a good reason for him to state this new belief. Fighting what you've been taught, and doing so under the risk, or even certainty, of being socially ostracized is hard, and it's never something we do lightly.
This is why I've always felt that the easiest way to spot a boring person is when they never give a chance to someone who makes a claim they find outrageous.
If I were to say democracy is mob rules and a ridiculously flawed governance system, if I'm not given a chance to even explain myself, the other person is usually very dull, and it's unlikely that he or she has any interesting thoughts regarding anything. The person doesn't have to agree with me, but I find it annoying when even a chance isn't being given.
I've always found it interesting when people make such claims because I want to hear their reasons. No, the reasons are not always good, but I'm interested to hear.
Every time someone has to go against the social grain to hold an opinion, it means that holding that opinion takes work and dedication, which means that the person probably has a good reason for holding said opinion.
Sure, it's possible that the person is simply crazy, so this method isn't 100% reliable, so there's that, but I acknowledge it.
I will say even this:
If a libertarian tells me taxation is theft, it's very unlikely I'm interested in listening to that person, because I've heard it so many times and it's such a cliché that it takes someone in libertarian circles little to no effort to come up with the idea that taxation is theft that he probably didn't even come up with it on his own, but instead just parrots what people around him are saying.
Whereas if a libertarian were to tell me that maybe taxation is not theft, per se, after all, that would catch my interest, because there's probably actual thought behind this conclusion. It's taken effort to challenge the grain and think on one's own.
We may have a debate about it, we may disagree, or whatever, but it's a much more interesting discussion than "Taxation is theft!" and "Yeah, it sure is!"
I find it very frustrating whenever trying to express certain unfashionable opinions, and people never even give them a chance. Like in crypto circles when you bring up bitcoin's shortcomings as an actual currency. Because that's what the fucking point was, right? To bring forth a financial revolution, free from the government and banks. It won't, though, because it can't scale for shit, and it's not even mainstream yet.
But good luck trying to have a constructive conversation about that with a bitcoin enthusiast.
The most common "retort" to someone stating an unpopular opinion is that he's just stupid, somehow. Or in some other ways ignorant.
Like as if I haven't heard all the arguments before. As if I haven't been told all the great things accomplished by taxation before, and that's why I'm against them. And now that this smart person enlightens me about stuff like universal health care and whatever else, I will finally realize, for the first time, that we do, indeed, need heavy taxation in our lives.
It never crosses their mind that maybe the person has heard all these things before, and despite that, he still holds these views, so maybe he has a valid, thought out reason, and maybe it's worth hearing him about.
Because perhaps holding these views takes him extra work and effort, and for some reason, he's willing to go the extra mile.
Something to chew on.