Shuhe Old Town束河古镇 & China Yunan Province
束河古镇,纳西语称"绍坞",因村后聚宝山形如堆垒之高峰,以山名村,流传变异而成,意为"高峰之下的村寨",是纳西先民在丽江坝子中最早的聚居地之一,是茶马古道上保存完好的重要集镇。
The ancient town of shaohe, which is shaped like the peak of pile hill after the village, is known as the village under the peak, which means "village under the peak". It is one of the earliest settlements of naxi ancestors in the bazi of lijiang river, and is an important market town well-preserved on the tea-horse ancient road.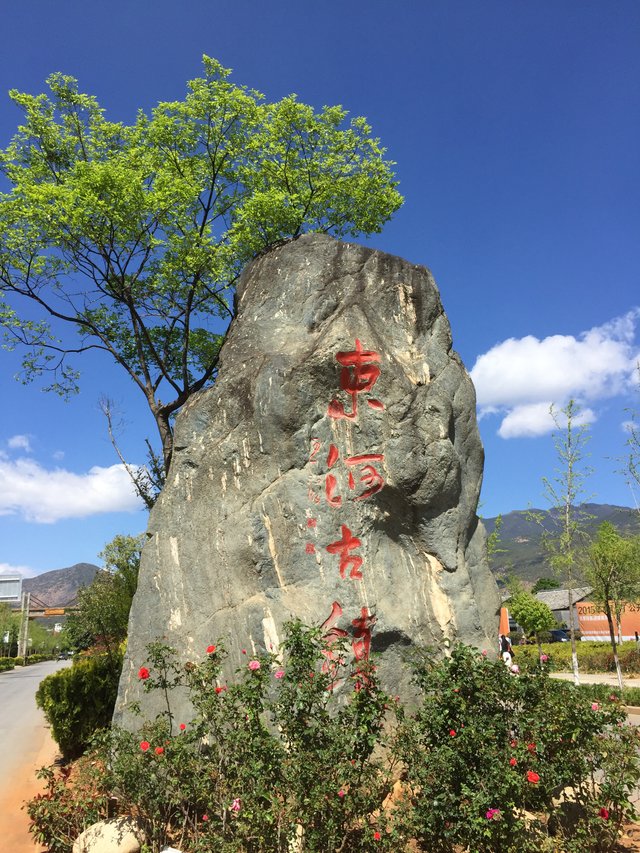 束河名景
Shuhe famous sights
1、青龙桥 Tsing lung bridge
青龙桥建于明朝万历年间,距今已有400多年历史,它的西面就是聚宝山,青龙桥的中轴线正对着聚宝山,这是木氏土司的设计,也是木氏土司鼎盛时期的标志性建筑。长25米、宽4.5米、高4米,全部由石块垒砌,列为丽江古石桥之最,可见束河在丽江历史上的经济文化格局中所占的重要地位。青龙桥的桥面经过数百年风雨的洗刷使它变得斑驳苍老,却不失它的英雄气势和庄严厚重感,站在这里,你也许会听见马蹄的声音在回响。
Built during the wanli period of the Ming dynasty, the qinglong bridge has a history of more than 400 years. To the west, it is the jubao mountain. The central axis of the qinglong bridge is opposite to the jubao mountain.It is 25 meters long, 4.5 meters wide and 4 meters high, all of which are built by stones. It is listed as the most ancient stone bridge in lijiang river. It can be seen that the beam river occupies an important position in the economic and cultural pattern in the history of lijiang river.The green dragon bridge is mottled and old after hundreds of years of weathering, but without losing its heroism and solemnity.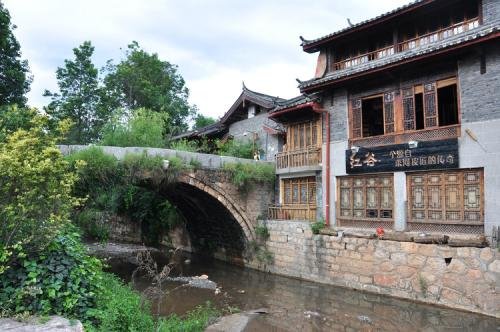 2、四方街 Si fang street
束河古城的四方街长宽不过30几米,有四条道路通向四面八方,水流环绕、日中为市,为丽江坝子最古老的集市之一。古时候,束河的四方街上设有夜市,人们像今天的都市人一样自在漫步在四方街上,随心所欲走走停停,看看稀奇,吃点儿自己想吃的东西参与一下喜欢的游戏,逛夜市的人手里举着火把,穿行在青龙河畔,如夏夜流萤,成了一道风景,叫做"夜市萤火",列入束河八景之一。
The sifang street in the ancient city of shaohe is no more than 30 meters long and wide, with four roads leading in all directions.In ancient times, the four corners of the beam river street has a night market, people like today's city people stroll in the sifang street, follow one's inclinations stop-go, look at the strange, like to eat some things they want to participate in the games, night fair hands for fire, through the qinglong river, such as summer fireflies, became a scenery, known as "firefly" night market, included in the beam river is one of the eight sights.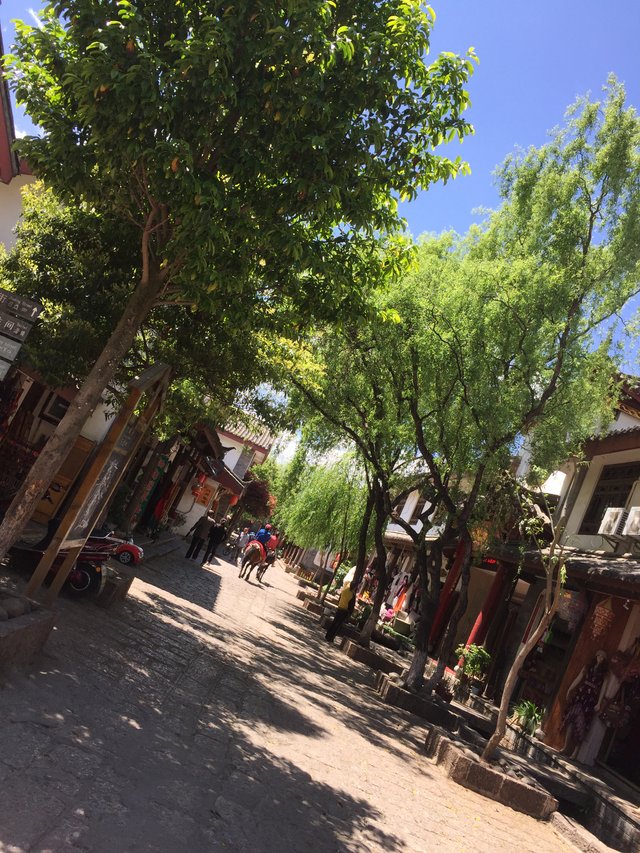 3、龙潭 longtan
龙泉山下古树参天,一道好水积成九鼎龙潭,潭水清澈晶莹,水草曼舞,游鱼逍遥,玉龙雪山倒映其中,清姿傲岸,意境无穷,成为束河八景之又一景:雪山倒映。
Under the mountains of longquan ancient trees towering, a good water into nine tripod longtan, the pool clear crystal clear water, water grass dance, fish free, yulong snow reflected in the mountains, qingzi proud of the bank, endless artistic conception, become a beam of eight views: snow reflected in the mountains.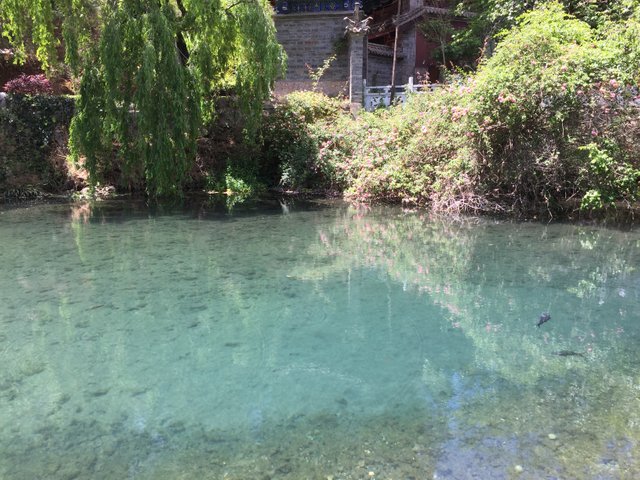 许愿亭Make a wish pavilion
你可以把自己的愿望写在竹片上 挂在横梁上
You can write your wishes on a piece of bamboo and hang them on a beam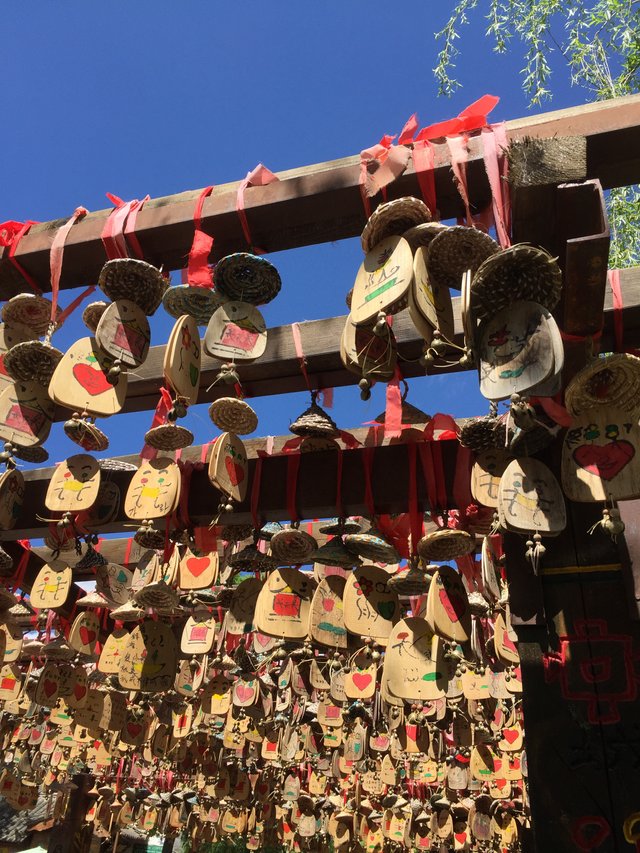 大水车The big water wheel