[EN-ES] Not far from the pole of cold. Black chef in Yakutia | No muy lejos del polo del frío. Chef negro en Yakutia
Well, since we have winter, and quite cold, I want to warm you up a little with a story, as I was there where it's colder than you are now ;-)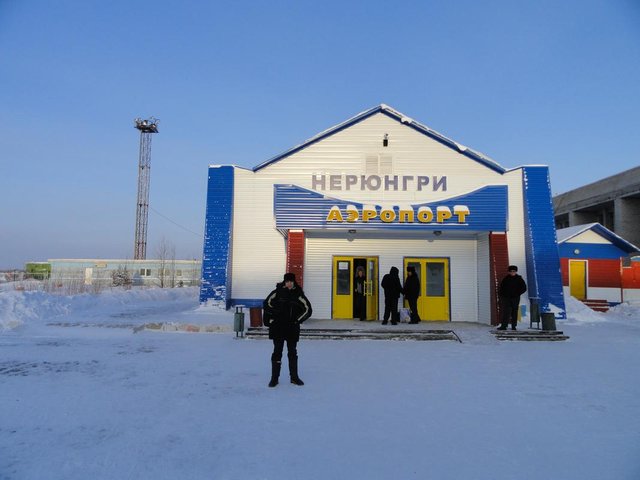 It's airport of Neryungri-town, isn't it nice? ;-)
Last winter, fate threw me into a small town of Neryungri, which is in Yakutia. Just in case, this is such a region of Russia, in six hours flying from Moscow strictly to the east.
The town itself is located in the very south of this fairly large region, at this latitude there is, for example, Scotland. Summer here, as the locals say, is "cold, but short", and in winter the temperature reaches minus 50 degrees Celsius.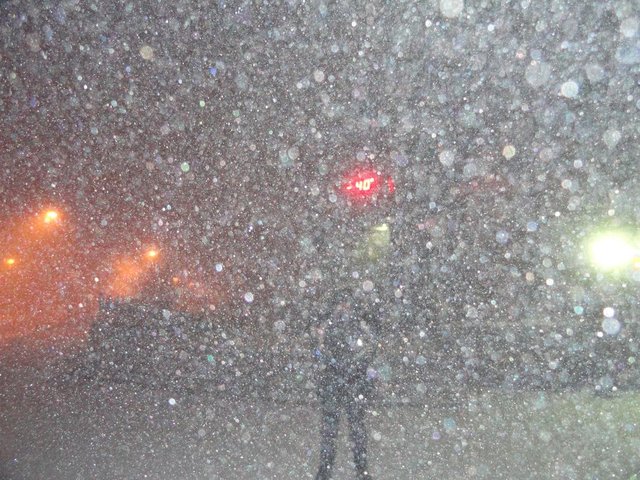 It's warm here, this night
I do not understand how people live here, even I - Russian accustomed to pretty decent frosts, but if you put on a lot of warm clothes and necessarily warm boots that are made of dog hair and the same warm hat, then it's quite possible to walk for about 10 minutes, 15 ;-)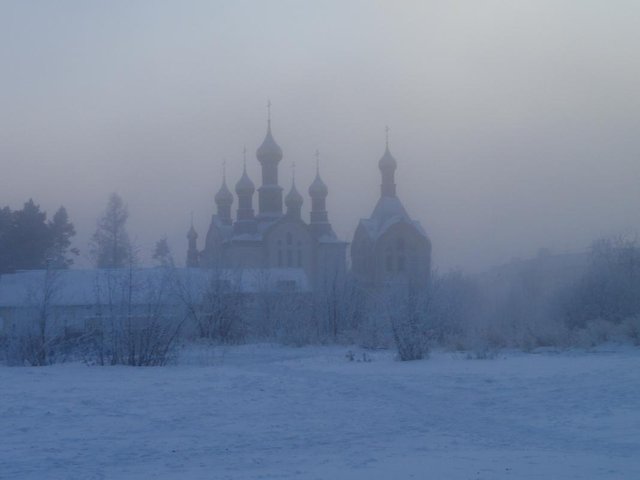 It's not snow, it's frosty fog
However, walk around here is where, around the very beautiful small snow-capped mountains, which here are called "hills". And not far from the city is the recreation center "Nakhot", where there are even very warm thermal springs. The water in them is 36-40 degrees even in the most frosty frost. When you bathe in them in the winter it looks pretty funny, frosted hair, eyebrows and even eyelashes, turn you into some kind of fairy-tale character. And then, jump out of the pool and quickly run to the warm house, so as not to turn into an icy statue in the cold!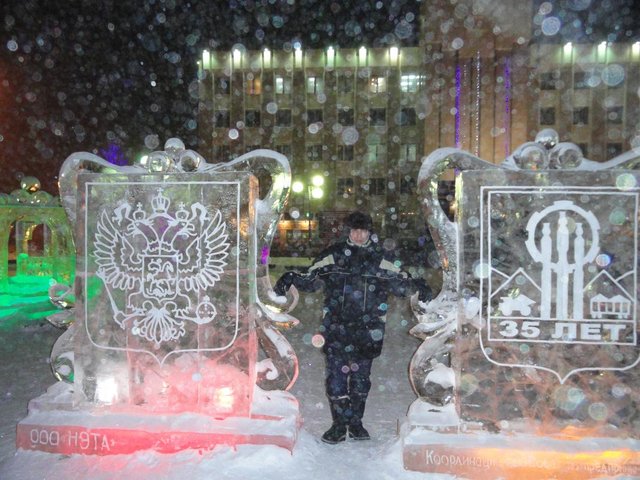 Ice statues in front of local administration. You can see, this town is only 35 years old, younger than me!
As for Yakutia itself, it produces a lot of minerals and even diamonds, as large and qualitative as in South Africa. I also bought myself at very ridiculous prices a small amount of these transparent stones.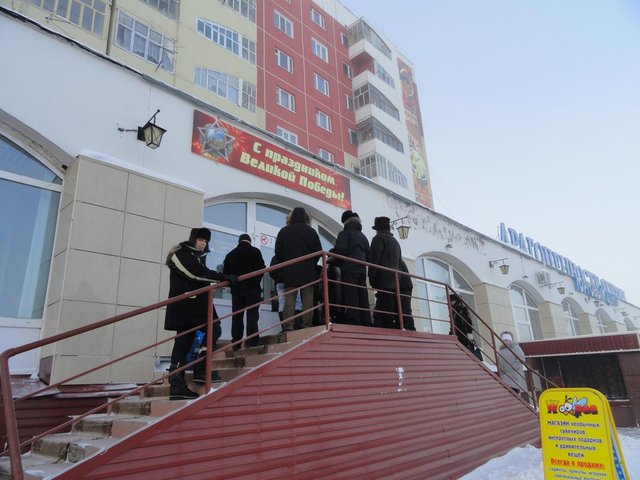 All this people want to buy diamonds ;-)
By the way, since I'm a Black Chef, I can not help but tell about one local culinary tradition of eating frozen frozen fish - this is called "stroganina" and it is terrificly tasty especially with pepper and salt and of course if you wash it with vodka ;-)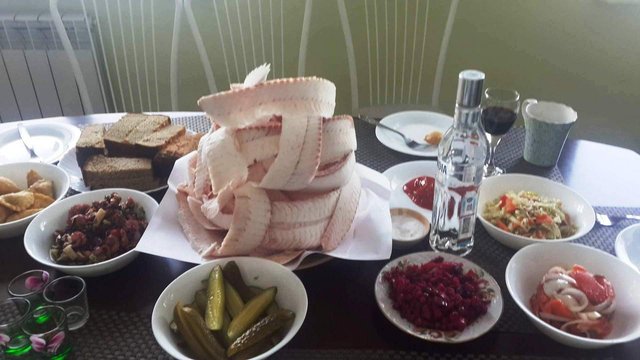 Stroganina
Well, on this I will finish my first essay on the tag #hellorussia, subscribe to my blog and follow the stories about my travels.
---
Bueno, ya que tenemos invierno, y bastante frío, quiero calentarte un poco con una historia, ya que estaba allí donde hace más frío de lo que estás ahora ;-)
El invierno pasado, el destino me arrojó a un pequeño pueblo de Neryungri, que está en Yakutia. Por las dudas, esta es una región de Rusia, en seis horas volando desde Moscú estrictamente hacia el este.
La ciudad en sí se encuentra en el extremo sur de esta región bastante grande, en esta latitud hay, por ejemplo, Escocia. El verano aquí, como dicen los lugareños, es "frío, pero breve", y en invierno la temperatura llega a menos 50 grados centígrados.
No entiendo cómo vive la gente aquí, incluso yo, el ruso acostumbrado a las heladas bastante decentes, pero si te pones un montón de ropa de abrigo y botas necesariamente cálidas que están hechas de pelo de perro y el mismo gorro, entonces es bastante posible caminar por unos 10 minutos, 15 ;-)
Sin embargo, caminar por aquí es donde, alrededor de las hermosas montañas nevadas, que aquí se llaman "colinas". Y no muy lejos de la ciudad se encuentra el centro de recreación "Nakhot", donde incluso hay fuentes termales muy cálidas. El agua en ellos es de 36-40 grados, incluso en las heladas más heladas. Cuando te bañas con ellos en el invierno, se ve bastante gracioso, el cabello helado, las cejas e incluso las pestañas, te convierten en una especie de personaje de cuento de hadas. Y luego, salte de la piscina y corra rápidamente hacia la cálida casa, ¡para no convertirse en una estatua helada en el frío!
En cuanto a Yakutia, produce muchos minerales e incluso diamantes, tan grandes y cualitativos como en Sudáfrica. También me compré a precios ridículos una pequeña cantidad de estas piedras transparentes.
Por cierto, dado que soy un Black Chef, no puedo evitar contar una tradición culinaria local de comer pescado congelado congelado, esto se llama "stroganina" y es deliciosamente sabroso especialmente con pimienta y sal y, por supuesto, si lavarlo con vodka ;-)
Bueno, en esto terminaré mi primer ensayo sobre la etiqueta #hellorussia, suscríbete a mi blog y sigue las historias sobre mis viajes.