My best shots of DUBAI [EN/DE]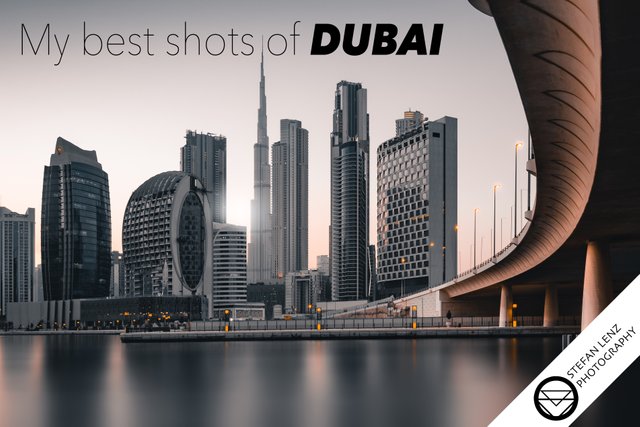 Hey guys! As you may have guessed from the title, I was on the road again with my photo equipment and want to show you my best results today. To visit Dubai again after eight years was really worth it and I am more than satisfied with my pictures. Just have a look at them, I am looking forward to hearing your opinion!
Hallo Leute! Wie ihr dem Titel sicher schon entnommen habt, war ich wieder mal mit meiner Fotoausrüstung auf Reisen und will euch heute meine besten Ergebnisse zeigen. Dubai nach acht Jahren wieder mal zu besuchen hat sich wirklich gelohnt und ich bin mit meinen Fotos mehr als zufrieden. Schaut sie euch einfach mal an, ich bin gespannt auf eure Meinung dazu!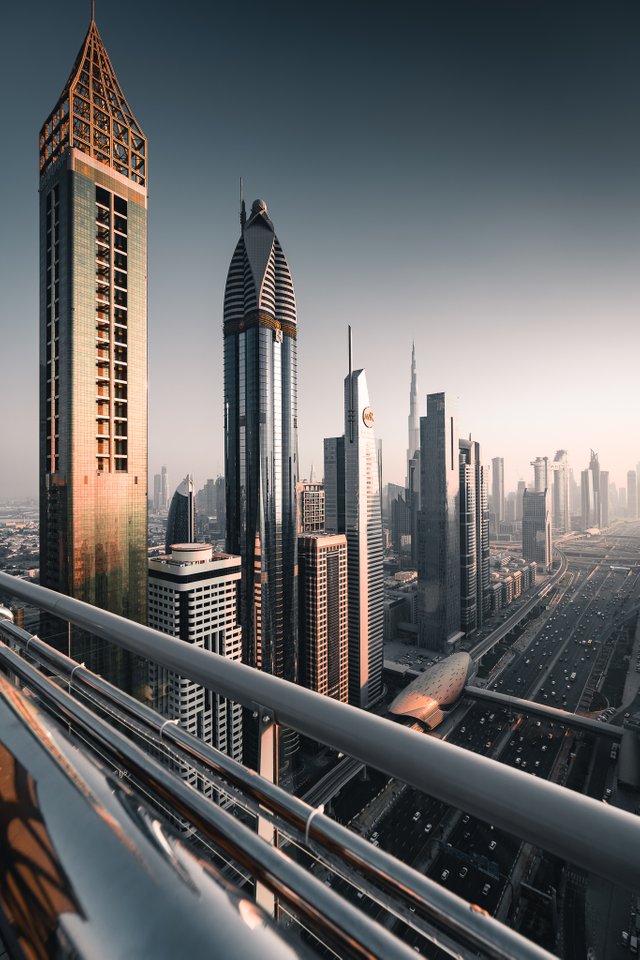 The view from the Level43 Sky Lounge is certainly one of the best in Dubai and for me personally, one of the best I've ever had! You should definitely stop by for a drink or two when you're in town! Since the railing was very high (or my tripod too low) I decided to use it as a creative element. I like how it forms a V-shaped frame for the skyscrapers together with the street.
Der Blick von der Level43 Sky Lounge ist sicherlich einer der besten in Dubai und für mich persönlich einer der besten, die ich je hatte! Ihr solltet auf jeden Fall auf ein oder zwei Drinks vorbeischauen, wenn ihr in der Stadt seid! Da das Geländer sehr hoch war (oder mein Stativ zu niedrig), entschied ich mich, es als kreatives Element einzusetzen. Mir gefällt, wie es zusammen mit der Straße einen V-förmigen Rahmen für die Wolkenkratzer bildet.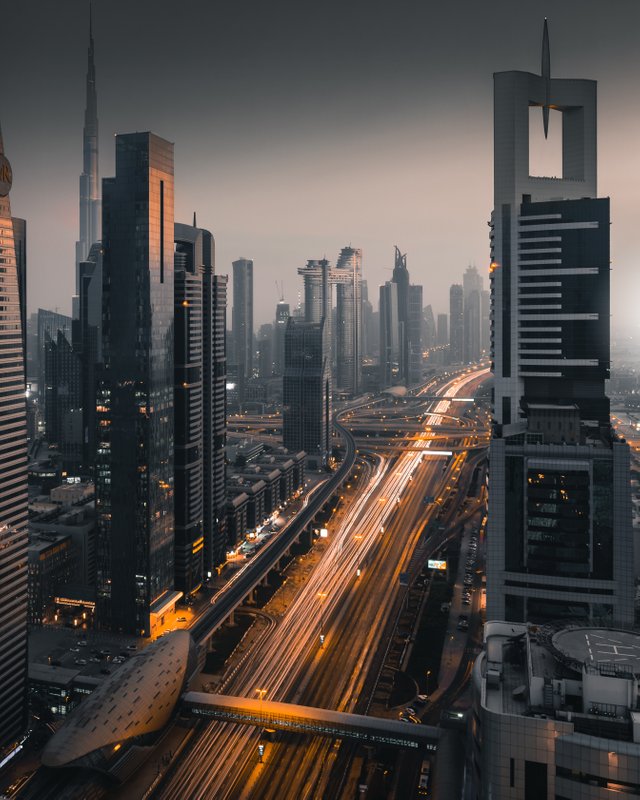 It's actually hard to believe, but this is not a future city from a science fiction movie - it's just another shot of the breathtaking view from theLevel43 Sky Lounge.
Es ist eigentlich schwer zu glauben, aber dies ist keine Zukunftsstadt aus einem Science-Fiction-Film - es ist nur eine weitere Aufnahme der atemberaubenden Aussicht von der Level43 Sky Lounge.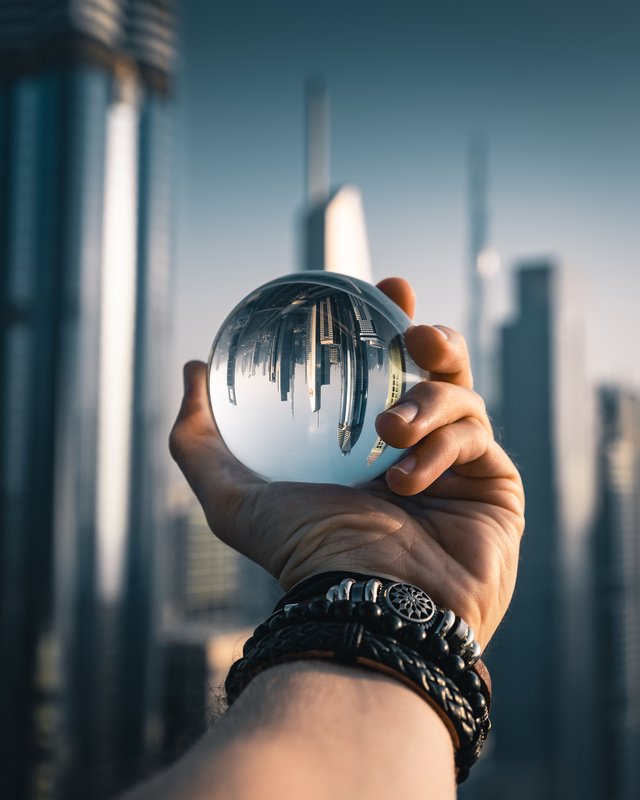 It's always exciting to be the first one to take a glass ball picture at a famous photo spot. Well, I don't know if I really was the first person to photograph the stunning view from Dubai's coolest Skybar through his crystal ball, but at least I couldn't find such a photo on Facebook or Instagram. If you ever wondered how many skyscrapers fit into a glass ball, you can see the answer here ;-)
Es ist immer spannend, der Erste zu sein, der ein Glaskugel-Foto an einem berühmten Fotospot macht. Ich weiß nicht, ob ich wirklich die erste Person war, die den atemberaubenden Blick von Dubais coolster Skybar durch ihre Glaskugel fotografiert hat, aber zumindest konnte ich ein solches Foto nicht auf Facebook oder Instagram finden. Wenn ihr euch schon mal gefragt habt, wie viele Wolkenkratzer in eine Glaskugel passen, könnt ihr die Antwort hier sehen ;-)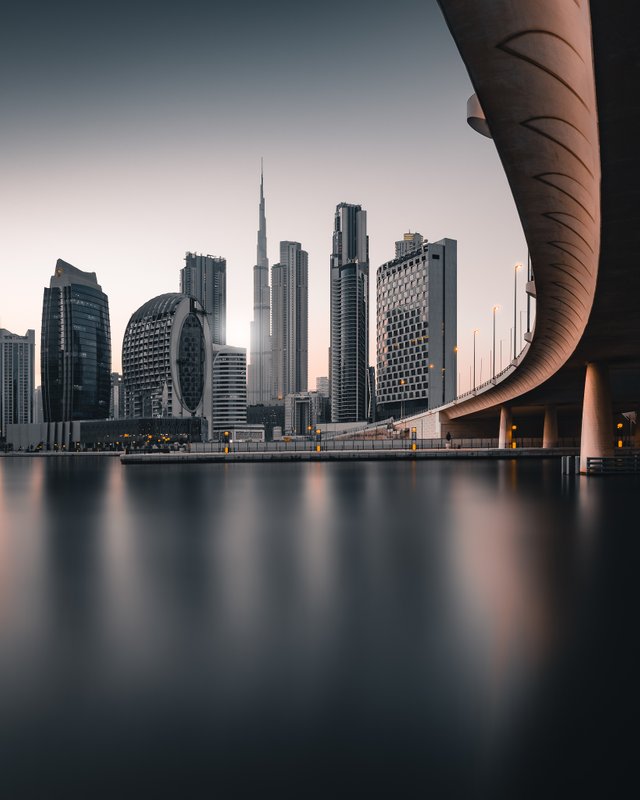 This photo spot at Business Bay offered me a great view of Burj Khalifa and Downtown Dubai. I really like the silky water surface in this picture and how the bridge forms a frame for the skyscrapers.
Dieser Fotospot an der Business Bay bot mir einen tollen Blick auf den Burj Khalifa und Downtown Dubai. Ich mag die seidige Wasseroberfläche auf diesem Bild und wie die Brücke einen Rahmen für die Wolkenkratzer bildet.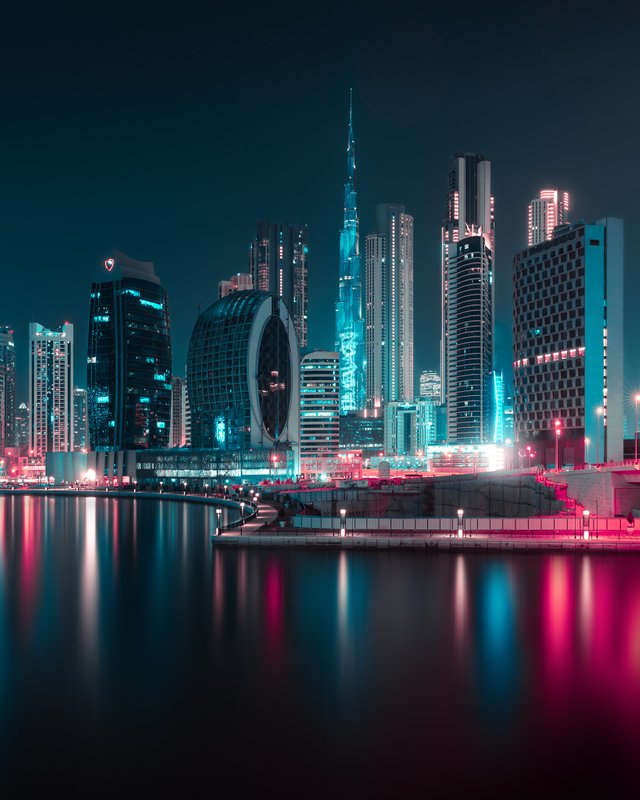 I took this one from a bridge at Business Bay - definitely a photo spot that I can highly recommend you, if you visit this amazing city.
Ich habe dieses Foto von einer Brücke an der Business Bay gemacht - definitiv ein Fotospot, den ich euch sehr empfehlen kann, wenn ihr diese unglaubliche Stadt besucht.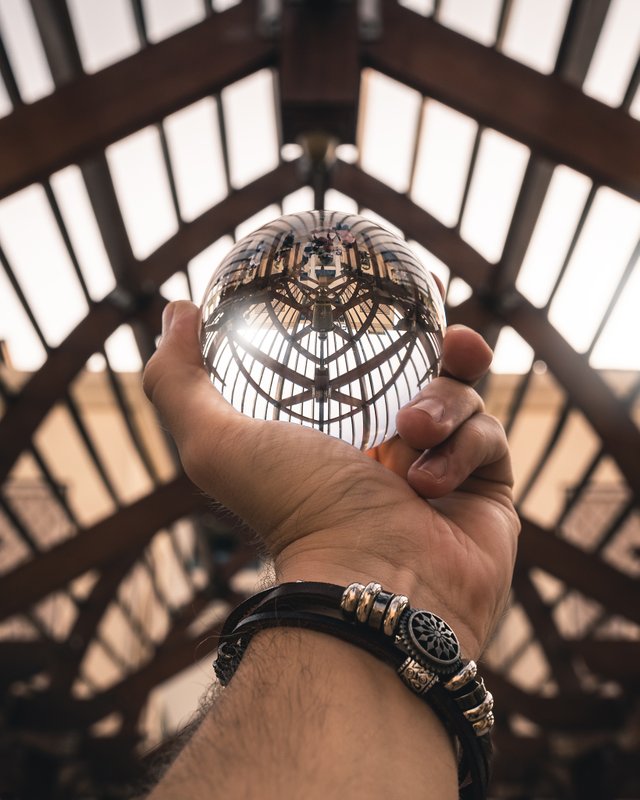 I found this wooden roof construction on a footbridge in front of the Dubai Mall and thought it would be quite suitable for a symmetrical handheld glass ball shot. Fortunately, I even had a bracelet with me that matched the colour of the wood.
Ich fand diese hölzerne Dachkonstruktion auf einer Fußgängerbrücke vor der Dubai Mall und dachte, sie wäre gut geeignet für ein symmetrisches, handgehaltenes Glaskugel-Foto. Glücklicherweise hatte ich sogar ein Armband dabei, das zur Farbe des Holzes passte.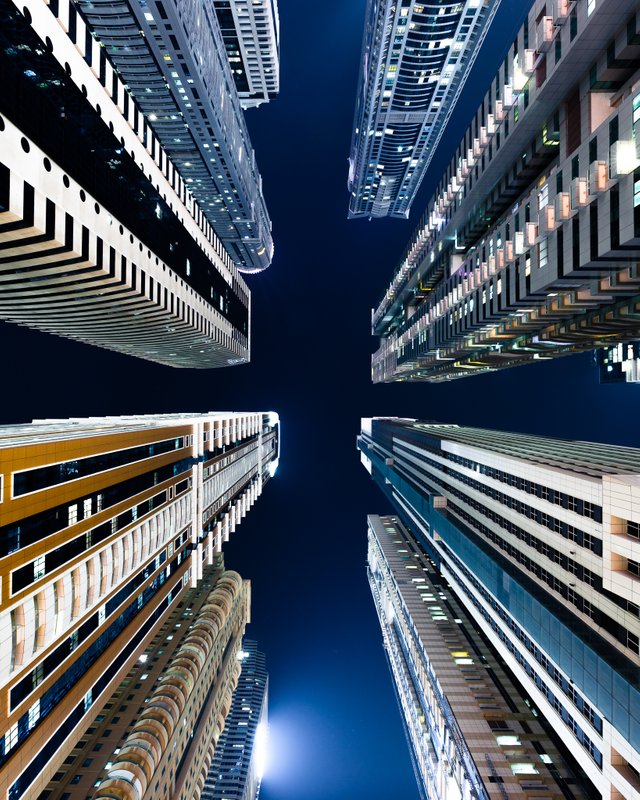 When you're walking around in Dubai, don't forget to look up every now and then - otherwise you might miss some wow moments…
Wenn ihr in Dubai herumläuft, vergesst nicht, ab und zu nach oben zu schauen - sonst verpasst ihr vielleicht einige Wow-Momente…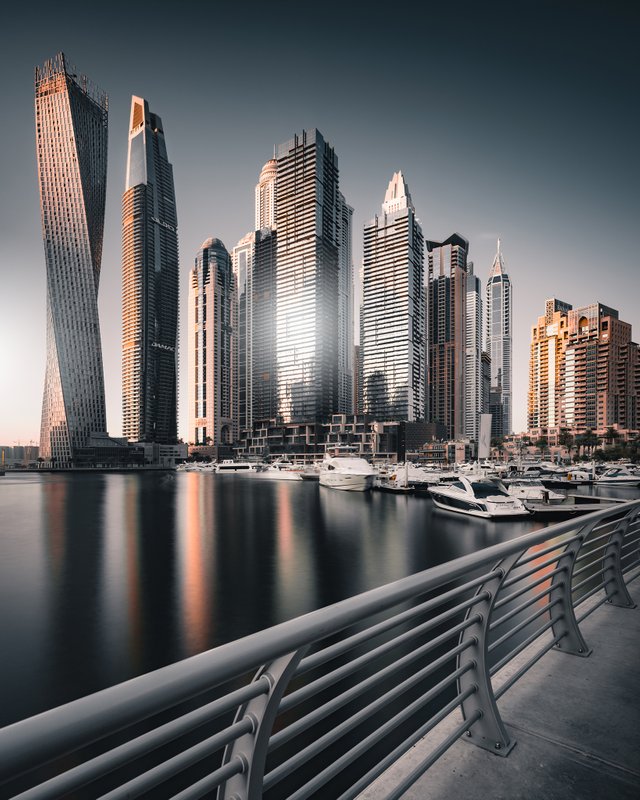 At Dubai Marina, Dubai's second impressive skyline has developed in the last couple of years. With its many hotels, restaurants and shops, this district is particularly popular among tourists. In contrast to many other places in the city, nobody interrupted me here from taking pictures with professional equipment. So I was able to experiment with the placement of my tripod and various filters without being disturbed. Wouldn't you like to moor your yacht here as well? I definitely would, if I had one ;-)
Im Stadtteil "Dubai Marina" hat sich in den letzten Jahren die zweite beeindruckende Skyline Dubais entwickelt. Mit seinen vielen Hotels, Restaurants und Geschäften ist dieser Stadtteil besonders bei Touristen beliebt. Im Gegensatz zu vielen anderen Orten in der Stadt hat mich hier niemand davon abgehalten, mit professioneller Ausrüstung zu fotografieren. So konnte ich ungestört mit der Platzierung meines Stativs und verschiedenen Filtern experimentieren. Würdet ihr eure Yacht nicht auch hier anlegen wollen? Ich würde es definitiv, wenn ich eine hätte ;-)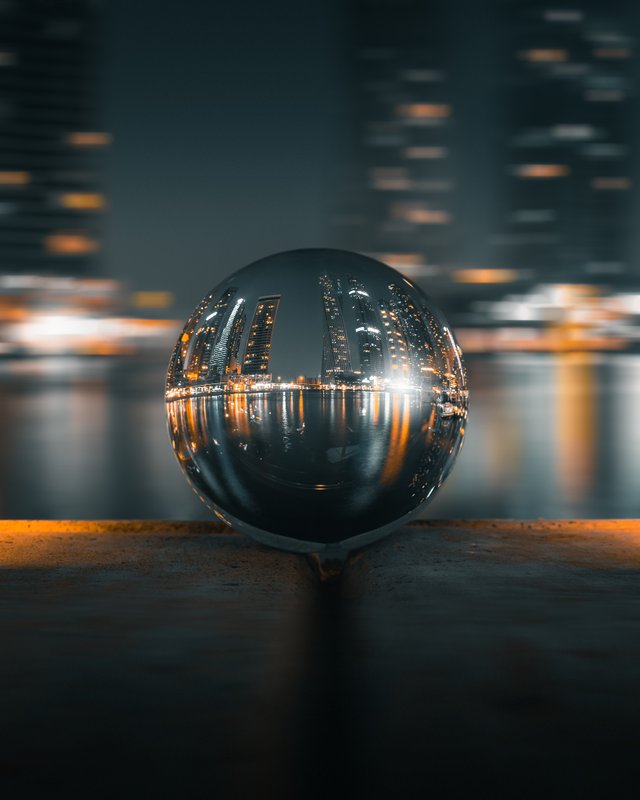 I don't flip my glass ball very often in post processing, but for this night shot at Dubai Marina I found it appropriate somehow. So I invested some time to make it look as realistic as possible. Hope you like the result.
Ich drehe meine Glaskugel nicht sehr oft in der Nachbearbeitung, aber für dieses Nachtfoto in Dubai Marina fand ich es irgendwie passend. Also habe ich etwas Zeit investiert, um es so realistisch wie möglich aussehen zu lassen. Ich hoffe, das Ergebnis gefällt euch.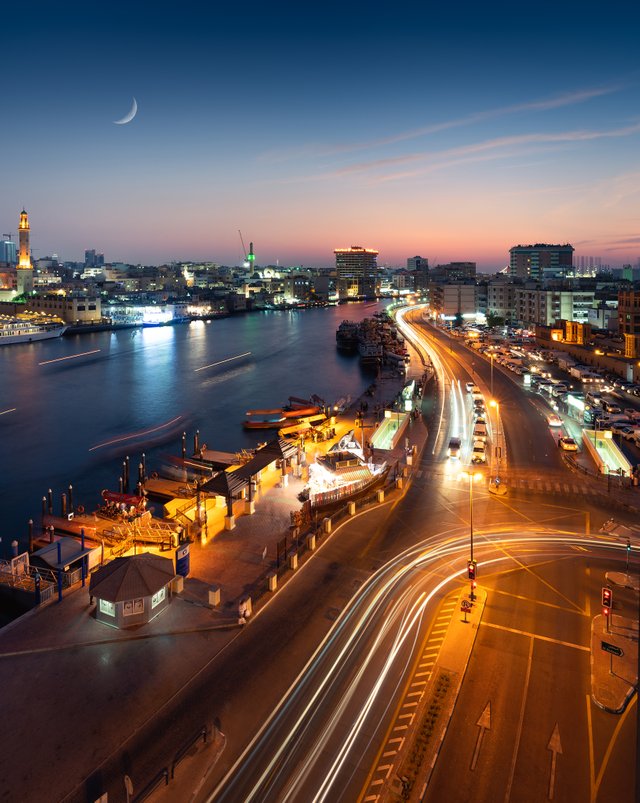 The district "Deira" has a completely different character than the hypermodern districts of the city. Here you can find many traditional souks, mosques, or taxi boats. On the roof of a parking garage I found this amazing hidden photo spot to enjoy the Arabian flair during sunset and blue hour.
Der Stadtteil "Deira" hat einen ganz anderen Charakter als die hypermodernen Bereiche der Stadt. Hier gibt es viele traditionelle Souks, Moscheen oder Taxiboote. Auf dem Dach eines Parkhauses fand ich diesen wundervollen versteckten Fotospot, um das arabische Flair bei Sonnenuntergang und zur blauen Stunde zu genießen.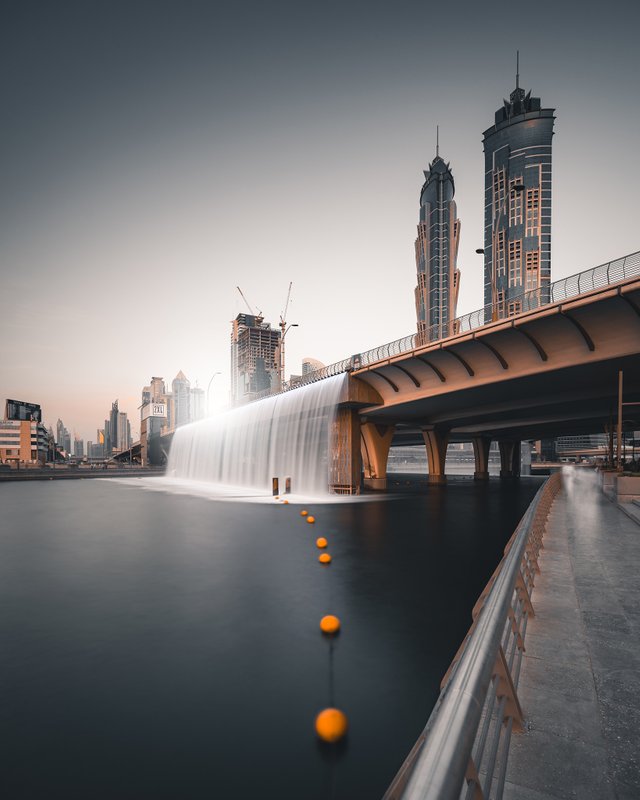 The Dubai Water Canal is one of my favourite photo spots in the unique desert metropolis. On the right side you can see the two 355m high towers of the JW Marriott Marquis Hotel. For comparison: They are even 30m higher than the Eiffel Tower in Paris! Nevertheless, they are only the second tallest hotel buildings in the world. But guess where you can find the tallest one - of course in Dubai as well.
Der Dubai Water Canal ist einer meiner Lieblings-Fotospots in der einzigartigen Wüstenmetropole. Auf der rechten Seite sieht man die beiden 355 m hohen Türme des JW Marriott Marquis Hotels. Zum Vergleich: Sie sind sogar 30 Meter höher als der Eiffelturm in Paris! Dennoch sind sie nur die zweithöchsten Hotelgebäude der Welt. Aber ratet mal, wo sich das Höchste befindet - natürlich auch in Dubai.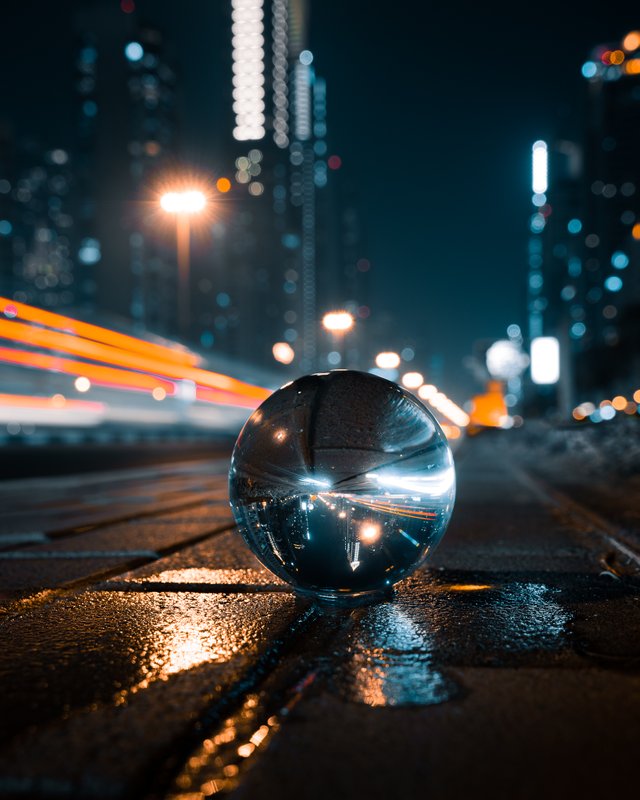 I took this glass ball shot at Sheikh Zayed Road - Dubai's largest and most famous road. The 52km long expressway has developed into the main traffic route of the desert city in recent years and connects almost all districts of modern Dubai.
Ich machte dieses Glaskugel-Foto an der Sheikh Zayed Road - Dubais größter und berühmtester Straße. Die 52km lange Schnellstraße hat sich in den letzten Jahren zur Hauptverkehrsader der Wüstenstadt entwickelt und verbindet fast alle Stadtteile des modernen Dubai.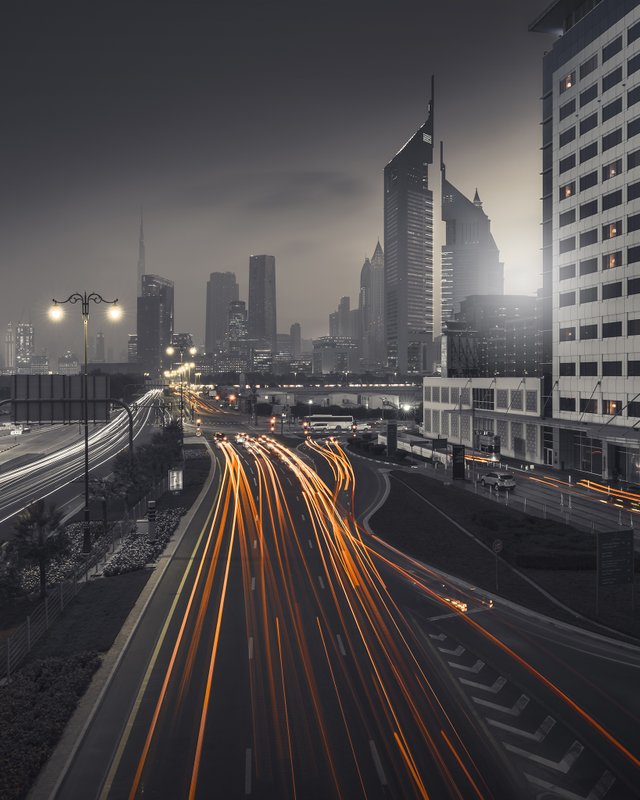 On the right side of this picture you can see the Emirates Towers and on the left side in the background even Burj Khalifa - the tallest building in the world. For this shot I chose a kind of flat low contrast look without any blacks. It's a bit hazy here all the time, so I think it fits quite well for this city. Nevertheless, I wanted to make the light trials really stand out in order to make the image appear more interesting and dynamic.
Auf der rechten Seite dieses Bildes seht ihr die Emirates Towers und auf der linken Seite im Hintergrund sogar den Burj Khalifa - das höchste Gebäude der Welt. Für diese Aufnahme wählte ich einen kontrastarmen Look ohne tiefe Schwarztöne. Es ist in Dubai die meiste Zeit ein wenig diesig, also denke ich, dass er ganz gut zu dieser Stadt passt. Dennoch wollte ich die Lichtspuren hervorheben, um das Bild interessanter und dynamischer erscheinen zu lassen.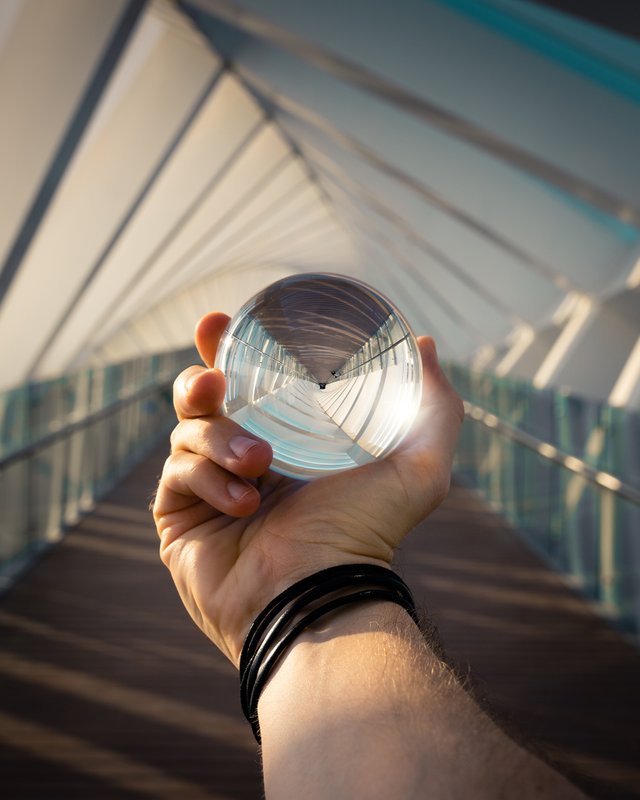 I discovered this pedestrian bridge in Dubai while researching the Internet for good photo spots. Due to its spiral-like, closed construction I was sure that it would be an ideal place for crystal ball photography. Fortunately there were not many people and the warm light of the low sun brought some nice contrasts into the picture, which accentuated the tunnel-shaped structure of this unique bridge even more.
Ich hatte diese Fußgängerbrücke bereits entdeckt, als ich im Internet nach guten Fotospots gesucht habe. Aufgrund seiner spiralförmigen, geschlossenen Bauweise war ich mir sicher, dass es ein idealer Ort für die Glaskugel-Fotografie sein würde. Glücklicherweise waren nicht viele Leute dort und das warme Licht der tiefstehenden Sonne brachte einige schöne Kontraste ins Bild, die die tunnelförmige Struktur dieser einzigartigen Brücke noch stärker betonten.
See you!/Bis bald!
Stefan

Check out my other recent posts: