📷Happy New Year to all | 祝大家新年快乐😎(by @ace108)
Last year was a bad year form many people. I hope this year will be better for all. This is picture I made from a photo a took from the new 65 inch TV that was delivered a week ago. It was part of the countdown programme aired on TV but there was no big fireworks there to avoid people crowding.
去年对很多人说是糟糕的一年。我希望今年将是好的。这照片是在挺新的65英寸电视机上拍了弄成的。当时电视上播出倒数节目但没有大烟花放射以避免众人去那里聚。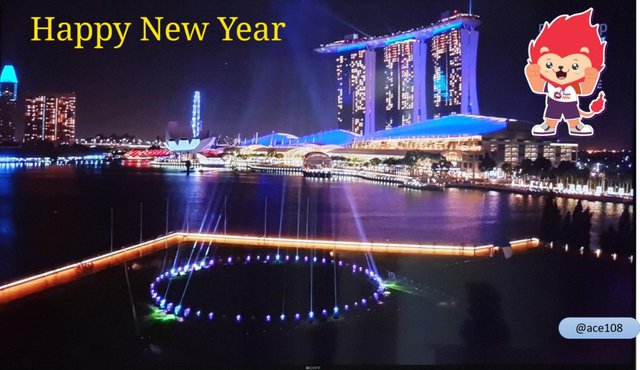 2 days before the year end, the doctor told my father has some kind of cancer. I am looking for more ways to treat in addition to chemotherapy. This was the major bad news for me.
Still... we should count our blessings.
Still alive.
Got my diploma in Big Data & Streaming Analytics.
Got a temp job with the COVID-19 Ops which brought in some money.
I got a job in October albeit it's only one year contract. That allow me to work from home most of the time so far although we have been told we shall have to go back to office 2 to 3 times a week soon.
It could be better but I'm thankful it's not worse.
We have heavy rain on New Year day. We were told to expect thundery showers in the first 2 weeks. I hope that wash away many of the bad things we have here. So, let's power up a bit.
年底前2天,医生告诉我父亲得了某种癌症。我正在寻找除了化疗更多的方法来治疗。这对我来说是重大坏消息。
但是我们也还该感恩。
能活在当前。
拿到了我的大数据文凭。
做了几个月新冠行动组的暂工也有点收入。
我在十月得到了一份工作虽然它只有一个为期一年合约。这让我到目前为止能大部分时间在家工作,尽管我们已被告知,我们将得每周回到办公室2〜3次。
事情可更理想但我也感激它不是更糟糕。
新年第一天下了大雨。天文台告知,这2周会下多雷雨。我希望会冲洗掉我们很多不好的事情。那就给自己加点Hive能吧。

🎶Meanwhile, some music for you to enjoy as you read. This piece is part of Vivaldi's The Four Seasons, particular the first of the 4 violin concertos, called Spring.
🎶让大家继续读的时候,欣赏一点音乐。这件作品是维瓦尔第的"四季"的一部分 - 4小提琴协奏曲中的第一首,名为"春天"。
Source | 来源:
https://musopen.org/
https://soundcloud.com/alan-chang-563971986/four-concerti-grossi-4-vivaldi-op8-i-la-primavera-allegro-largo-allegro
Source | 来源:
https://musopen.org/music/2213/antonio-vivaldi/the-four-seasons/
---

Please see my other posts:
@ace10
请看我其他帖: @ace108
---