In the evening light...
Slightly off-the-beaten track, kinda isolated, but serene, quiet and worth the visit, in my opinion... this is the Pura Ulun Danu Buyan, the Lake Buyan temple.
Away from the masses, it looked a little abandoned, a little over-grown... it might have been under-going some maintenance, but still lovely in its own way.
---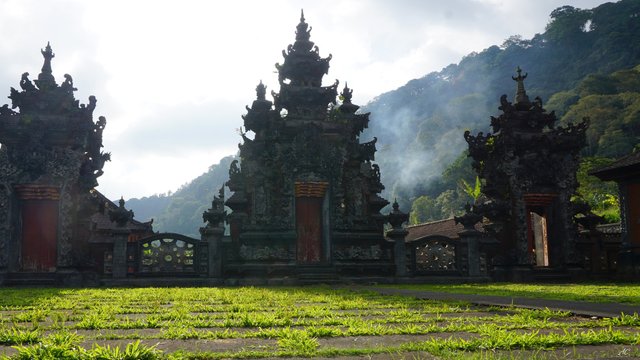 It was evening and the sun was still high... but low enough to present a quality of light that enhances the loneliness of the place
Shadows were already getting long but the sun very nicely lighted the tufts of grass in the courtyard that added that little extra touch to the scenes
Mind you, these are just the gateways, the tower-type called 'paduraksa' or 'kori'
Looking very majestic, in my opinion...
And the smoke curling lazily from a fire somewhere nearby added to the ambience
Just beyond the walls, a short distance away lies Lake Buyan
---
Captured with SONY A5100 | © image & text original content | click image for fullscreen view
---
---
~ more of my learnings & experiments ~



I'm with QURATOR... Are you?

Vote for Qurator as a Steemit Witness
via steemit.com or steemconnect