Purple Bloom in Napa Valley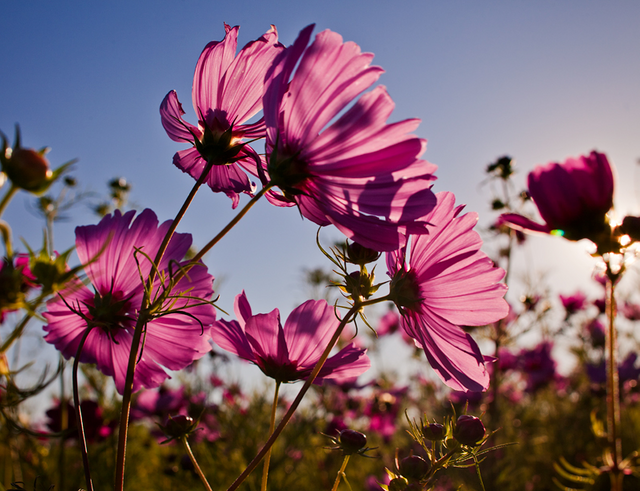 Click on image to view larger
---
Purple Bloom in Napa Valley
I'm not familiar with these flowers. I sort of just snapped it while driving around in the Wine Country in Napa Valley, California. Looking around for images in Google search, I believe it's Chicory (Cichorium intybus), but I could very well be wrong. Your guess is as good as mine.
That's what sucks about snapping on random plants you come across when you're not a botanist. Still, it's fun looking for a matching plant later when you actually have to name and describe the photo.
Do you know what this plant is?
---
| | |
| --- | --- |
| Category | Landscape |
| Exposure | Manual exposure, 1/60 sec, ISO 100 |
| Camera | Canon EOS 5D |
| Lens | Canon 90mm TS-E |
| Filter | Polarizer |
| Location | Napa Valley, California |
---

"Travel is fatal to prejudice, bigotry, and narrow-mindedness." - Mark Twain
All photos are taken and articles are written by Adonis Villanueva of Always Wanderlust unless otherwise stated.

USE YOUR SP TO EARN PASSIVE INCOME - SMARTSTEEM
GET MORE FOLLOWERS - Steem Engine
THE BEST TRAVEL CONTENT - TRAVELFEED
Have a Laugh!
The Spider in the Patio
Detained for Drugs in Norway
Unforgettable Ride on a Chicken Bus
The Love Valley
---
Twitter Page, AlwaysWanderlust
Facebook Page, AlwaysWanderlust
Instagram Page, AlwaysWanderlust
Website, AlwaysWanderlust.com
Join the Steemit Travellers on Discord
© 2017 AlwaysWanderlust.com All Rights Reserved