Coot Photoshoot : Featuring Mama Coot
I was taking my daily stroll and decided to take a different route that day. It was burning hot so I brought my D Eye since every form of beasts, critters and cute creatures hang out close to the road when it's ultra sunny on this side of the earth.
Look who I found busily sorting her nest in the mere. The nest was laid too close to the bank, I could probably reach for it if I just dare go a few steps closer but she spotted me and gave me that warning glare.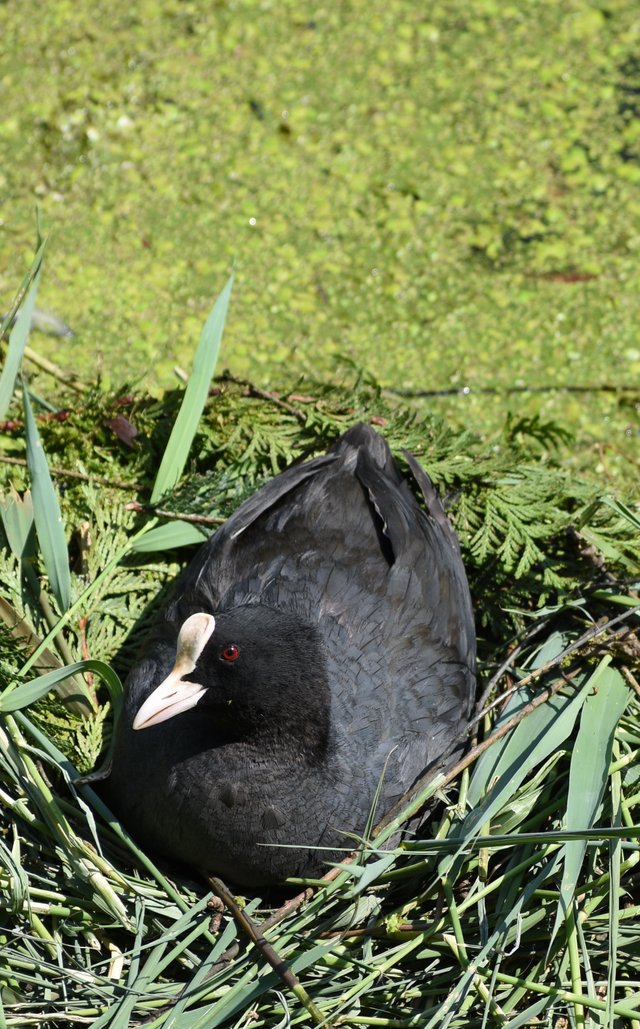 I could see all eight eggs because she was standing and busily sorting the fresh cut grass Mr. Coot brings her so I took my D Eye out and took a snap but I realized I had the wrong lens on it so I decided to switch lens which I sort of regret cause then she spotted me and sat back down, hiding all eight eggs.
I reached for my cam bag pretending I got bread in there and that I was reaching for it but ...
"You! Your trick won't work with me Missy. I still remember what you did to my husband last winter. Go away!"
...coot she, while the back of her hair stood, I think that means I'd better back off. Not that I even dared went closer.
"Just a few shots Mrs. Coot, you look pretty lovely today, it must be the sunlight on your feathers. Would you please stand up a bit so I could see your eggs?"
I got ignored and yawned at. I wasn't even sure it was a yawn, it could also be a warning that I shouldn't dare get any closer which I wasn't planning to.
If there's something about the coots, even the aggressive geese fear those beaks. I was not planning to get any closer specially one nesting on eight eggs. Ducks fly away from those beaks and am wingless so not a chance.
I stood there patiently waiting for her to budge and had my hopes up when Mr. Coot finally approached the nest with a cut grass to add to her nest coo-ing.
She looked back at him speedy quick and lifted herself a bit, exposing two of her eight eggs but instead of taking the grass with her beak from Mr. Coot, she just sat tight.
I guess Mr. Coot understood he has no other choice but to lay the piece of grass on top of the nest while Mrs. Coot sat there eyeing me still with that grin on her face. As if saying;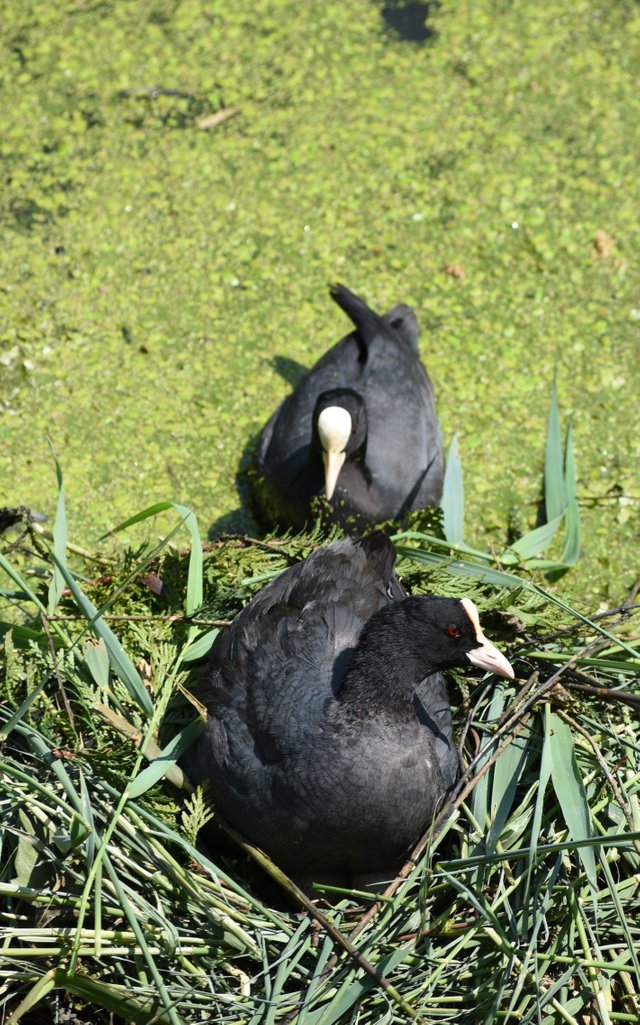 " You thought I'd stand up do you? That's what you thought!"
Mr. Coot stayed close by instead of going for another piece of grass. Surely, he's not done making that nest yet but the sight of me must have rang a red alert on him so off I tucked my D Eye back and went on my usual stroll.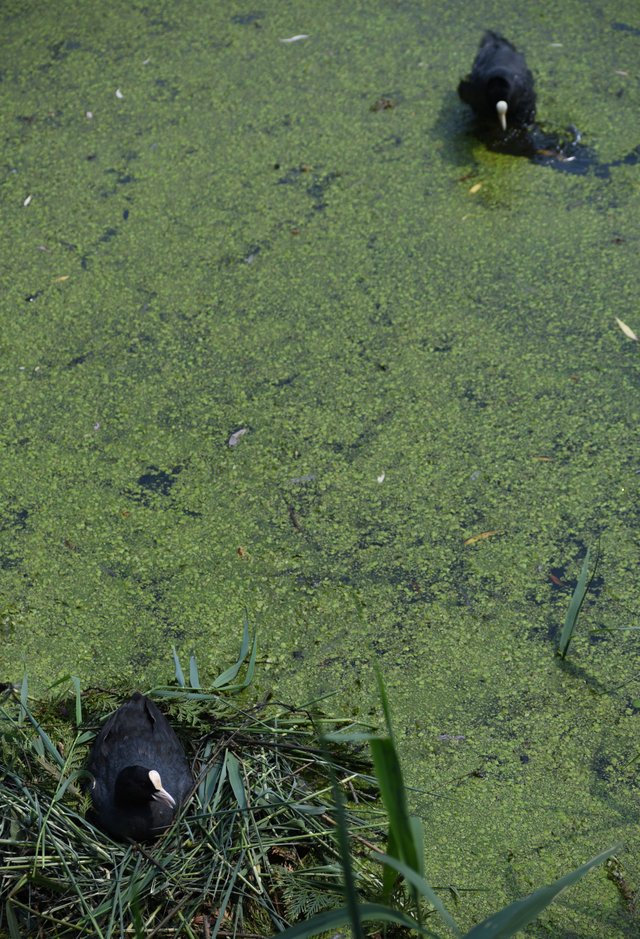 Oh well, two eggs on a frame's also enough ...
that yawn again ... like what a very pregnant woman does ...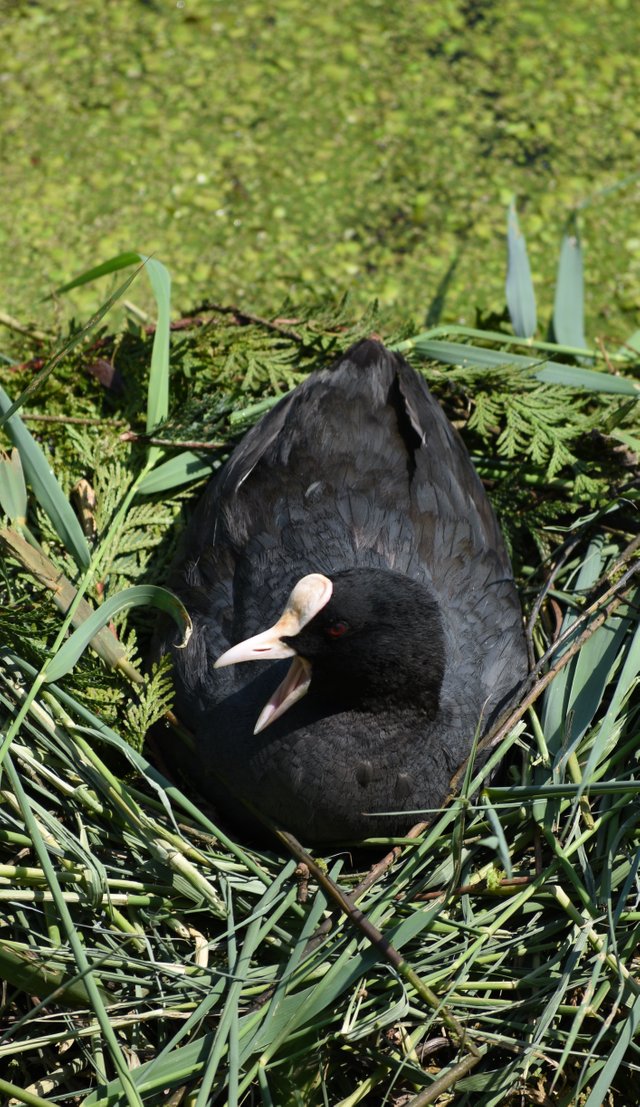 These two are pretty late I suppose, I've already seen the other coots in the other mere with their babies while she's still sitting on her eggs.
This content's 100% mine . I took the pics with my D Eye .. Right click on the pic to open it on a new tab.
---
---
**TIP :
ONLY Upvote POSTS THAT ARE 6 DAYS OLD below to earn yourself curation rewards.
---
---