Left Behind ..
I saw this on the way somewhere in The Hague.
It kind'a remind me of how I feel after watching talks during the fest in utube.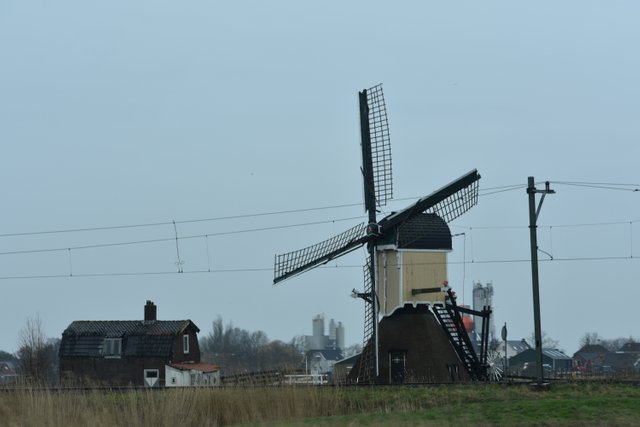 I have to admit I got dizzy at all those talks. Some .. makes you think like.. how kind could this community be too kind to even allow people to up sell their product while they make the block chain look like there's nothing you can gain from publishing in it. I admit that I skipped so many speakers' talks just because I don't seem to be getting any value out of it.
My head throbbed after a few hours of listening to those talks and it's not because I was multi-tasking doing my chores as a wife (since I don't really like sitting on the chair just listening to all of it for a long time). Imho, it's because am not the techie type and the things that were discussed plus the new development that are on the way are just too much to take in, in a day. I wonder how much more if I were there sitting . I can't help but feel like .. that house .. which kind'a look like it's been left behind .. standing there in the middle of a fast moving modernization going on around it.
Am sure am not the only one .. folks, we really have to learn to get to adapt that's the only way we could survive in this murky water we're swimming in.
How many of you somehow, feel like .. you're being left behind? You do?
Why don't you personally take your own picture of anything around your surroundings that shows and speaks your own inpretation of "Left Behind".
but first ... resteem this post so the many could also benefit, yes, you will have to resteem this post and thank you already
post your self taken picture on the comment section below and kindly explain why you feel like you're being left behind around here.
posting about it on the comment section applies till this post gets paid out
my only promise is to cast a 100% upvote on it BUT ONLY if you took your picture yourself and did not just grab anything for free anywhere else.
you can't find anything around you to take a picture of but you feel like you are left behind around here, no worries, write down why you feel like you're being left behind around here and I'll cast a 50% on it.
This content's 100% mine . I took that pic with my D Eye while we're on the road so I used the sports setting.
---
---
**TIP :
ONLY Upvote POSTS THAT ARE 6 DAYS OLD below to earn yourself curation rewards.
---
---