Shopping Is A Lot Cheaper In The Border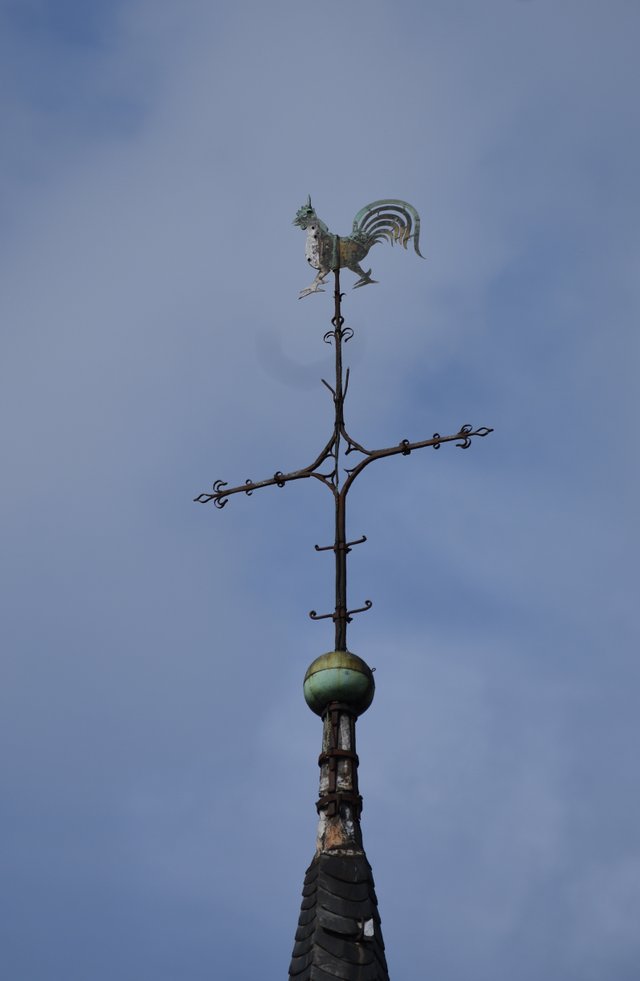 Which city in the border you ask? If you are Dutch or German then you probably have an idea what am talking about. Shopping is a lot cheaper in the border. Though almost every city in the border offers 20 to 25 percent less here's the first clue to which city I've been to.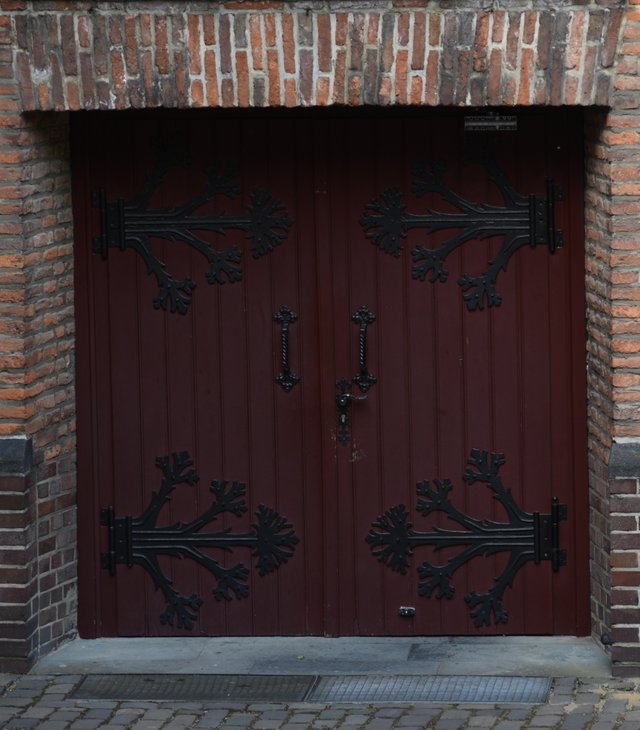 Below that landmark is this beautiful door. Reminds you of something? Who and what? Can you tell which city in the border I've been to, to do some shopping? One percent up to the first one who gets to guess it first.
My husband and I were both free that afternoon and we decided to not wait for the weekend to go there since it normally just takes us 45 minutes to get to that city. We left early but came across a traffic jam five minutes later on the highway.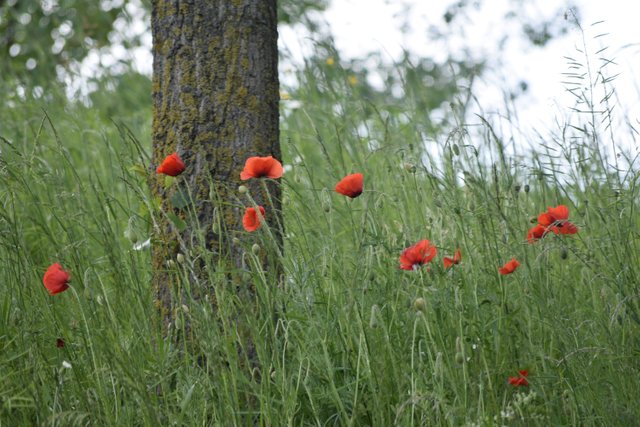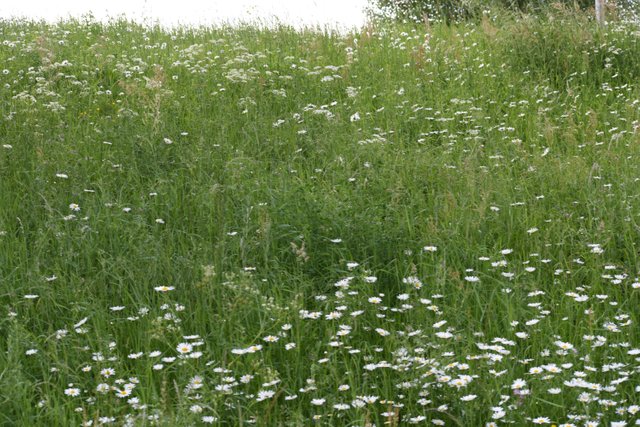 I was so bored I took pictures of flowers on the dike, in the middle of the road. I wanted to take more pictures but as you know, everyone can see you here and I didn't want to distract anyone behind the steering wheel and cause an accident so I had to contain myself.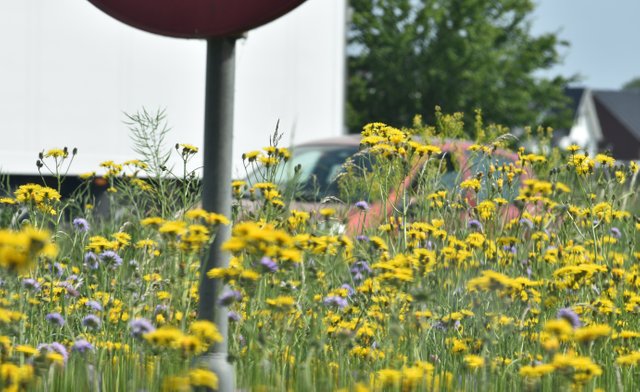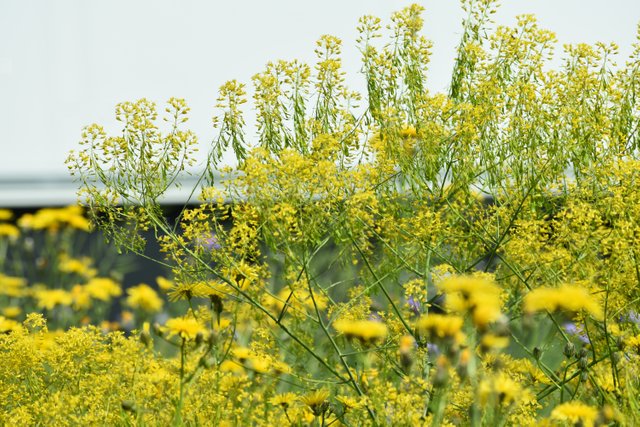 It was a sunny day, a lot of convertible were on the road. Classic cars here and there and some people flying model planes. It was also pretty windy that day, everything outside was moving it's hard to take a clear shot. I wasn't brave enough to roll my window down and take some pics out because what if .. ? I am well aware that this is not the Philippines where a bike or two would just risk driving between cars but you'll never know.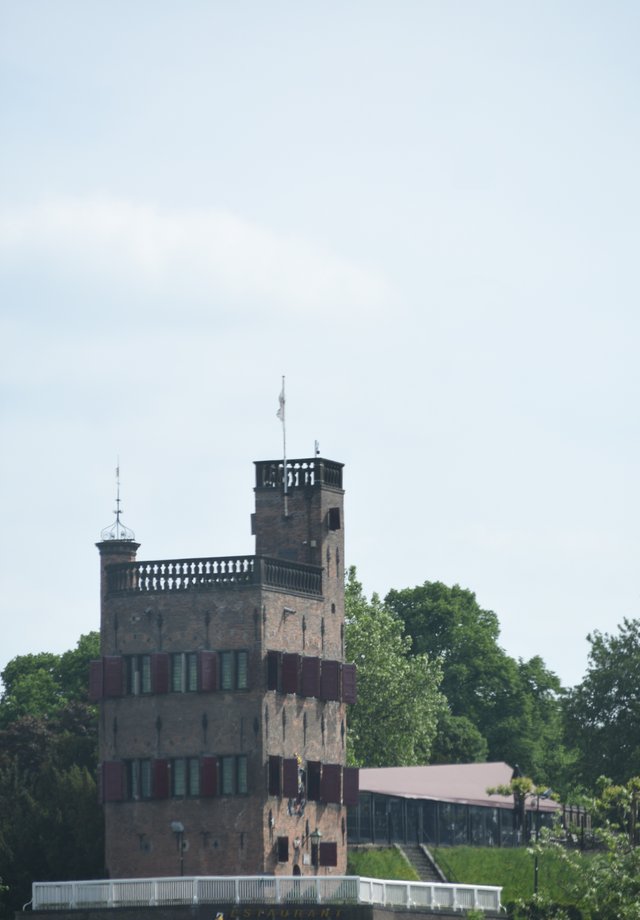 Here's your second clue, we passed by this city to get there. At some point, I wanted to ask my husband to just pull over a parking in this city, too but I really want to buy some cook ware that day and macaroons in the bakery there, that is ... if that store still exists cause it's been four long years since I've been here.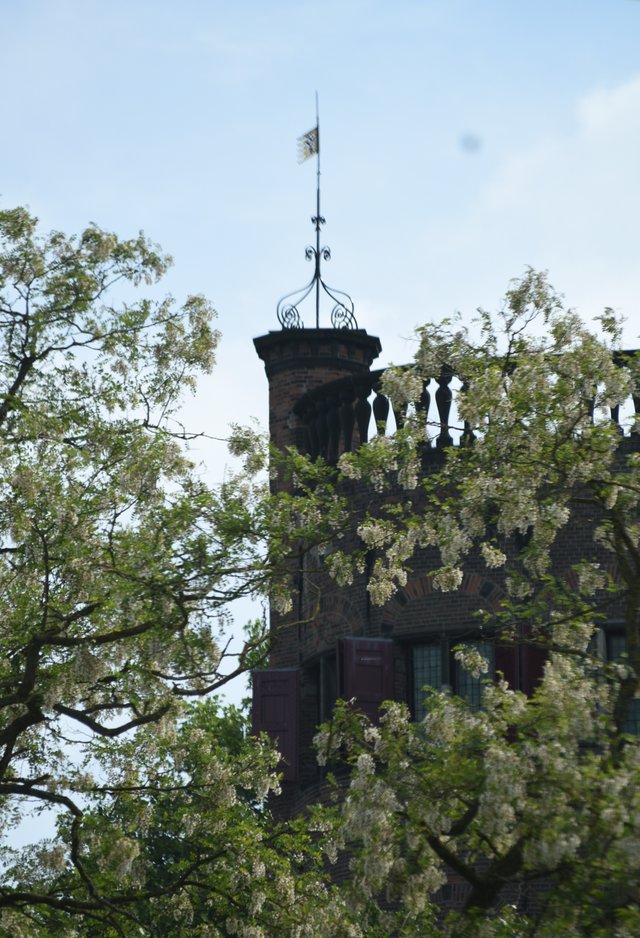 Passed this city, the traffic finally got smoother so my husband stepped on the gas while I go gushing over the view. It seems a lot greener in the border and hills and mountains finally started showing up. We don't have that much in NL we're basically flat.
At quarter to 17:00 we've reached the city and I was almost dismayed because that means we have but an hour to go around. We parked a street away to where we parked last time because it was free but it's a kilometer walk away to the shops.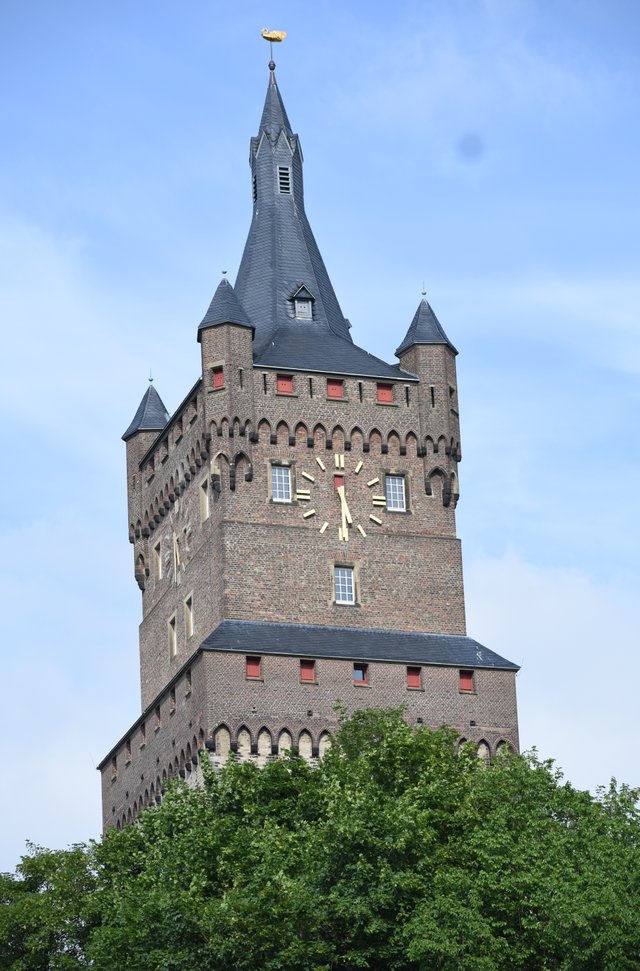 Third clue, can you see the golden swan above? I was wondering why I've been seeing benches of ceramic swans on the way to the parking and I asked my husband what the swans have to do with this place and I guess, that wind vane up there just explained it.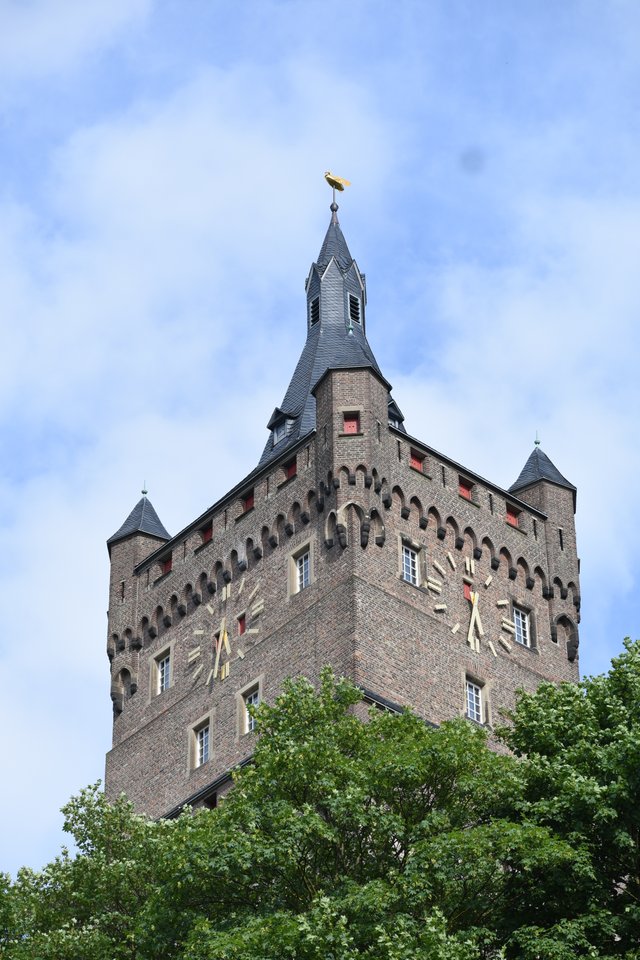 We passed by department stores and seeing the tags on stuff each lass would want to splurge on made me want to go inside and shop till I drop but you see, I have an hour left before the shop closes so they will have to wait. Macaroons and cookware first! I had to pass on the ladies' stuff! I wish we got there a lot earlier but you see, it took us an hour and a half to get there.
I passed by these manholes and I couldn't help but take these shots. It didn't take a minute doing that anyway. Reminds you of who and what again? I've seen plenty of these in cities in the border. Last time we were in Kranenburg, I couldn't help but notice them, too. That's cause in the Philippines, our manholes don't have covers so a huge flooding means some people could fall off an invisible one or flood or not, a very drunk person's stinky omen.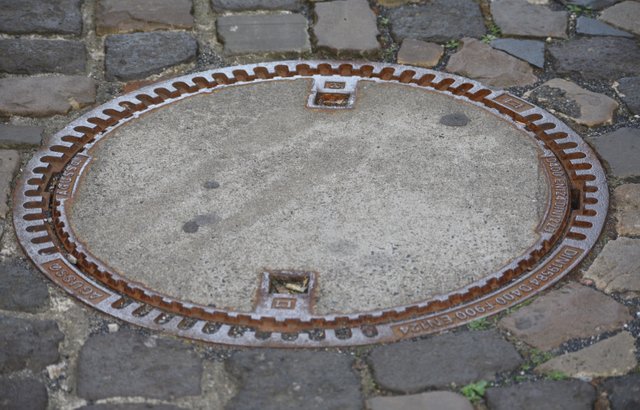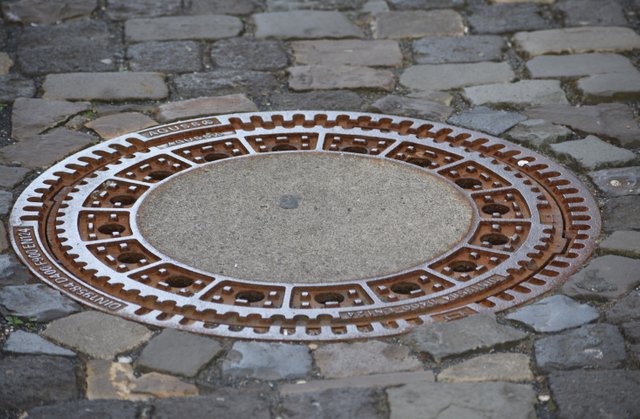 We passed by the bakery that sells the organic macaroons first but I've decided to go to the cookwares first because I really want to grab me those kitchen wares.
Since we're on a hurry and I was hoping we'd finish shopping there in a quarter, I asked the guy who greeted us by the door if they have a pressure cooker. He handed me one and I checked out the price and it was almost 300 euro so I asked whether they have a cheaper one. He gave me another one which just looks exactly the same as the first one he gave me but costs a hundred plus.
I asked what the difference is between the two and he explained it in German and in a way that I could understand it. He said the first one is like that car most mafia's use and the second one is like the other car that had a scandal. I did get that but since they still look very much the same I went for the one that had a scandal, I mean ... the cheaper one.
That store sells so much cute kitchen wares that aren't pricey but of very high quality, I went gaga shopping and before we know it, it was past six I had to pay for what I bought and so does my husband.
We would have gotten out earlier had my husband not joined me buying something which made the guy explain things to him. As they speak a different language we only understand and only my husband utters, it was hard inquiring on what nots.
The owners of the shop were very patient with us. I asked whether they speak English or Dutch but they said they understand so I may ask away. I asked some stuff about warranty and so on and so forth and you can imagine us speaking in languages that are alien for each of us. I had a throbbing temple which I probably got from listening hard and translating what's been said. That's the catch.
I ended up carrying one heavy pan and a less heavy pressure cooker on the other while my husband carried the other two plus what he bought. The lady in the shop asked how far we parked and grinned when we told her a kilometer away. I forgot that it's going to be an uphill climb but you see, I don't mind, I paid less than half of what I would have paid had I bought those kitchen wares here or online. I'd be back for the ladies' stuff and the macaroons. No, I didn't get to buy any since the bakery was already closed.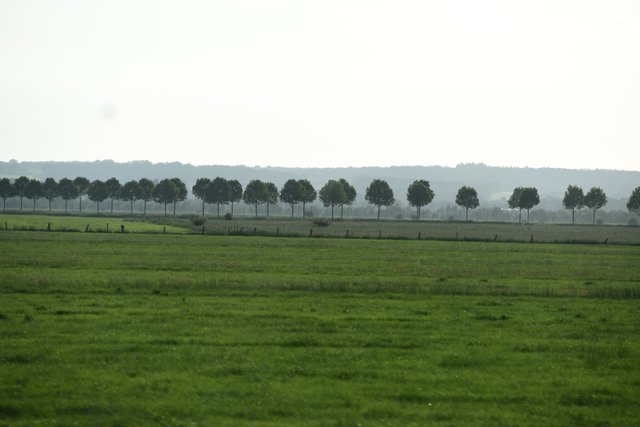 On the way back, the traffic was a lot smoother. I tried to take some shots of the place we passed by but everything turned out tilted. By the way, have you guessed which city in the border it is? Do you also go shopping close to the border? Where? What for and why?
Are you from the country where this city is located? What's your people's secret? How come everything there seems two to three times cheaper where we are? Plus, the people are a lot more laid back? How come!?
This content's 100% mine . I took the pics with my D Eye .. Right click on the pic to open it on a new tab.
---
---
**TIP :
ONLY Upvote POSTS THAT ARE 6 DAYS OLD below to earn yourself curation rewards.
---
---