Mint Chocolate Chip Muddy Buddies - FOOD PHOTO SHOOT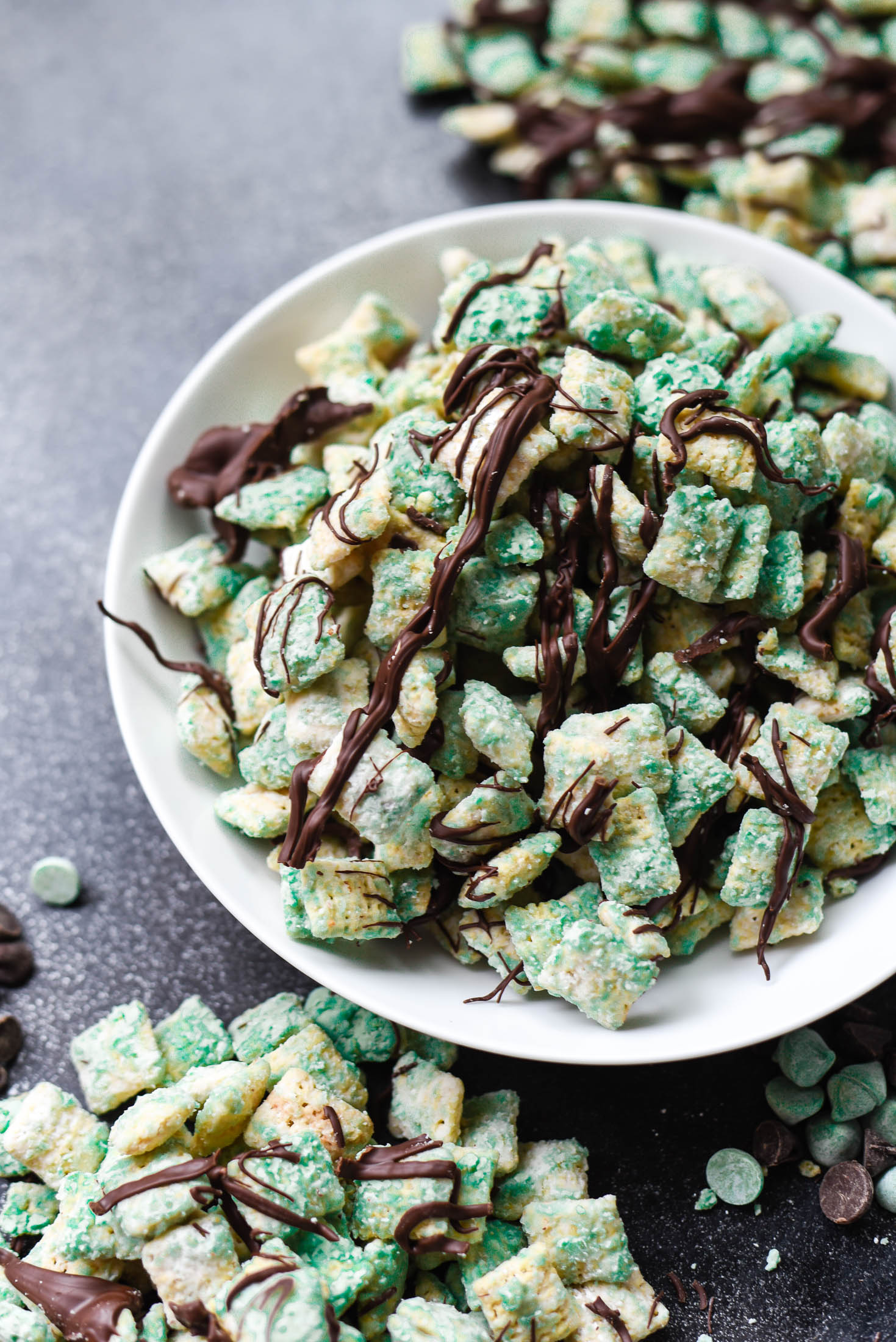 Happy March you guys!
I'll do you guys a favor and skip talking about how it got here so fast, even though it did, and get right to the recipe today. I don't know if I'm the only one, but I always seem to forget about any holidays in March because there aren't any major ones. I honestly don't consider St. Patrick's Day much of a holiday, but who am I to pass up a chance to make some Irish recipes and minty chocolate treats? Now that, that I can do.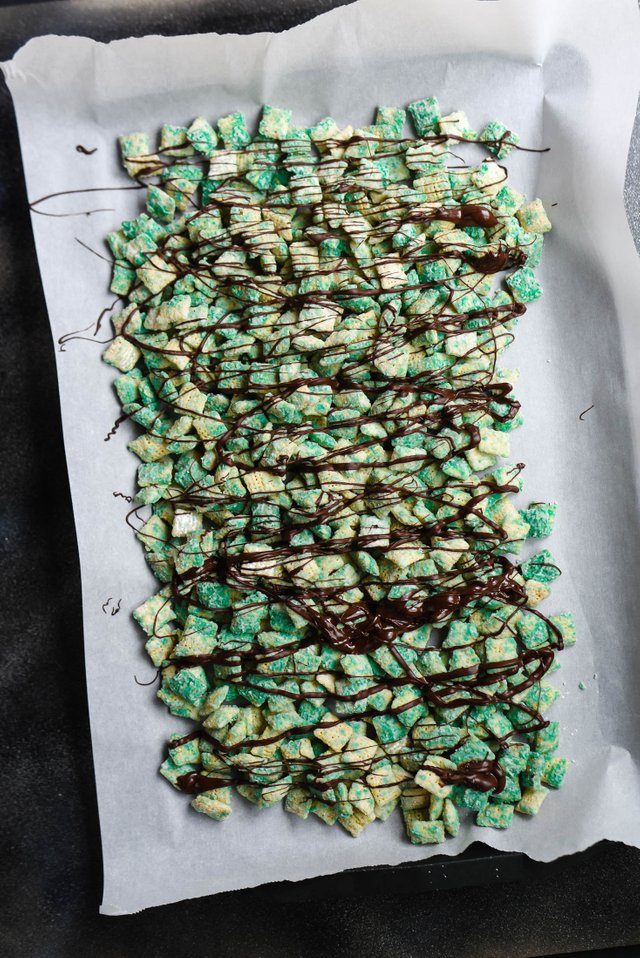 So I've made a few versions of this stuff (btw, what do you call it? I've heard it "puppy chow", "muddy buddies", and "crack mix") I'm thinking since the original stuff that you can buy is called muddy buddies, that might be the most common, but I also like to call it puppy chow too. Whatever you call it this stuff is addictive.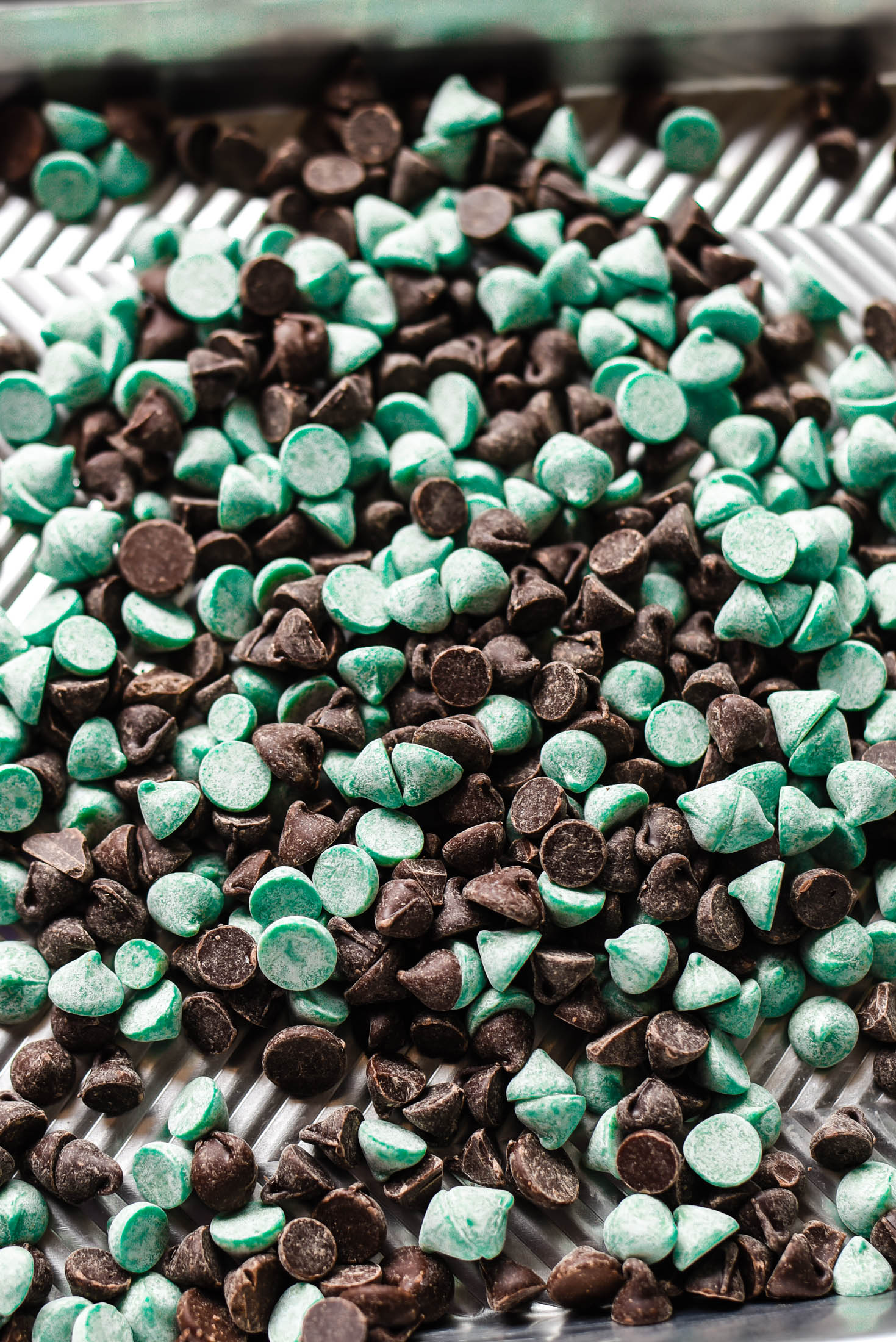 So earlier this year a family member was in the hospital for a while. I'm pretty terrible in these kinds of situations, especially when there isn't much I can do. Well, something I did really enjoy was getting to bring food to those staying at the hospital room for company. My mom probably spent the most time there, so when she asked me to pick up some snacks for the room I was so happy to do that.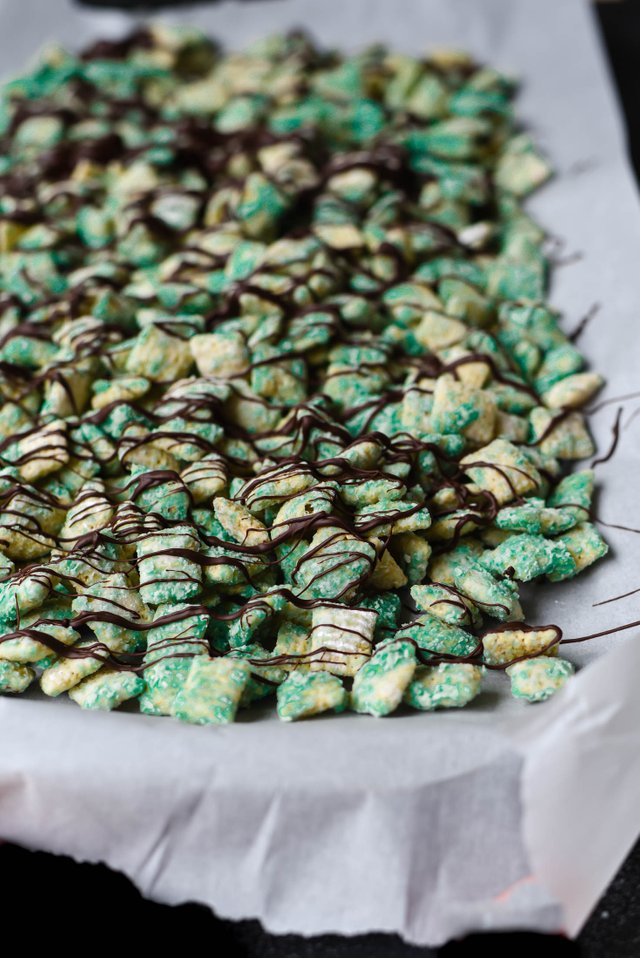 I know my mom's taste pretty well too, so I grabbed some salty sweet type stuff and one of the random items that ended up in my cart were Chex mix muddy buddies. I've actually never bought them before so I wasn't sure about them, however my mom said even though they were probably not the healthiest option, she really enjoyed having them at the time.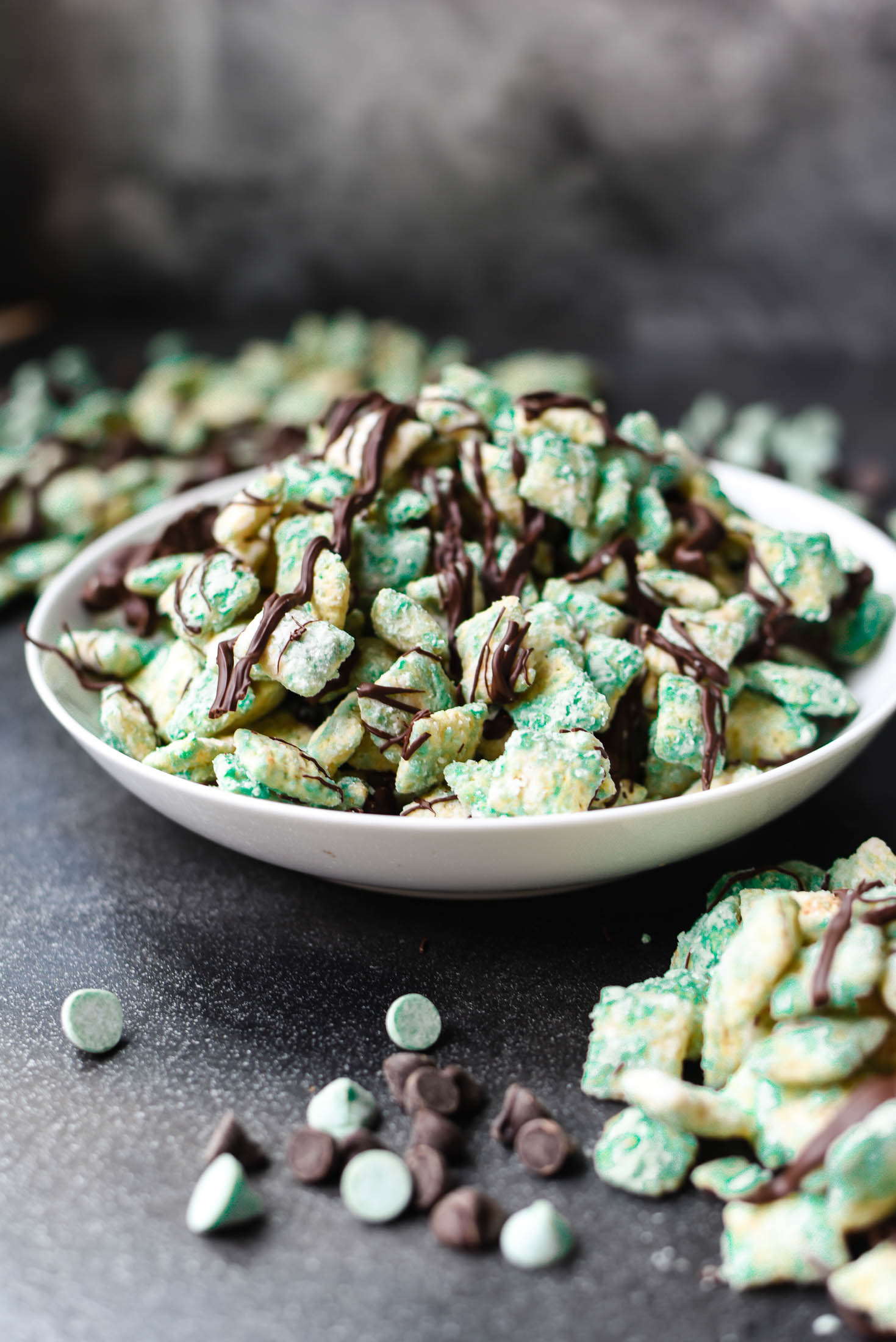 Anyway, now that, thankfully, the time at hospitals is passed my mom reminded me that I used to make a version of these addictive treats using oatmeal squares cereal instead of Chex, because at the time we were living in Chile where I couldn't find Chex cereal. She also hinted that she wouldn't mind if I felt the need to try making them again. 😉
It was really good with the oatmeal cereal, but I must admit there's just something way more addictive about the lighter crunch of the Chex. It's nearly dangerous actually. There are so many flavor combinations I thought of when trying to decide on this recipe but with it being March I thought I'd go for this one.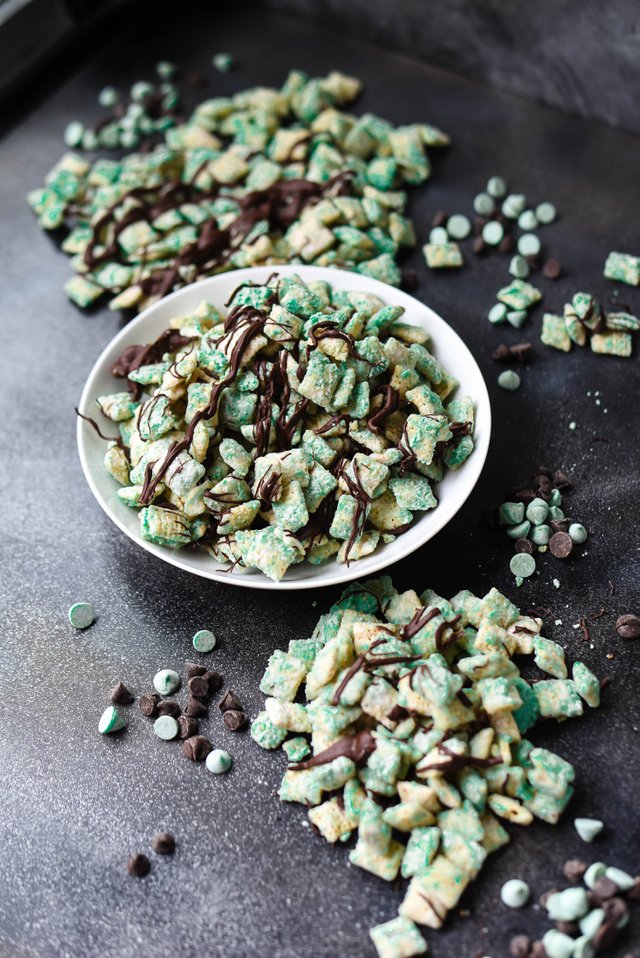 I know I said this the last time that I made these, but wow they're so easy and fast. Like, this would be the perfect last-minute treat if you find out you're having company and don't have time to make up something more complicated. The ingredients are pretty basic as well and they're actually an accidentally gluten free treat also.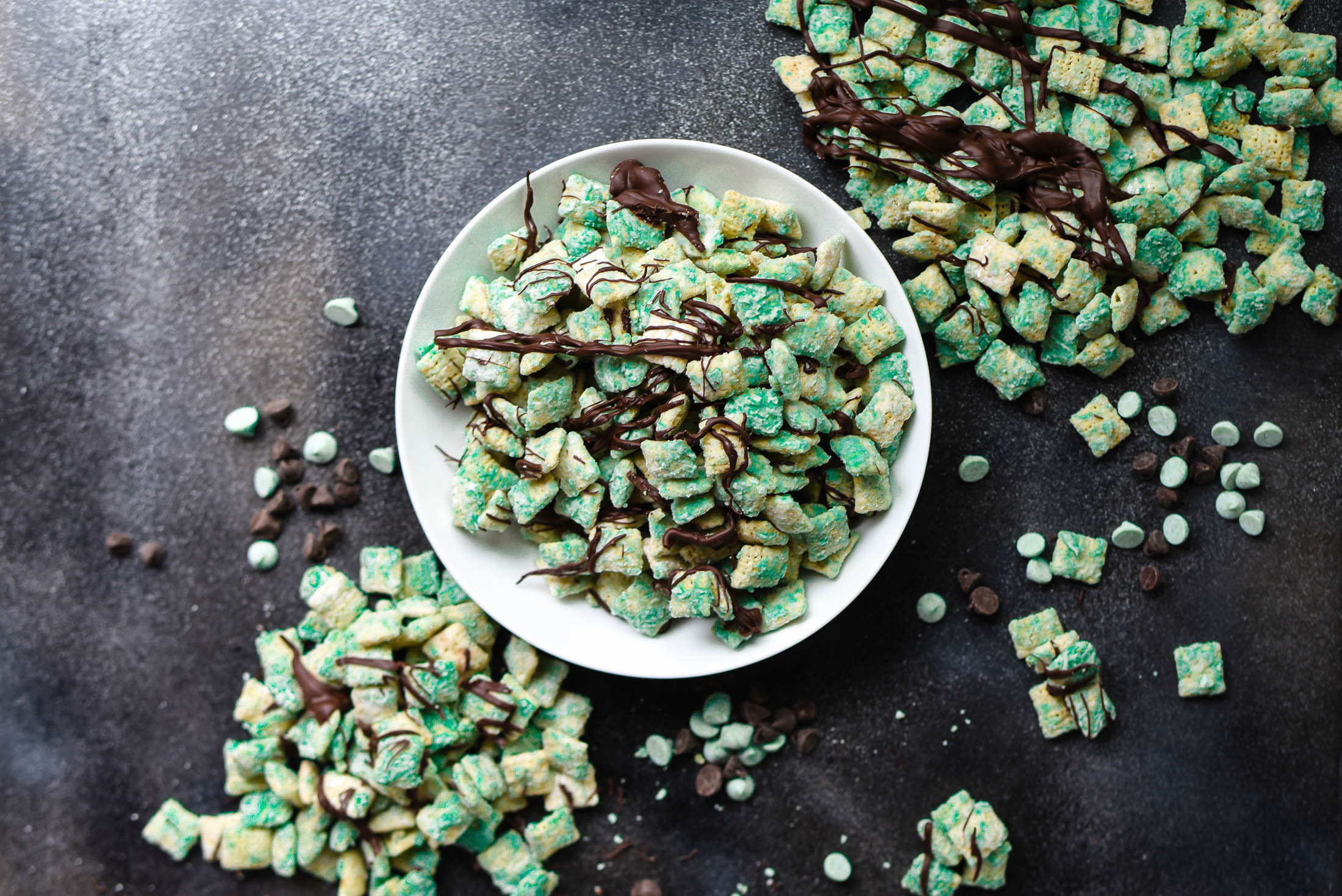 Ingredients
9 cups rice, wheat, or corn Chex cereal *see note
1 cup (180g) mint baking chips
1/2 cup (1 stick) butter
1 teapoon vanilla
1/2 teaspoon salt
1 1/2 cups powdered sugar for coating
2/3 cup (about 120g) semi-sweet dark chocolate
2 teaspoons coconut oil
Instructions
Melt butter and mint chips in a medium sauce pan slowly over low heat. Remove from heat and stir in vanilla and salt. Pour cereal into a large bowl and pour mixture over it. Use a large rubber spatula to carefully mix and coat all of the cereal pieces.
For the powdered sugar coating you can either use ziplock freezer bags and shake with powdered sugar until coated or just pour it on top and toss gently until coated.
After cereal is coated with powdered sugar, spread it out on a baking sheet lined with parchment or wax paper and melt the dark chocolate and coconut oil in a double boiler over medium heat until smooth. Drizzle it over the coated cereal pieces then allow it all to dry for at least 1 hour.
Store in an airtight container at room temp.
Notes
If you cannot find Chex cereal this recipe can be made with Quaker oatmeal squares cereal instead. **If you prefer to skip the dye, or simply cannot find mint baking chips you can replace them with regular white chocolate and add 1 teaspoon of peppermint extract.

For more great food ideas, please do not forget to look at my other recent food posts
ALL CONTENT IS MINE AND ORIGINAL! All of these food photos were taken with my Nikon D750 and my favorite Lens, the Nikon AF-S FX NIKKOR 50mm f/1.8G. You can find out more in my INTRO POST.
And, by the way, to all the minnows out there, my intro post did a huge $0.21. The key to success on Steemit is to be consistent and persistent. Click on the link below for some great tutorials on how you can also succeed on the steem blockchain: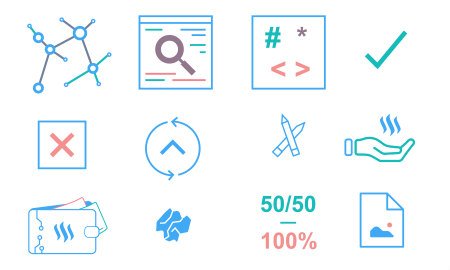 Also, a huge shoutout to @rigaronib for designing my logo!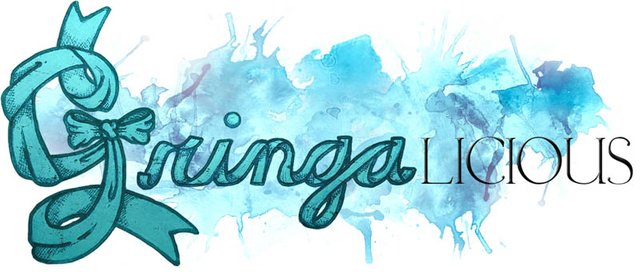 Do you want to learn more about me? Click here to see a recent @wadepaterson interview with me - 20 questions with @gringalicious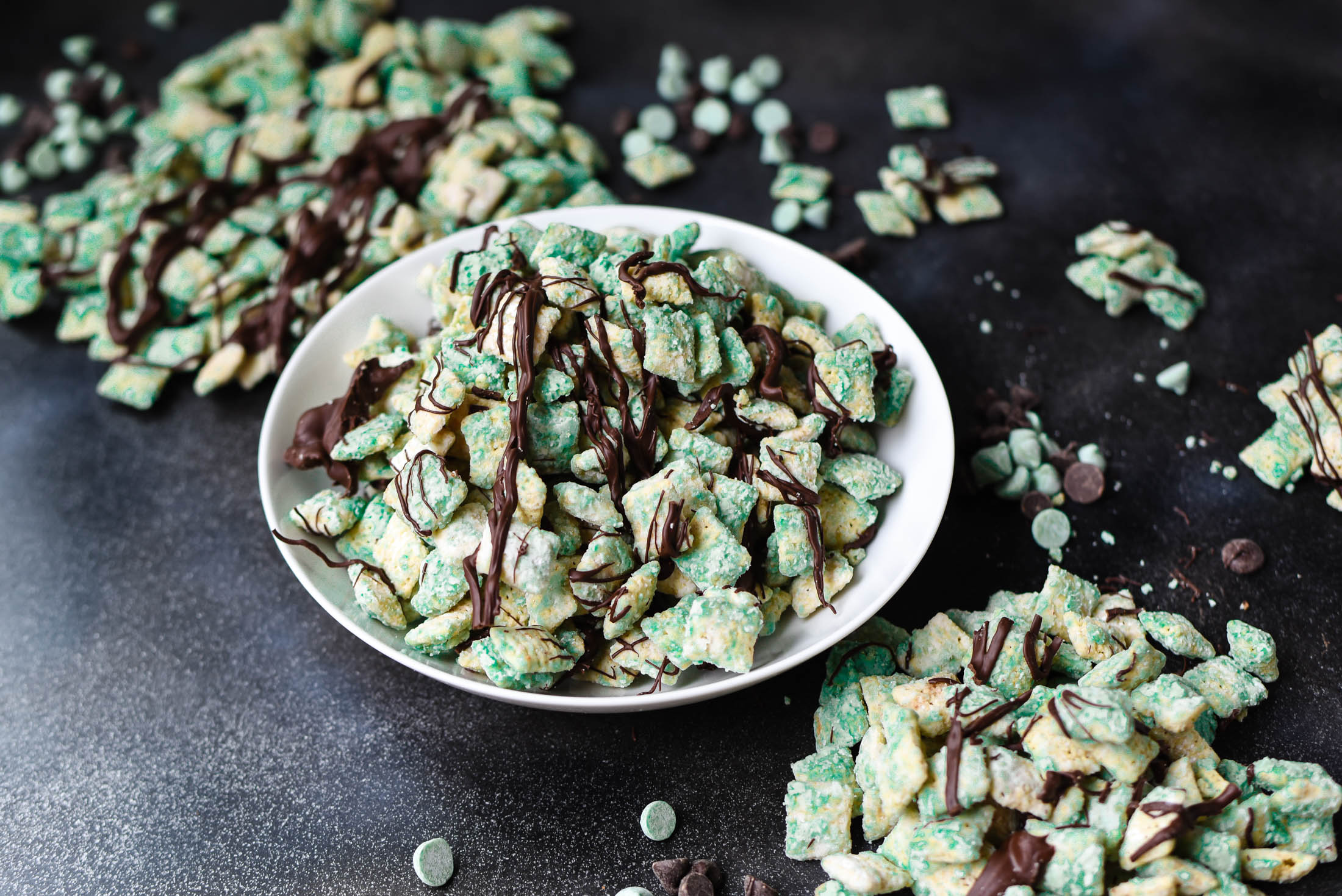 My Current Stats: 62,604 Steem Power | 12,232 Followers | 28,400 Posts