New Orleans Beans & Rice Skillet - FOOD PHOTO SHOOT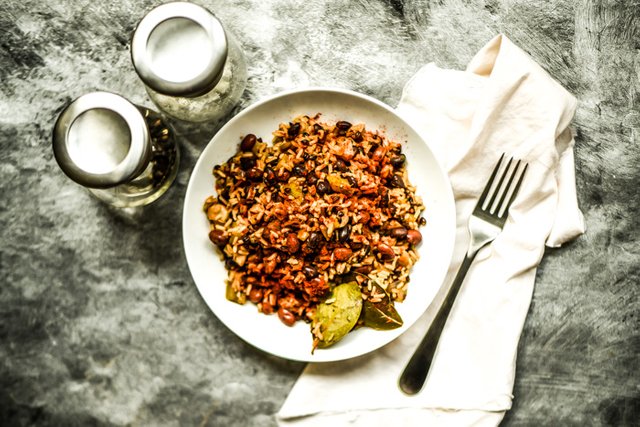 Who's in the mood for a really simple weeknight meal? There's something so cozy and comforting about simple one-pan dishes like this.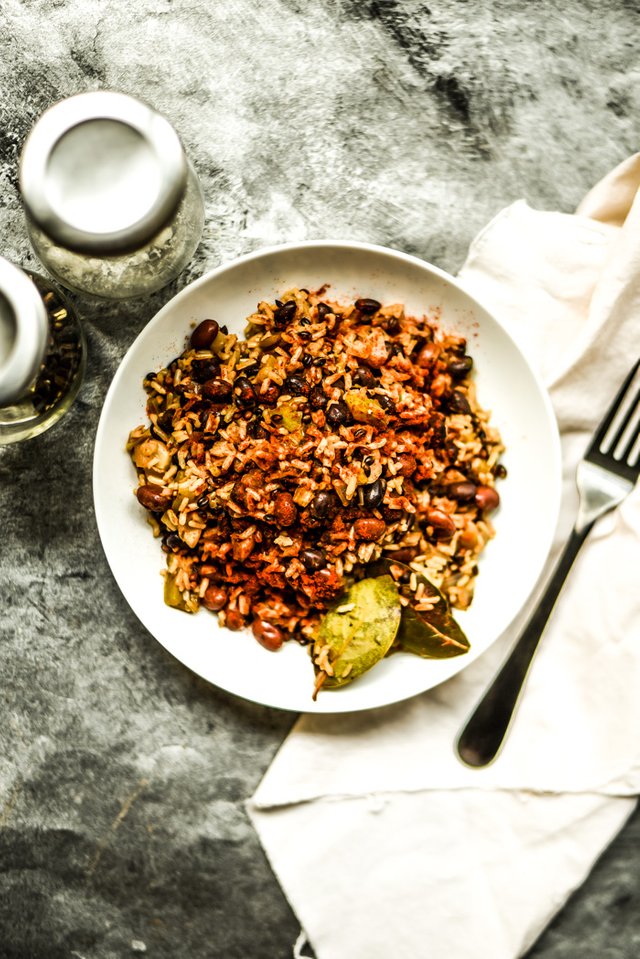 When I was growing up my Mom would make so many different meals that we loved, but it wasn't quite as often that Dad would make dinner. When he did do the cooking thought, he would often cook simple dishes like this with beans and rice. Now I'm pretty sure those were the kind from a box mix, but we still loved when he'd make them.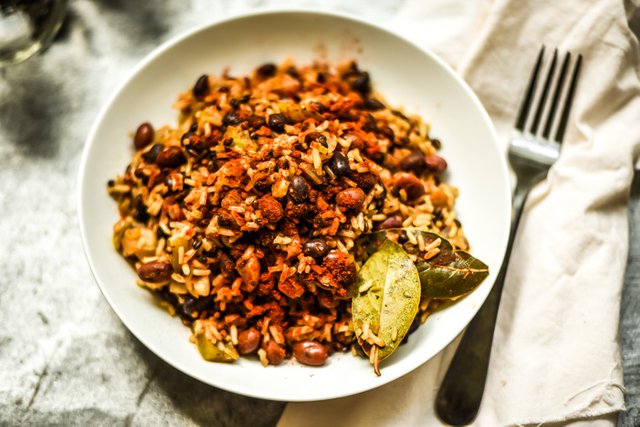 We all know that beans and rice are an age-old staple in almost, if not, every culture. I think that's my favorite thing about trying different versions and flavors. It's always surprising to me how simply changing up the herbs and spices used in the dish can completely change the taste. I mean, duh, that's obvious. It's just, we seem to forget that simple meals don't have to be boring.
It's not just about the great flavors, but it's also very simple to make at home AND beans and rice are basically the cheapest grocery items you can buy so it's a win win situation.
Cajun style cooking is full of traditions and spices. There are three veggies that are referred to as "the holy trinity" in Louisiana Creole cuisines and those are celery, onion, and bell peppers. After that there are a handful of non-negotiable herbs they use, like, bay leaves, basil, and oregano. Another big part of Cajun food is the heat, and yes, they really enjoy they're spices. Now, I'm not a huge fan of spicy food myself, and neither are some of my family members. That's why I really like to make this dish mild and leave the option open for individually adding more heat.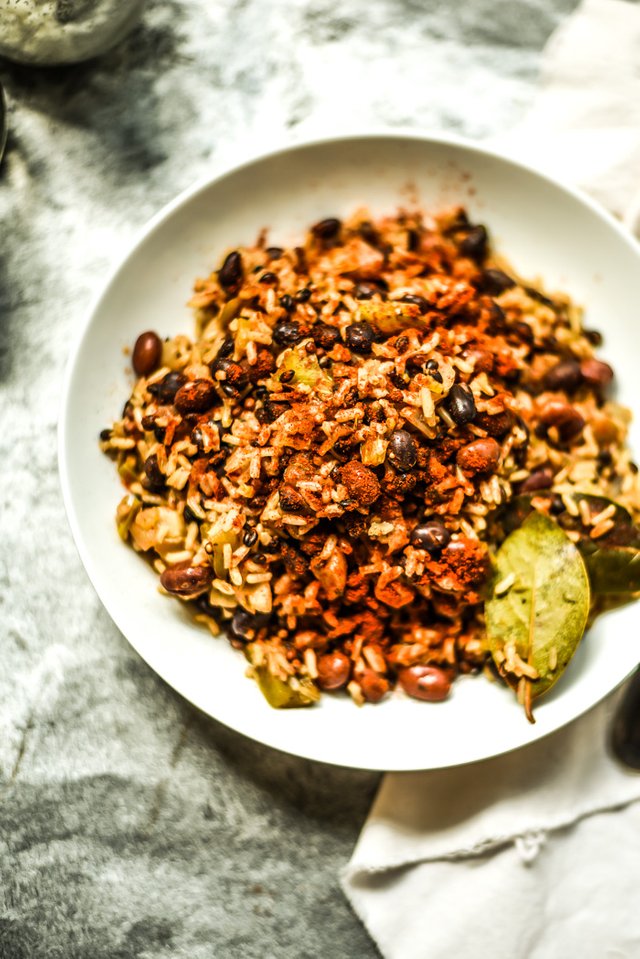 Also, I personally love to add in a ton more veggies to this or eat them on the side. Otherwise this is great served as a side item as well. For the rice I used a mixture of grains that I love from Trader Joe's called brown rice medley but if you prefer you can just use all brown rice. This recipe makes quite a few servings so it's perfect for making at the beginning of the week and having ready for later. It also freezes very well and is gluten free and vegan.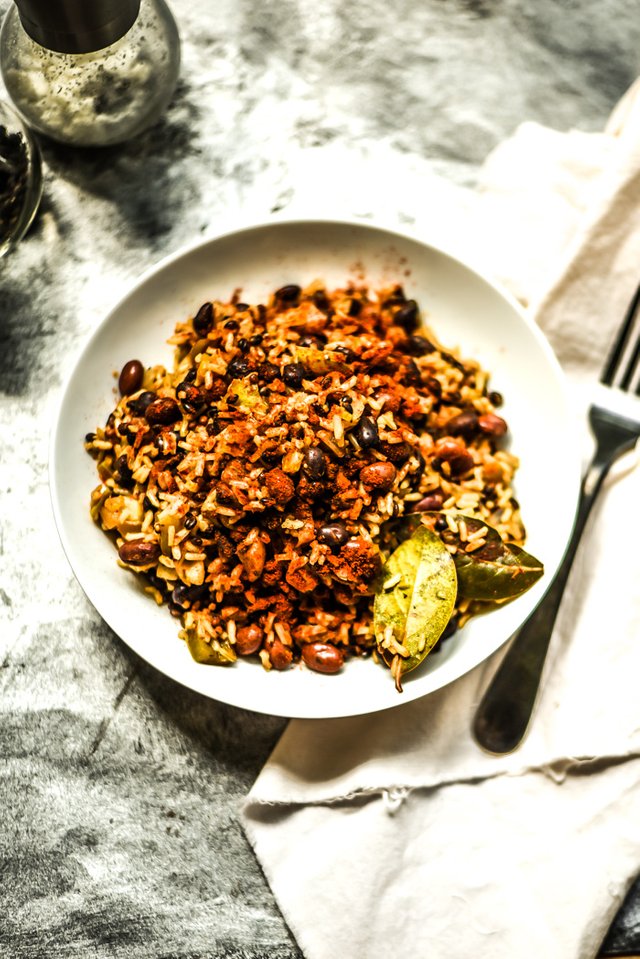 New Orleans Beans & Rice Skillet
Turn some basic beans and rice into a delicious and comforting meal that's easy, fast, and packed with flavor.
Prep Time 15 minutes
Cook Time 35 minutes
Total Time 50 minutes
Ingredients
1 16 ounce bag Trader Joe's brown rice medley or brown rice
1 tablespoon olive oil optional
3 cloves garlic minced
1 jalapeño pepper finely minced
1 small onion finely chopped
1 small green and 1 small red bell pepper (seeds and stem removed) diced
3 large stalks celery finely chopped
1 small bunch radishes finely chopped with stems removed
1 15 ounce can cooked black beans, drained and rinsed
1 15 ounce can cooked red beans, drained and rinsed
1 teaspoon salt sea salt plus more to taste
2 teaspoons paprika
1 teaspoon cayenne pepper optional if you like it hot
1 teaspoon ground black pepper
1 tablespoon chopped fresh basil leaves or 1 teaspoon dried
1 handful fresh basil leaves or 1 teaspoon dried
2 teaspoons dried thyme
4 bay leaves
Instructions
Add 1 teaspoon oil to a large skillet with lid and place over medium high heat. Add garlic, jalapeño, onion, bell peppers, celery, and radishes to pan and cook for 4-5 minutes until celery and radishes are slightly softened.
Reduce heat to medium low and add 3 cups water, brown rice, beans, and seasonings to pan and cover. Stir occasionally and cook covered for 20 to 25 minutes until liquid is absorbed. Remove the bay leaves and season to taste with additional salt.

ALL CONTENT IS MINE AND ORIGINAL! All of these food photos were taken with my Nikon D750 and my favorite Lens, the Nikon AF-S FX NIKKOR 50mm f/1.8G. You can find out more in my INTRO POST.
Also, a huge shoutout to @rigaronib for designing my logo!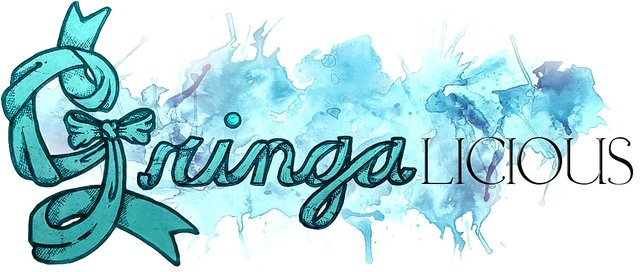 If you're looking for more recipes check out some of my other recent posts!