FREE CC0 Stock Photos for Steemit Posts with Pixabay, Pexels, and Canva!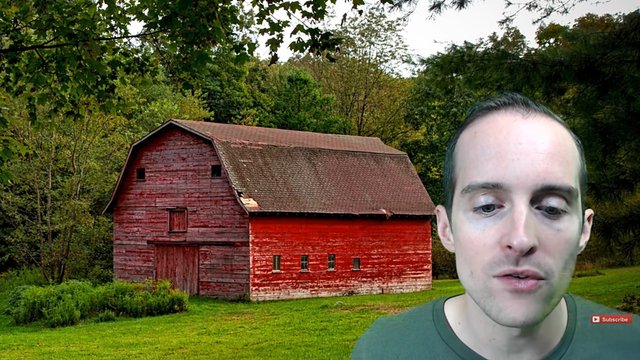 How do many authors on Steemit get photos for blog posts? Pixabay, Pexels, and Canva are what I use for free stock photo images in posts on Steemit.
Would you read this post or watch the original video from YouTube to learn more because you will see the complete system I use from idea to finished post or video?
Thank you very much to @gmichelbkk for converting the transcription of the YouTube video from GoTranscript into this beautiful post for Steemit, which is much faster to read than the video and has all of the highlights in screenshots!
FREE CC0 stock photos

I have a few different websites I use, one of them is called Pixabay at pixabay.com.
I searched for free high quality stock images on Google and I found it. They have over 930,000 free stock photos.
Now, these are the Creative Commons Zero license, which means I don't have to pay anything at all. I can just take any of these photos, download them, and use them on my account.
I signed up for an account because then I get to download the images in full quality.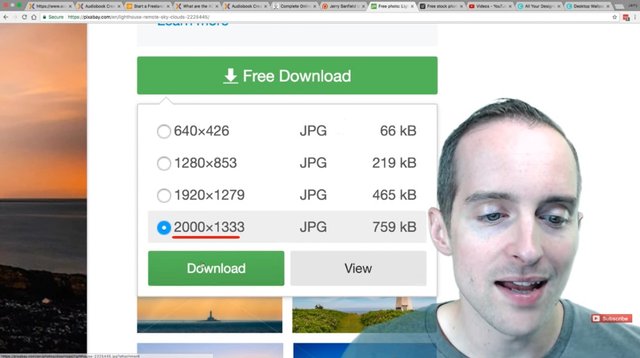 I can hit this biggest size I want and download the file immediately.
Look, I've got a nice background now to do my video on.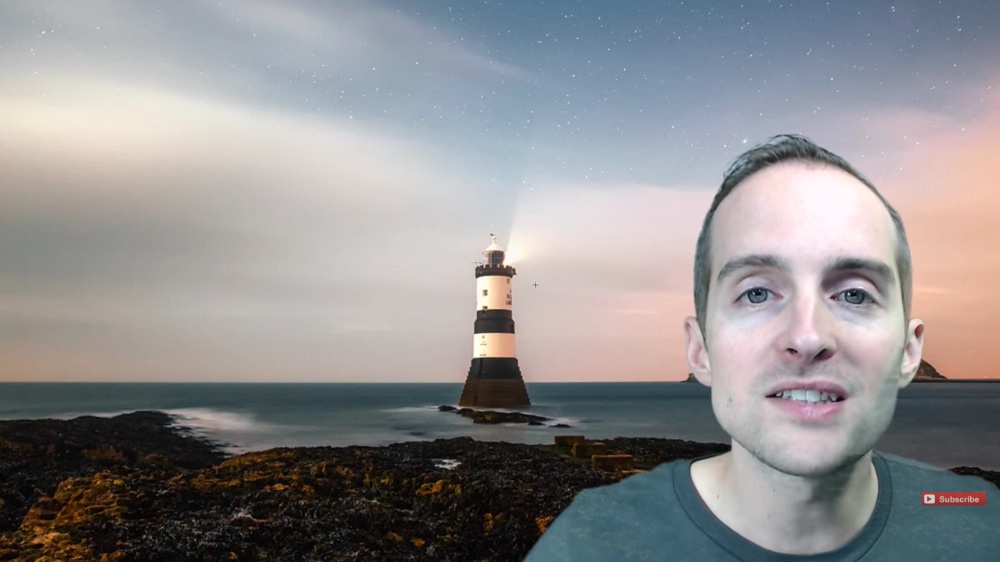 This is a free stock photo, anyone can access this anywhere in the world. This is really helpful just to make it easier to have higher quality thumbnails.
I got a lot of feedback on my YouTube videos, "God, Jerry, your thumbnails stink."
One of the easiest ways is to just grab a free stock photo image and use that as the thumbnail, and then essentially put my face over it.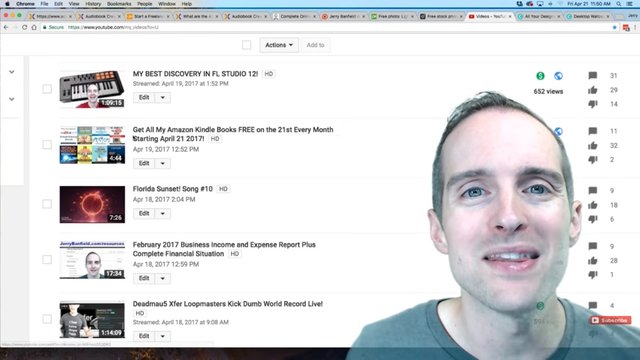 That way, if you see a bunch of my videos over time in the suggested video feed, my face is the one common factor.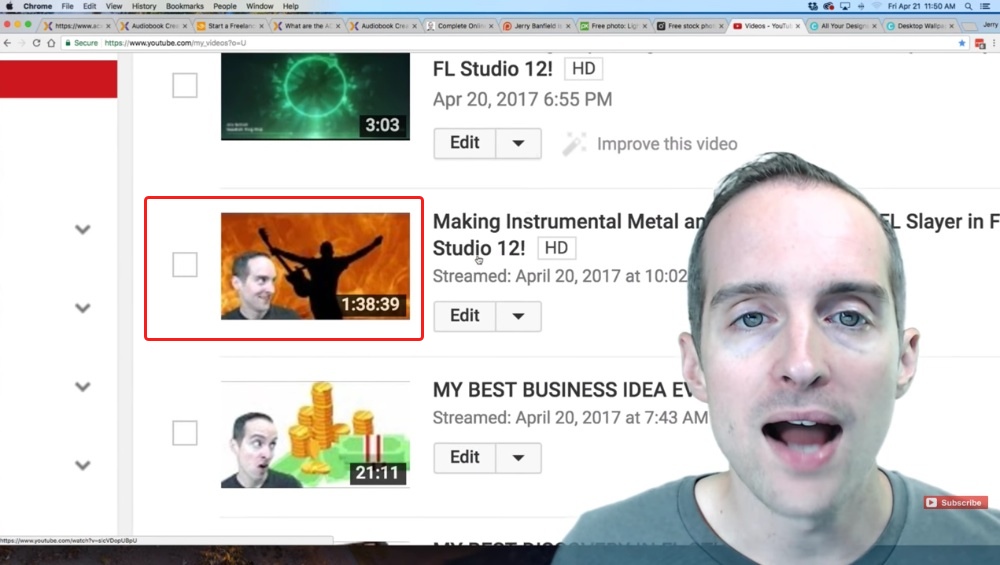 I searched for "metal" first, but it didn't work for that, so I searched for something like "rock music." Then this came up.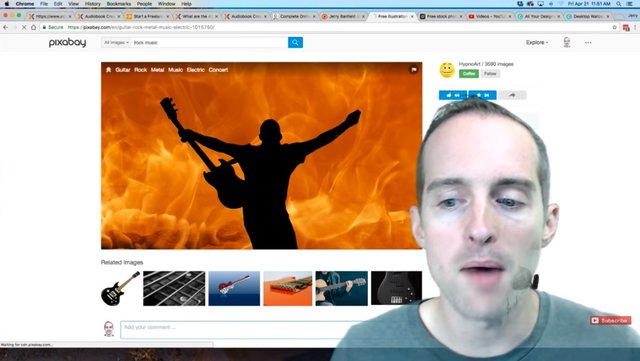 I've used this image on my SoundCloud too.
This is what the YouTube video cover had and it's really simple to make a screenshot like that. I can just use the background in Camtasia, and I can screen capture my face on a green screen, and then this gives me the ability to have consistent thumbnails.
I've got my face right over here on the side of thumbnails, that way it's easy to tell that they're my videos. My face gives them the personal branding, and then I've got these quality photos totally for free.
I did the same thing on a previous song over here.
I used the drum image that was over here.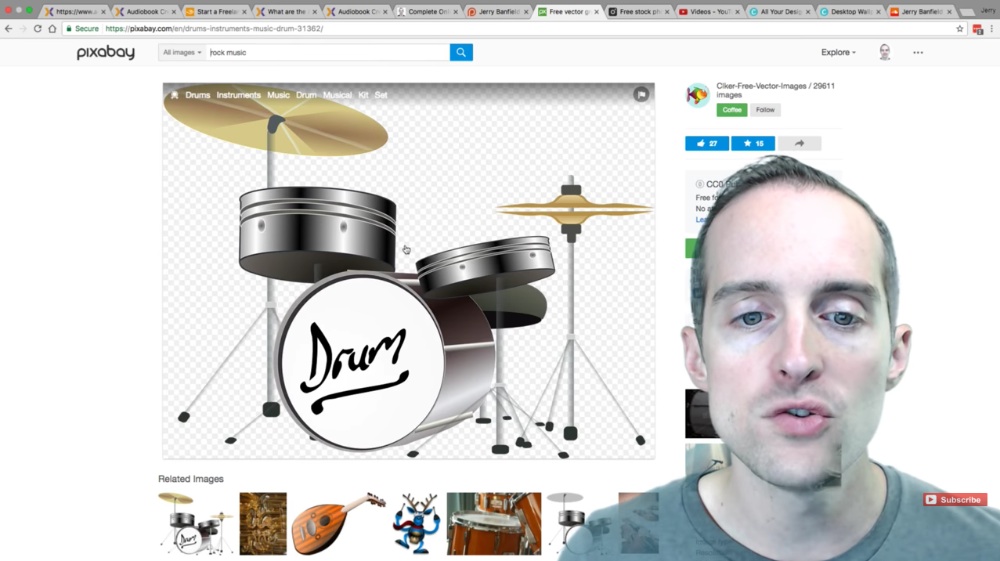 It's just a decent quality image you can get really quick for free.
Now, there's another website called Pexels at pexels.com, which has different stock photos. They seem to have really nice, high quality photos on this site, whereas the Pixabay strategy seems to have more photos available, which I like.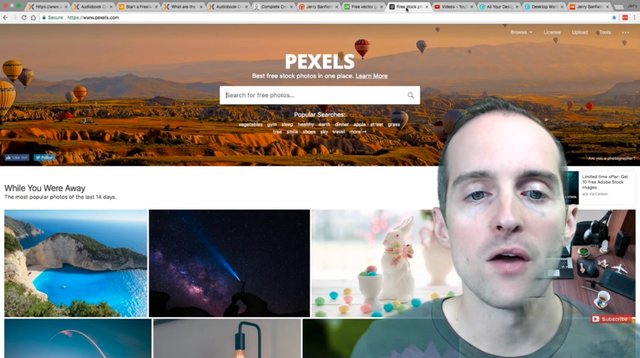 Sometimes I just can't find what I'm looking for on Pexels, but they do a good job of having beautiful stock photos. I've gotten a lot of my backgrounds on Pexels, and this one is really nice.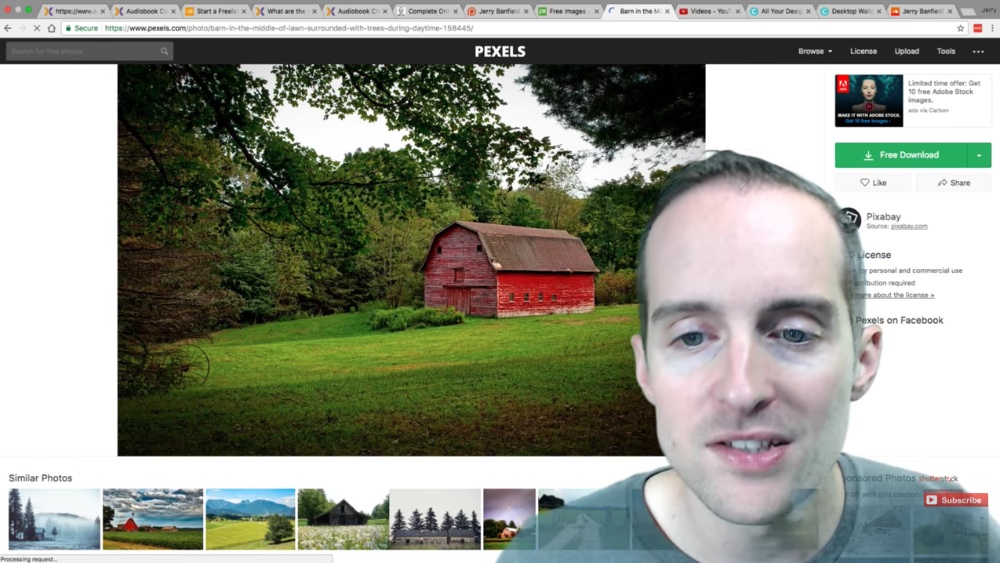 You don't even have to sign up for an account to download on Pexels. You can just have a free download, just right click, select "Save image as" and save it.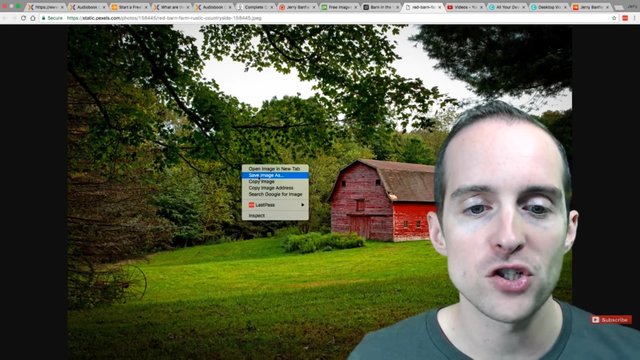 Then you've got a beautiful high quality stock image.
I can then just essentially talk on this as a background, then it looks a lot nicer than if I had done some generic PowerPoint background, which you might appreciate.
Pexels has beautiful, high quality images and you can just search and see many of them on the home page. If you want generic, beautiful looking images, Pexels does a good job to provide that.
When you combine quality on Pexels and quantity on Pixabay, you can find any image you need.
Another thing you can also use is canva.com.
Canva has 200,000 free photos and illustrations I can use also. Then, I can just pull those into my artwork.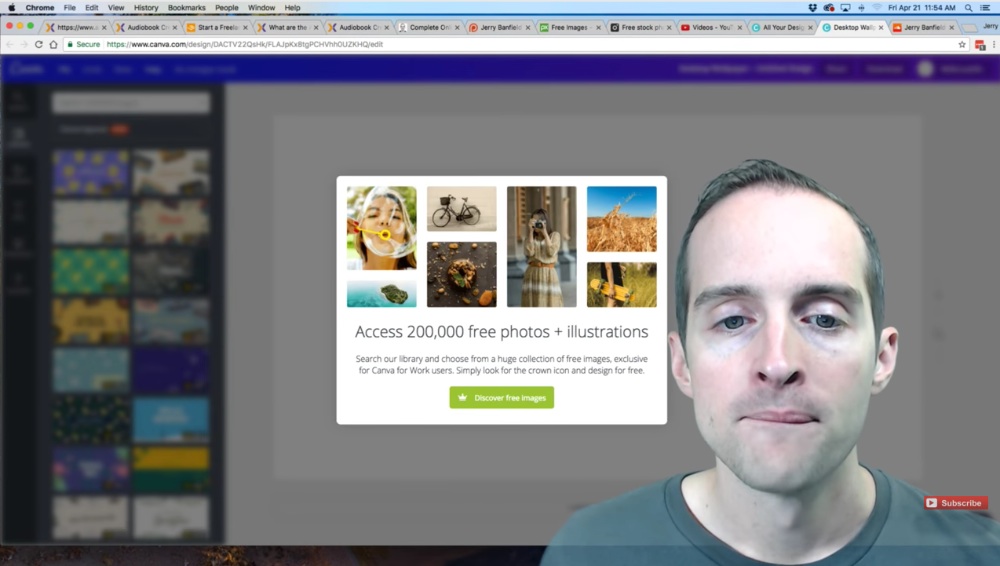 Canva is nice because they also have a million images. If I really need deeper selection on Canva, I can get that. If I search for "massage" on Canva and I hit "enter," then it will pull up all these different images.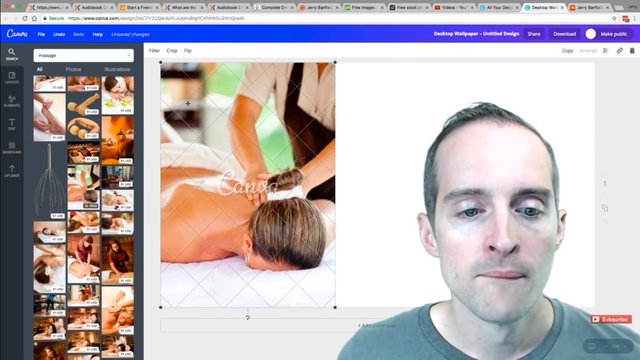 I've got all these photos I can pay a dollar for. There is a good selection and there are also some free photos.
Then, I can easily customize this. If I have this image over here as a stock photo that's free, then I can also upload things and mix that with my face.
I've got the ability to easily combine my existing pictures.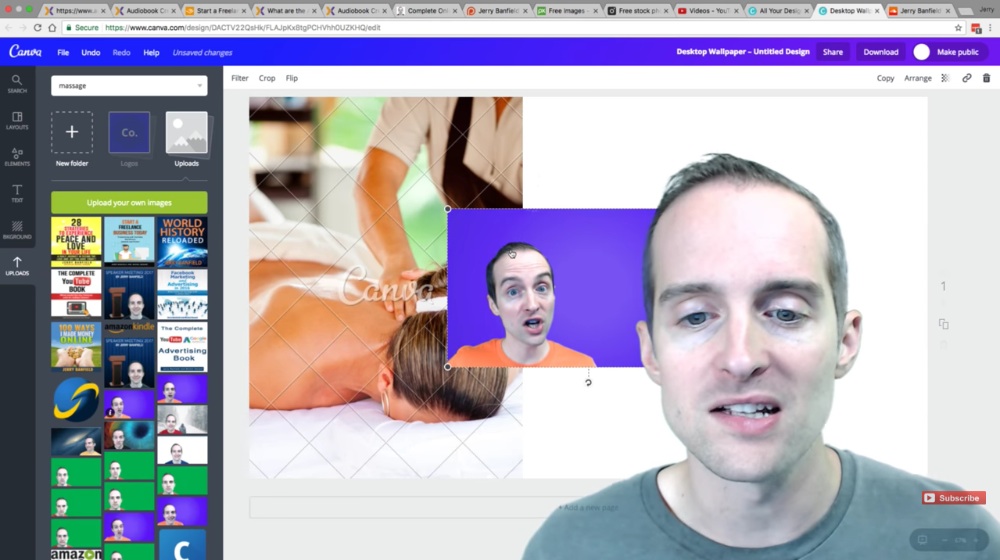 Then, all I have to do is download the design, and then I've got it. If you want to easily be able to design images along with using free images, canva.com is really helpful for that.
If you'd like additional ones, you can just google "free stock images" or "CC0."
This is how I originally found Pexels and Pixabay. There's also StocksSnap.io, which I have not used before, although I have visited the page.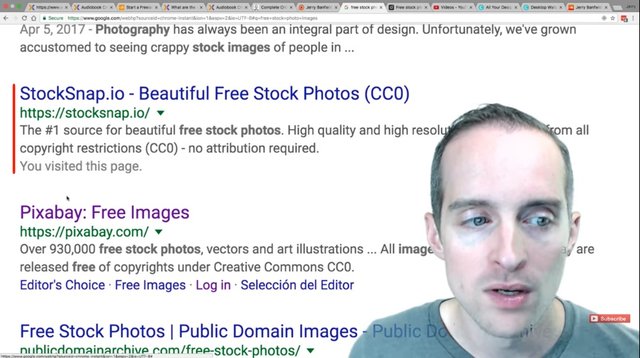 CC0 means Creative Commons Zero, you can use it and you don't have to attribute it. You can just do whatever you want with it without any limitations.
I really like Pexels and Pixabay that I combine with Canva. This is how I quickly throw together thumbnails on SoundCloud, and increasing the quality of my thumbnails on YouTube.
Now, if you'd like to see everything I use in my business, would you please go to jerrybanfield.com/resources?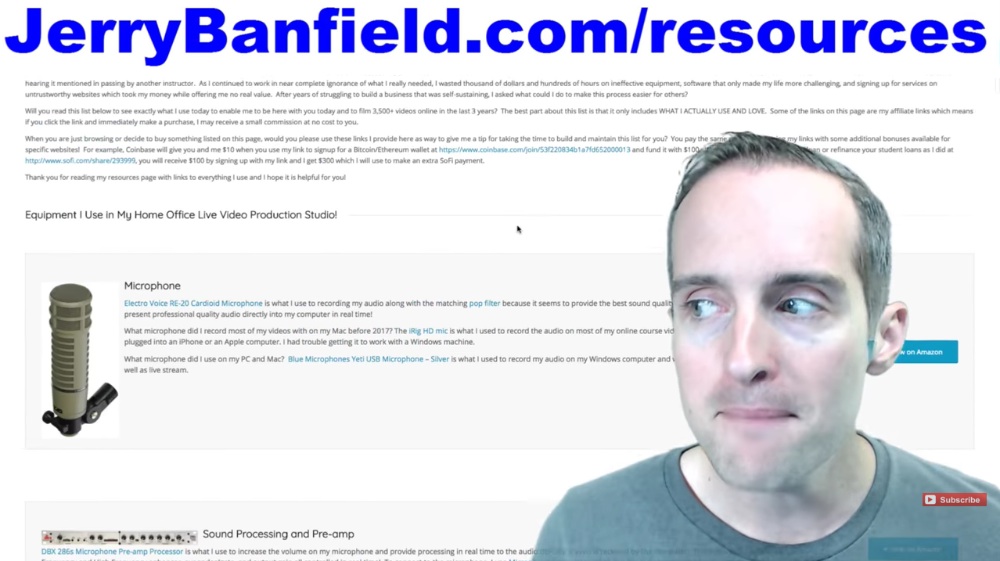 I've tried to make this page a masterpiece in the sense of I am trying to have one of the best most comprehensive collections of equipment and software for an online business ever, which might make this a bit overwhelming. I start with my microphone, my sound processing pre amp, USB, audio interface, gaming monitor, webcam, battery backup and then I go into exact software. There are all kinds of things on this page that I hope are helpful for you.
Thank you and I hope you have a wonderful day today.
If you found this post helpful on Steemit, would you please upvote it and follow me because you will then be able to see more posts like this in your home feed?
Love,
Jerry Banfield