School Trip To The Island Of Krk
This was in my 1st year of high school.
We were supposed to go to some historically important place.
I can't remember what were our choices.
But, we chose to go to Krk.
That's Croatian biggest island.
And, it's a quite nice place.
---
---
I remember that we visited some small church.
I can't really remember why it was important.
That was because I was so tired, and decided to take a nap, lol.
After that, we went to Jurandvor.
That was a place were Bascanska panel was found.
It was made in 1100s and it's imporant because there was written text on Glagolitic.
---
After that, we had time for ourselves.
First, we went to beach ofcourse.
We wanted to touch the sea, and have fun in the shoal.
---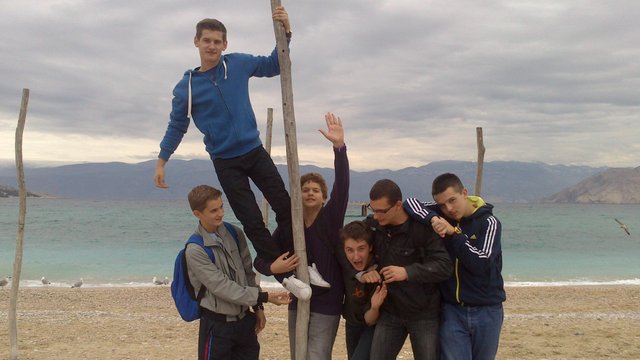 Picture sources: my Facebook site
---
After that, we decided to go to see the city a little bit.
It was quite nice.
Like almost all of the cities in Dalmatia and Istria.
I really like the houses.
They are all made out of bricks.
---
---
This was one of my favourite school trips.
Probably my favourite one from high school.
But, my favourite one was, for sure, trip to Plitvice lakes in elementary school.