BW Inspirations - Seasons Change #327
It's spring now but still 94°f so still very hot. When it does change it will be fast skipping over most of the cool 70's temps that we all love. With that being said we should have a few good days in that range with out rain and it should really be taken advantage of if you want to go out and enjoy the day. Most people try and get out early in the morning or late at night but the lake is shut down so you have to park outside however the park rangers will know you're in the lake and be on the look out for you. During summer when you have the camp grounds active it's not such a big deal and ignored most of the time.
The cool thing is you can rent out a small paddle boat and just spend most of the day exploring parts of the lake you never seen before. I know some people grab a fishing pole, kick on some tunes and just relax waiting for that big fish to bite. I'm more of the explorer type for as much as I could do fishing I would rather explore and check out the area snapping shots of places I find cool. Maybe it will be apart of a photo art project or perhaps it will make a great BW who knows but today I picked a nice BW port setting. Enjoy!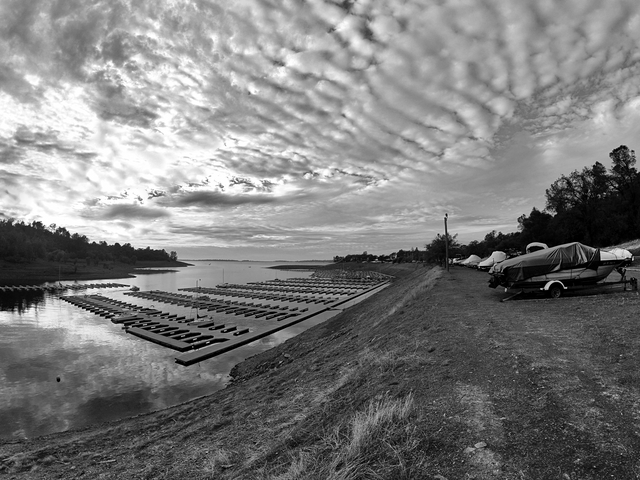 | Camera | Yi Action 4K+ |
| --- | --- |
| Settings | Auto |
| Lens | Stock |
| Style | Landscape |
| Location | California |
| Software | Gimp 2 |
| Artist | Jonbit |

Joining shadowbot was the best thing I have done on Steemit. It helped me build up my account, get noticed, get upvotes while I post my original works all for free! Think of it as one big pool working together with the power of a whale!
How to Join Log in with your name and private posting key. Your account is created on the spot.
Cool futures to check out

Auto Follow Back: Automatically have ShadowBot follow anyone that follows you!
NSFW: Allow up voting NSFW posts! (off by default)
Limit Weekly Upvotes: This will only cast 3 up votes PER Shadow Caster (EACH) PER week!