HOW TO MAKE HOMEMADE SOAP!!!
It is FUN to make Homemade Soap!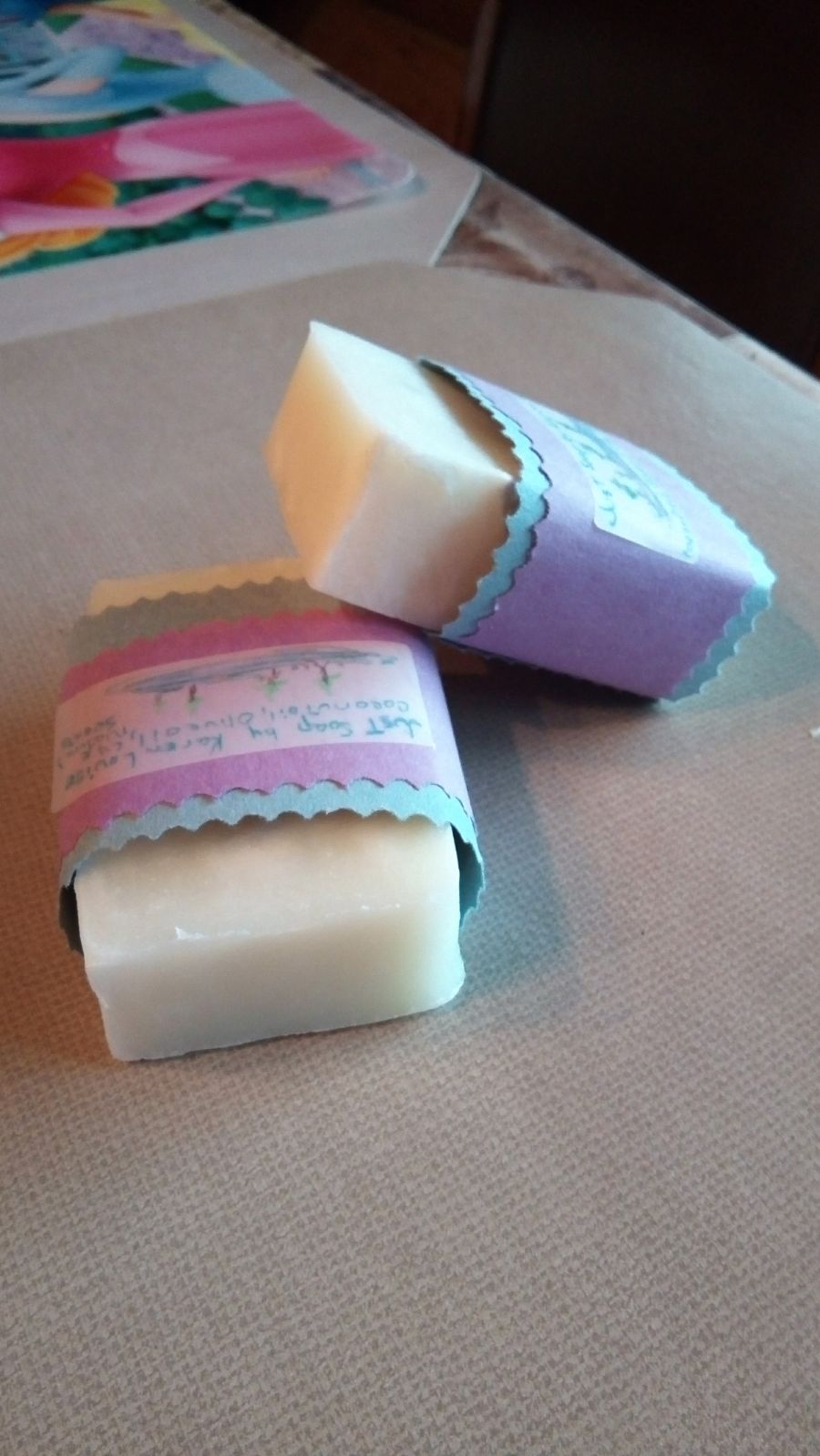 Safety 1st:
Vinegar in a spray bottle – I use this if I get some raw lye on my skin and the vinegar makes the lye inactive so it doesn't burn your skin.
Rubber gloves
Goggles
Long sleeves – I choose this to minimize the chance of any splash getting onto my arms.
Supplies Needed:
Ice trays – You may need 2-3 Ice trays depending on what size you buy
2-Cups of liquid – You can use water, tea or any other liquid you want to try. It's fun to experiment once you get the hang of it. Freeze this in the ice trays the night before you start
5-Cups of oil. I personally use 4-cups of olive oil and 1-Cup of coconut oil
100% Lye – Sodium Hydroxide – you will need ½ Cup + 2 Tablespoons. (see photo below)
2-Plastic bowls (see photos below)
Electric stick blender (see photos below)
Mold for the soap shapes. Some people use rounds, I personally use a celery keeper from Tupperware (see photos below)
Plastic bag
Drying rack
Cutting knife if you make the soap in a block shape like I do.
I also use a plastic table cloth to protect whatever surface I am working on.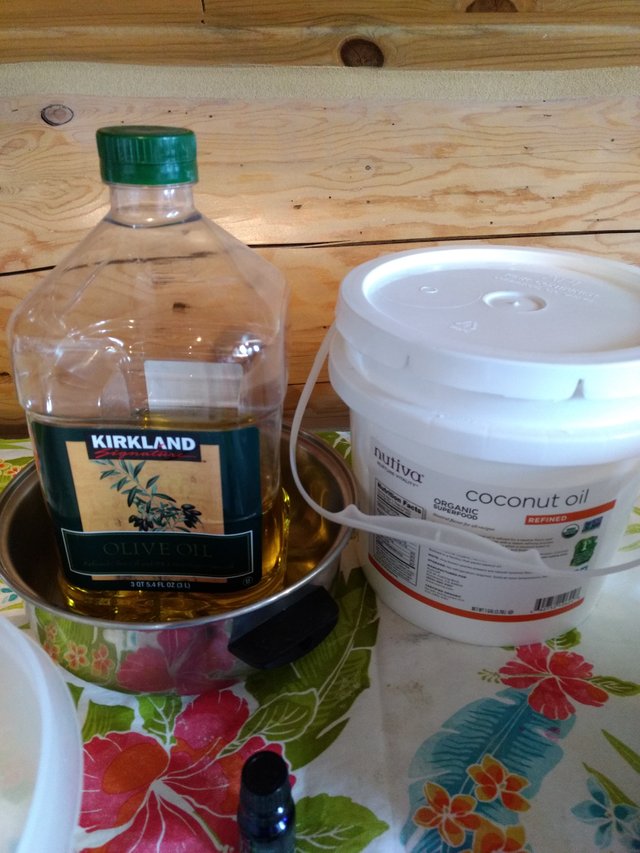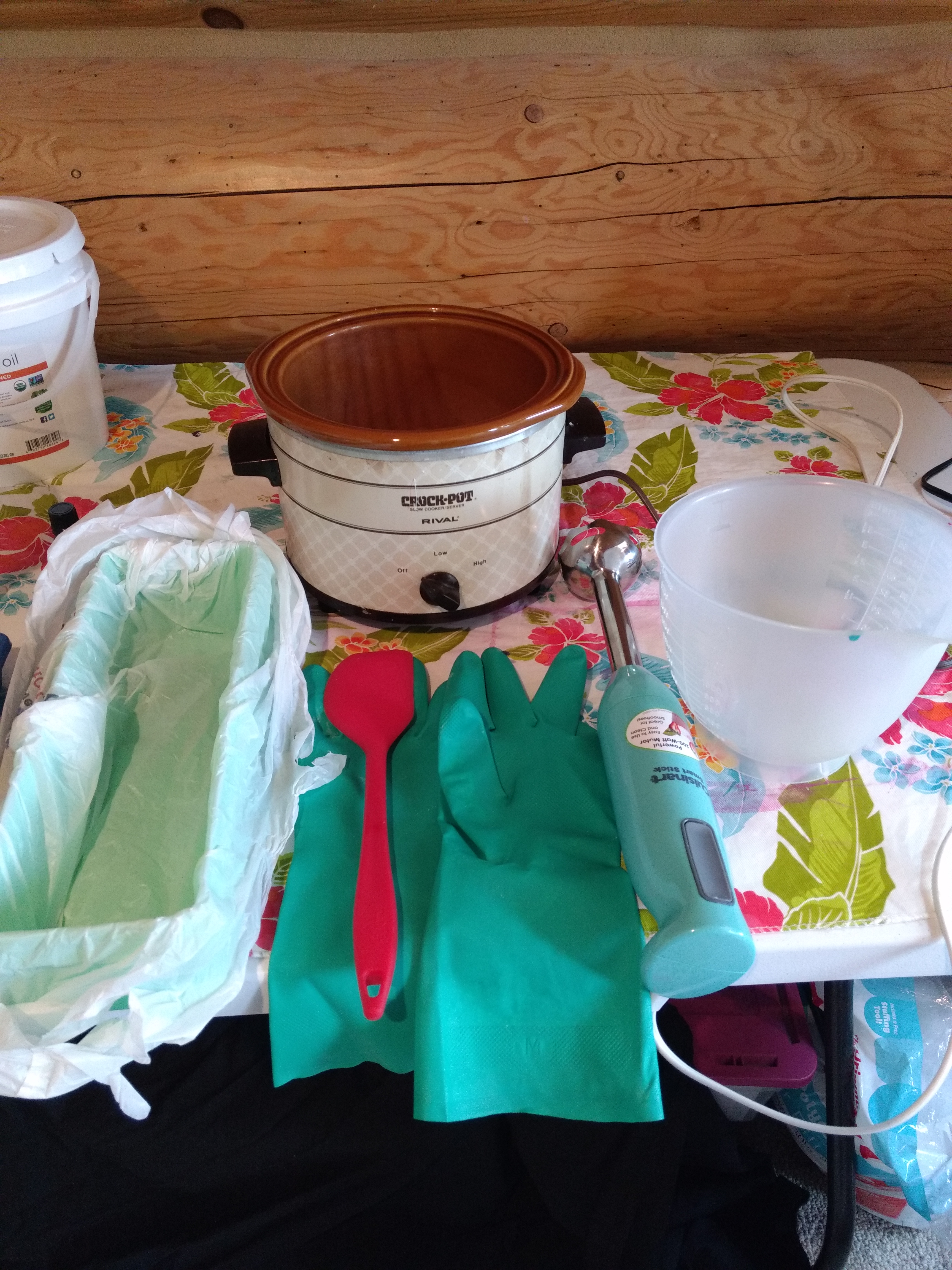 I have tried many different concoctions. I have also had a few "Lucy Moments" but I won't go into that here. I am doing this post just for instructions on how I currently make my soap.
Put 4 cups of olive oil and 1 cup of coconut oil in a crock pot on high setting. While this is melting go onto step 2
Making the lye mixture: Put the ice cubes in a plastic bowl 1st (ALWAYS put the liquid in first!) then add the ½ Cup + 2 Tablespoons of lye and stir with a wooden or plastic spoon until the ice is melted.
Once the coconut oil melts, then it is hot enough to add the lye mixture. I use mainly olive oil and coconut oil; however, any oil can be used. You have to find out what works the best for you. I personally like this mixture because it seems to help keep your skin soft.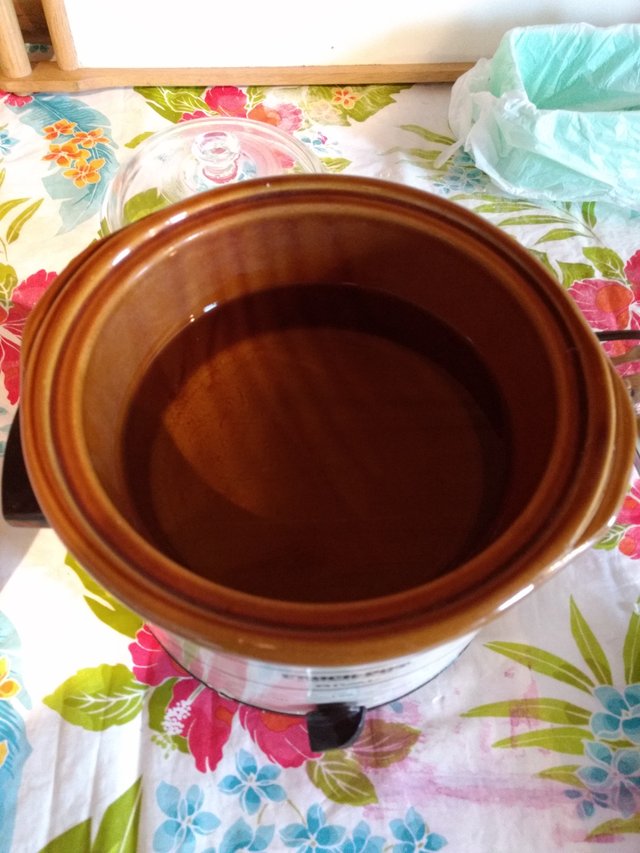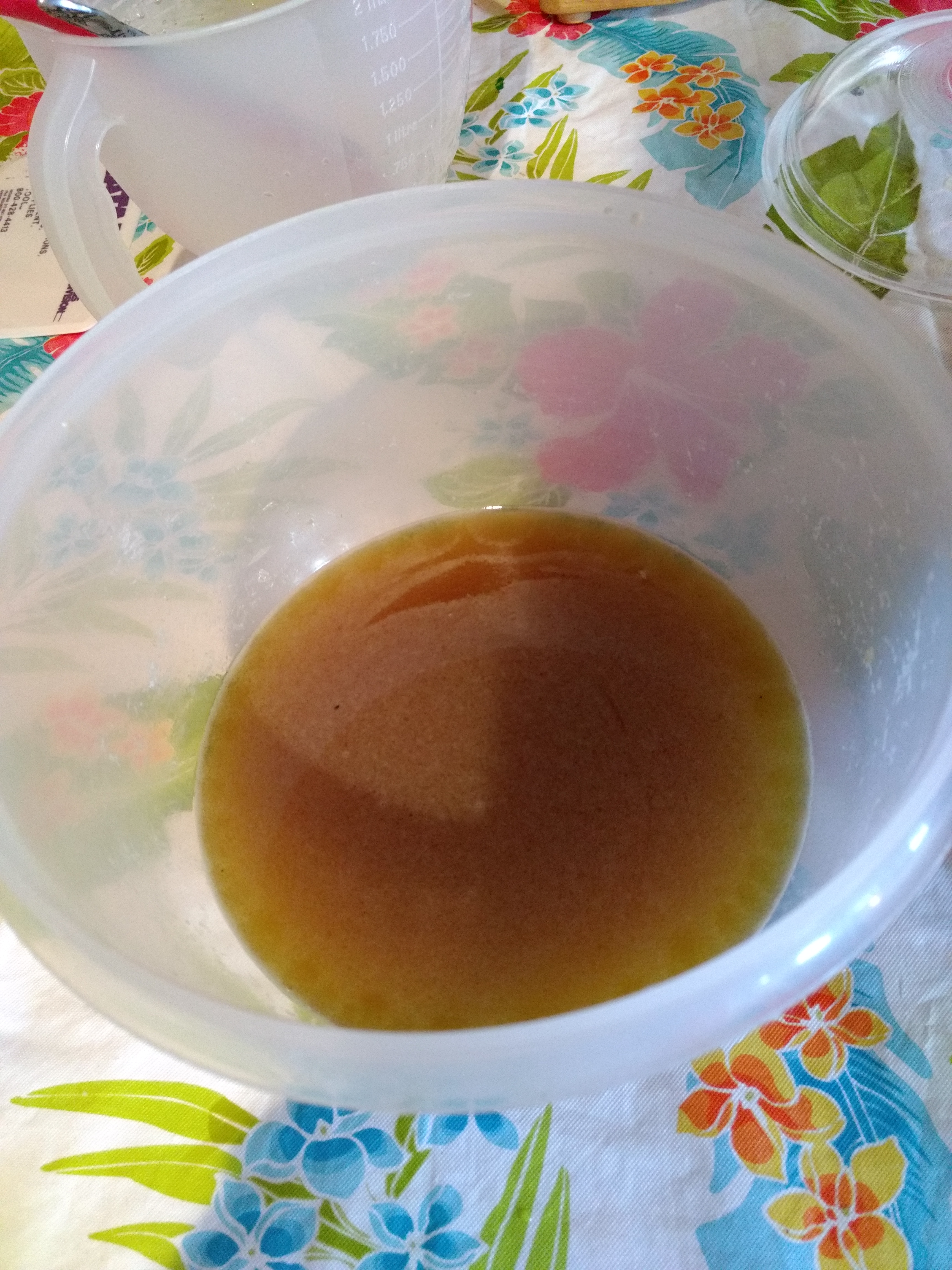 Carefully pour the lye mixture into the crock pot over the hot oil and with a stick blender, mix till it gets to a thick pudding consistency. When you pull up the stick blender, it should leave an imprint in the mixture (see the photo of the imprint on the top of the mixture). It's called saponification.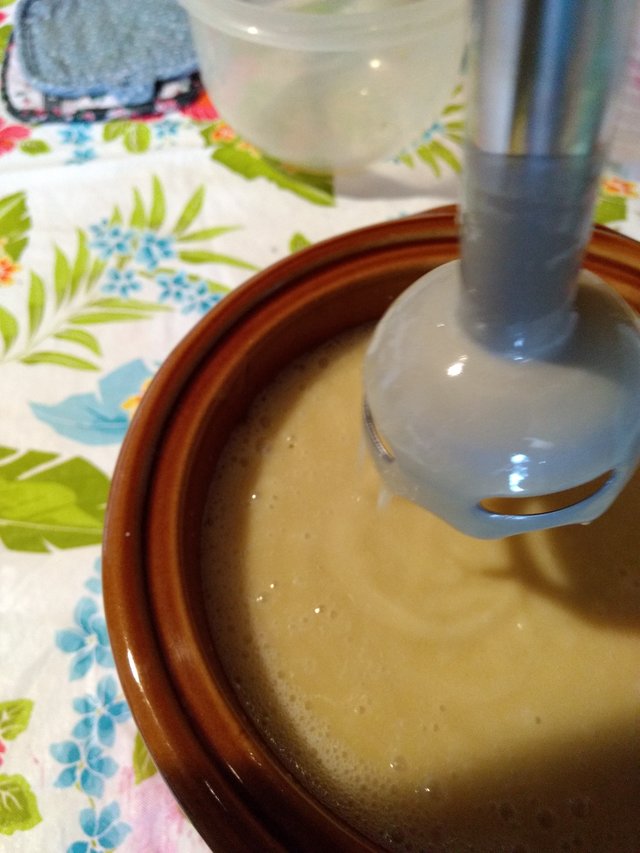 It's then ready to pour into the mold. I use a celery keeper from Tupperware, with a plastic bag in it. After about 24 hours, you pull out the whole bag and cut the soap into bars.
After cut, put the bars on a drying rack or similar so they can dry out. Let set for about 4 weeks then it's ready to use.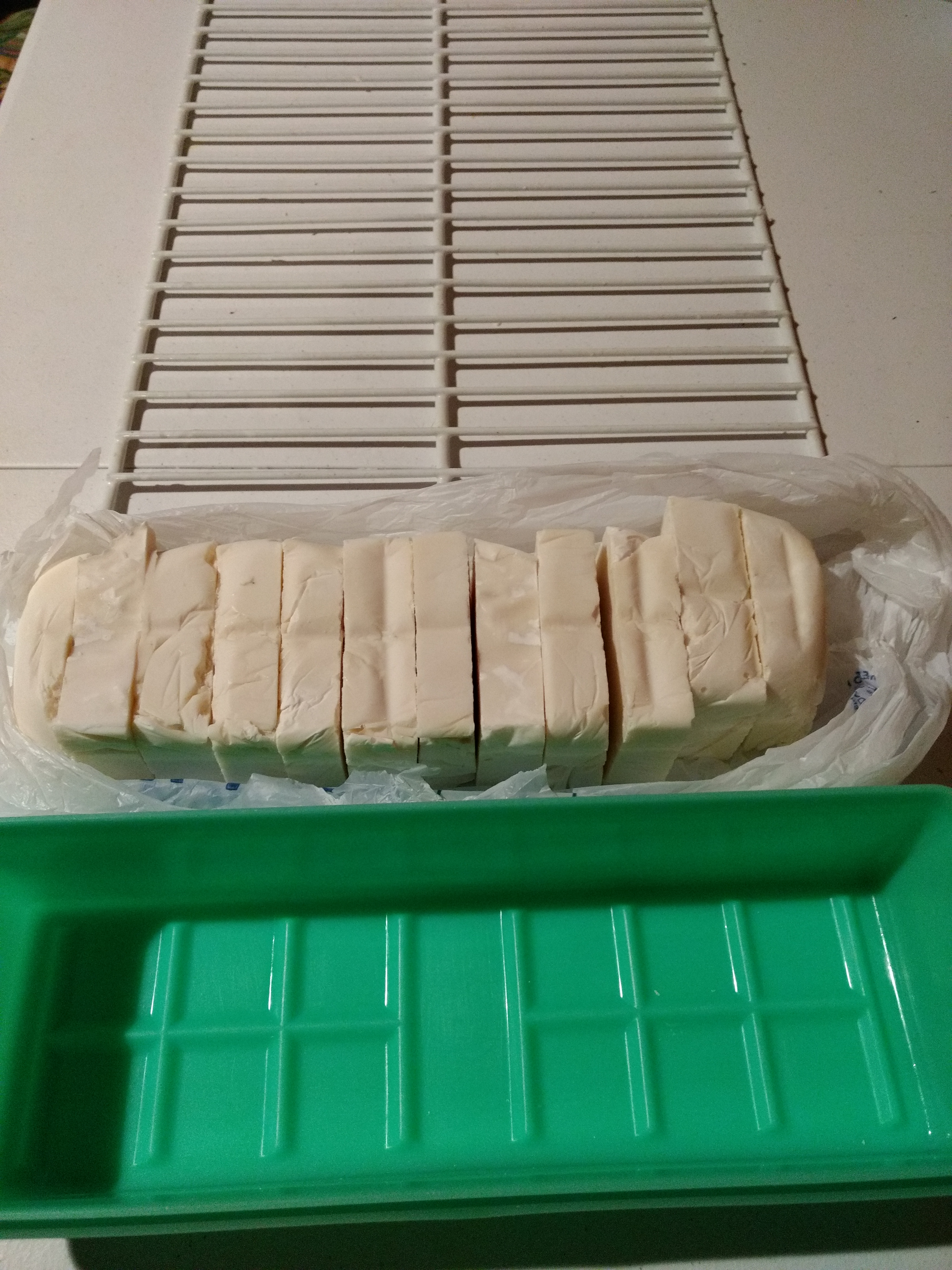 Have fun. If you have any questions, please ask.
God Bless All.