FIAT Money - Memories from the Bank Vault #5 - Bhutan - 1 Ngultrum Note
Welcome to the 5th post of the Memories from the Bank Vault series!
Today we travel to South Asia: The Kingdom of Bhutan is bordered by Tibet Autonomous Region of China, the Chumbi Valley of Tibet, the Arunachal Pradesh state of India, the states of Assam and West Bengal and the Sikkim State of India.
It's the second least populous country in South Asia after the Maldives. The capital is Thimphu and the total population of Bhutan is approximately 800.000 inhabitants.
The currency of Bhutan is called Ngultrum (code: BTN) and it is divided in 100 chhertum. The minting authority in Bhutan is The Royal Monetary Authority of Bhutan. The Bhutanese ngultrum is pegged to the Indian Rupee at parity.
The first banknotes were issued in 1974, by the Ministry of Finance and, in 1982, The Royal Monetary Authority of Bhutan was established and began to issue banknotes in 1983.
Royal Kingdom of Bhutan - 1 Ngultrum Banknote - Obverse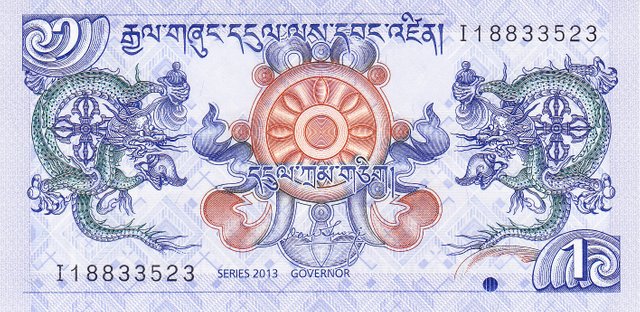 The latest series of notes were issued from 2006 and this 1 ngultrum banknote was introduced in 2013. At the time of writing, 1 ngultrum is $0.01 worth.
The other denominations are: 5, 10, 20, 50, 100, 500 and 1000 ngultrum.
On the front, we find two dragons and on the back, there is Simtokha Dzong also known as Sangak Zabdhon Phodrang meaning: "Palace of the Profound Meaning of Secret Mantras". It was built in 1629 by Zhabdrung Ngawang Namgyal, who unified Bhutan.
It is a former Buddhist Monastery
Royal Kingdom of Bhutan - 1 Ngultrum Banknote - Reverse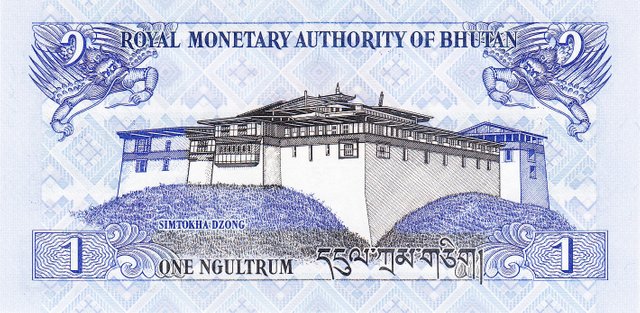 dimensions: 120 mm x 60 mm
main colors: blue, green and red
previous posts of this series:
the People's Republic of China's 100 Yuan note, the Hong Kong's 20 Dollar note, the 10 Euro note. and the People's Republic of China's 20 Yuan note
all pics in this post are author's pics