Golden Hour: peaceful sunset over Ilheu de Rosto de Cao on Sao Miguel
Hi there my Steemian friends and followers!
Amid all the mayhem, chaos and uncertainty that we have been through lately, it´s my pleasure to come up with something peaceful and totally unrelated to the current situation today. As usually on Sunday, I am here to brighten up the rest of your weekend with a sunset photography.
---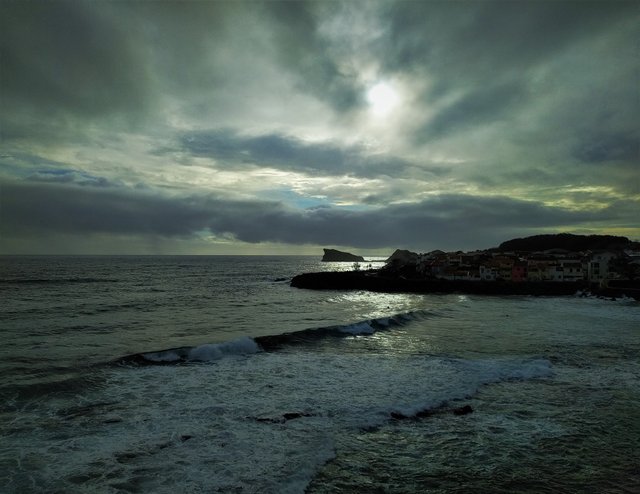 ---
I took this shot a couple of days ago while walking along the southern coast of the Sao Miguel Island here on the Azores. The rock formation in the background is known as Ilheu de Rosto de Cao, it´s a massive volcanic cliff found just outside of Ponta Delgada, the capital city of the island.
I really wish the atmosphere on our blockchain and in the community eased off a bit as there has been just been too much tension in the air for my liking and the latest meetings and negotiations didn´t really help much. I would love to say that I think it would calm down but unfortunately, seeing the exchanges that helped Sun get his puppet witnesses in the top 20 still refusing to start the power down process, I am afraid we are in for some more drama here.
Hopefully, not so many "war posts" will be needed in the days to come though so that I can finally find a slot for my next episode of the Beauties of Azores series at least. I have it ready for quite some time already.
Enjoy the rest of your weekend everyone and have a great start to the new week tomorrow!
---
Don´t forget to submit your nominations to my latest upvote giveaway where I reward great but undervalued posts and if you like guessing challenges, stay tuned for the next round of my Monday tipping contest where you can win 5 Steem for guessing the price of our beloved crypto ;) Let me also remind you that I have just launched a brand new weekly series where you can share your fresh natural photos.
---
This post was created by me for the Steem blockchain exclusively.
---
---
---
---
Thank you for visiting my blog. If you like posts about #nature, #animals, #ecology, #crypto, #traveling, #photography and discovering secrets and beauties of the #world, feel free to follow me as these are the topics I mostly write about. Have a wonderful day and keep on Steeming! :)