ENJOY AN EXTRA POST FROM ME, DURING THE WEEK, WITH PLENTY OF PHOTOGRAPHS.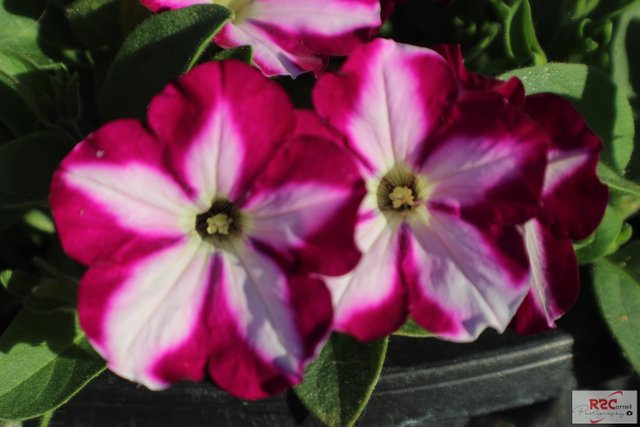 I wanted to do a post today so I could let those of you who have not heard that similar to palnet there is another site that you can earn on at the same time you earn on steemit and palnet. This site is
https://www.neoxian.city
. I was fortunate to be invited to their Discord server prior to the launch and was able to participate in their airdrop. Only members of their Discord community participated, but their site has launched a couple of days ago. You can also purchase their native token through Steem-engine.com, and currently the price of Neoxian Silver (NEOXAG) is approximately $0.03. I encourage you to check out
https://www.neoxian.city
and sign in using your steemit username. There is a lot of excitement with the neoxian followers, as well as people signing up for their platform. I had already purchased NEOX prior to my invitation to join their Discord Server. But, it is the NEOXAG that is earned at their site. So come join us.


As many of you know I prefer doing one or two quality post per week, so even though I include other information besides my photography, I still prefer doing this so as to provide information such as above, and information on some of the charitable organizations I support. My photographs are "window dressing" so to speak. Yet, I am passionate about photography I do and the organizations and services I support. I could do numerous smaller posts but then I would not be able to upvote (or significantly reduce my vote percentage) comments and probably would have to do less replies. I hope you enjoy all aspects of what I share.
Now onto flowers. The above Petunia has shown up on previous posts, yet this photo itself has not made its debut until today. Sometimes I am not sure if all photographs I take bring out the full essence to the flowers, yet they are still beautiful.
Today I have a mixture of flowers and other photos to share. The following is a photograph of a producing cherry tree. These are used mostly for making pies. They are sour compared to many cherries, yet when sweeteners are added such as in a pie they are wonderful. Right now it is a race between the birds and myself as to who will get the most. I do not mind sharing with wildlife, both in my orchard and garden. As long as I get my fare share.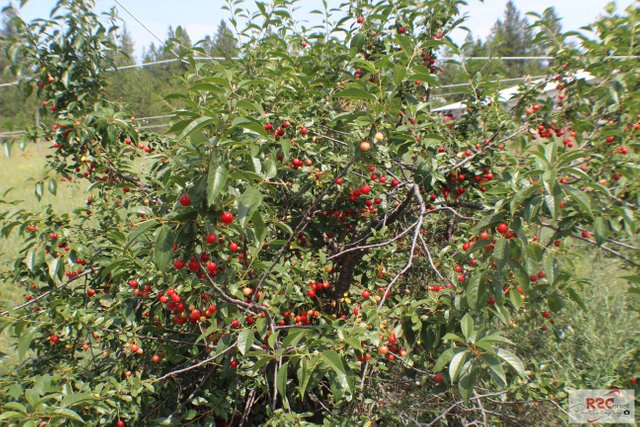 I have yet to return to container gardening, except many of my annuals and some tender perennials (flowers) that are grown in containers. Here is some salad tomatoes I am growing in my small greenhouse. I have been getting some fruit from the potted tomato plants.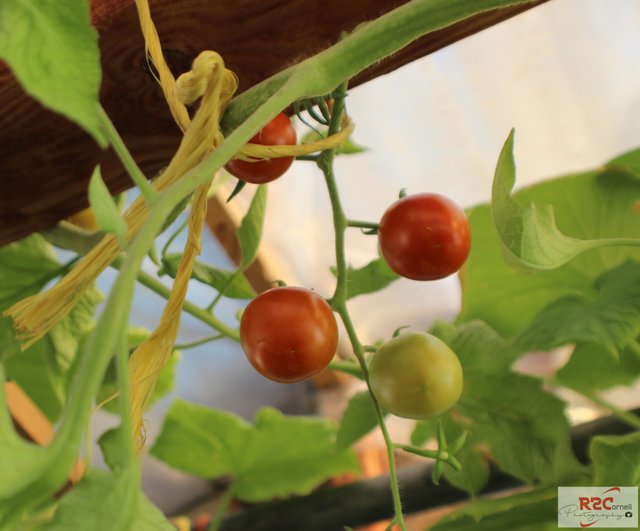 This next flower is a blossom from my Hawthorn tree. I almost forgot about getting a photo or two, but found a couple of blooms that looked relatively nice.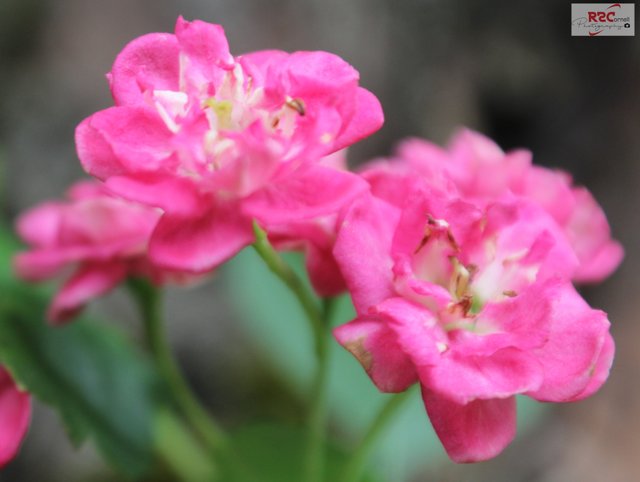 I have been experimenting with growing scallions in a container and have been very please with the results. As I remodel my plant room for the winter I plan on growing. It will make a great addition to a salad. These scallions are sweet and red. They are good eating raw with a meal as well.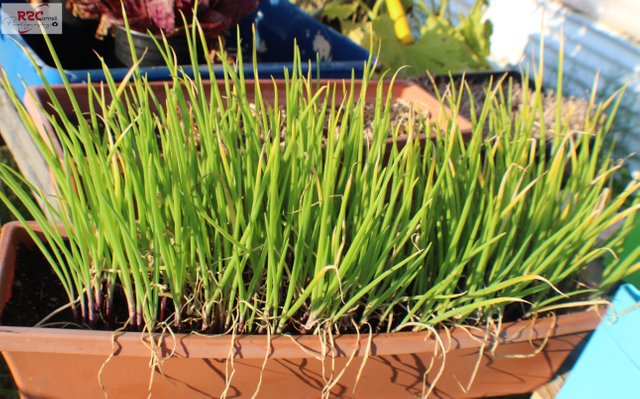 My final photograph is one of my Peony plants. I do not think I snapped any photos of the whole plant and posted. This a very beautiful peony and I have used some macro-shots of some of its flowers.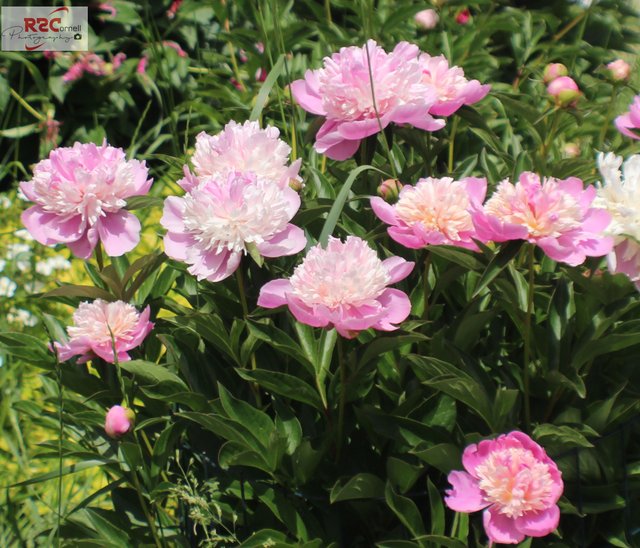 This brings us to the end of the photographs for the day. I hope you find at least one item here that you enjoy.
I am using a Canon EOS Rebel T5 for all of these photographs, except where noted.

Food for life | Soliciting support for our nutritional screening by aid.venezuela is still raising money to aid their fellow countryman, women, and children. As in most places where there is problems the children and elderly seem to take the hardest hit. I believe in Venezuela it goes beyond this and affects many people of all ages. Here is a link to their Fundition program, followed by their latest posts showing how the money is being used.
https://fundition.io/#!/@aid.venezuela/7kvlw6ot4
https://steemit.com/venezuela/@aid.venezuela/foodforlifefirstnutritionalscreeningsupportinthepitahayacommunity-mirandastate-ecpgx2dow7
I would also like to let you know about @socialbot where there is a ROI for those who delegate, but then earnings by @socialbot earns from curating are contributed to social oriented programs. There main site states 120% reward for delegators. I will use parts of a comment I left on one of their posts to clarify this:
My understanding is that those that delegate will receive a portion of the earnings of the post. So that the 100% earnings is divided among those that delegate. I personally delegated 1000 SP (it might be a little higher now) and I receive on average 13 - 15% annual rate of return. I say pretty close because sometimes it is more. The rate of return on what I delegated is very competitive. Now for the 20% which brings up the 120% issue. The 20% is what is earned through curation. ( "20% share of Delegators will be donated to charities on behalf of delegators from each powerdown by @SocialBot"). That curated earnings is donated to the charities. Those of us who delegated are helping to build donations to the charities that are mentioned in their post. @schoolforsdg4 is the primary recipient, but in time part of that 20% will be split between @schoolforSDG4 and other charitable/social projects.
In addition to that if you "send minimum 0.1 to maximum 0.55 steem with Memo of your post link" you will receive an upvote. I have used this service and my earnings from their upvote has always been more value than what I sent. If their voting power is too low you go into a queue and receive your upvote when their Voting Power increases.
Their link is https://steemit.com/@socialbot
I am using a Canon EOS Rebel T5 for all of these photographs, except where noted.
**NAMASTE**