Where Eagles Fly : UFO Clouds ~ Unusual Cloud Formation over the Wyoming Wilderness
Every once in a while when flying in the wilderness backcountry, I see unusual things that are natural but are simply amazing to witness. This is one of those... a multiply stacked lenticular cloud formation. 
I lensed this image as the afternoon dusk was becoming dark, late on a summer evening while flying over the Absoroka Mountain Range in the Shoshone National Forest in Northwestern Wyoming.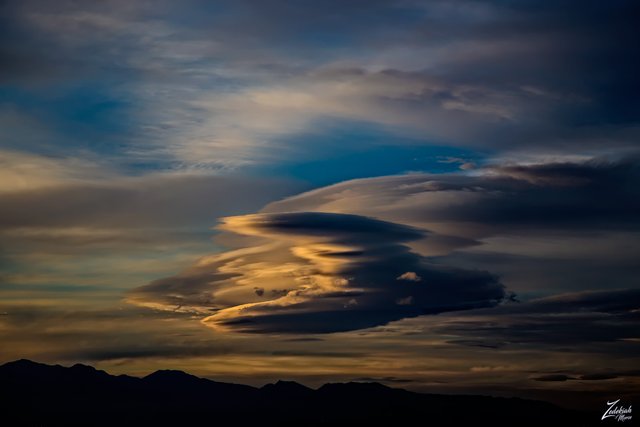 Multi-Stacked Lenticular Clouds ~ Click to Enlarge
Lenticular clouds are clouds that remain stationary up in the troposphere.  They commonly form perpendicular to the direction of strong wind. And these clouds regularly get mistaken for UFO's all the time. Especially when shaped like a "flying saucer". It is because these clouds have a characteristic lens appearance and smooth saucer-like shape. Also, because lenticular clouds generally do not form over low-lying or flat terrain such as in most major cities, many people have never seen one before and don't know that they can exist. 
The beautiful bright colours seen along the edge of these lenticular clouds in the photo are a combination of the alpenglow dusk effect and iridescence. The result is hauntingly otherworldly. 
I find that viewing clouds when at altitude in my bush plane, it is a very different experience that from on the ground. Especially with lenticular clouds such as there, firstly these clouds are a very serious warning sign that indicates very strong wind coming from different directions, hitting the mountain slopes below and then converging at altitude. 
These are very dangerous winds to fly though and most powered-aircraft pilots avoid them. However, glider pilots actively seek them out to make use of the strong winds that are creating the clouds. They want the lift. 
In this photograph you can see there are at least 5 different wind layers indicated by the multiple stacking of the clouds. Also the soft and pointed edges indicate that the winds are very strong. Those unusually awesome looking this is a very dangerous cloud formation.
I lensed this images while exploring this awe-inspiring wilderness area for my ongoing project, "Where Eagles Fly". 
About The Project
Where Eagles Fly - The American Wilderness Expedition is my personal mission to introduce people to these amazing locations that surround us. I am piloting a bush plane while exploring and filming throughout the remote back-country areas of North America to raise awareness of the 47% of the USA and 90% of Canada that remain unpopulated wilderness.
About The Author
My name is Zedekiah Morse and I'm a Bush Pilot, Photographer, Explorer and Filmmaker. I live in the Rocky Mountains and devote my time and resources to exploring as much of the world as I can by air. If you wish to watch a short film detailing how I do my work and this project, go here.
If you like what you see here upvote and resteemit so that others may experience these wondrous places.
And if you'd like these images to be part of your feed, follow me.
Thanks for your support and Yehaw!!