My Vaping Experience with Eleaf Istick TC 40W Mod, Guide and Review
The Eleaf Istick TC 40W mod Specs and Features
The Eleaf Istick TC 40W mod is an innovation of istick series. It features new design of battery, adopts, technical element of TC, that will deliver exceptional vaping experience by changing temperature setting. Maximum wattage is 40 watts with big 2600mAh power capacity. With temperature control function power saving will also be a plus. The Istick TC 40 can function as the standard variable wattage mod and it can function in Ni 200 temperature control mode.
you can find it here
https://pipesarsenal.com/at414si-eleaf-istick-tc-40w-starter-ecig-mod-kit-silver-vaporizer/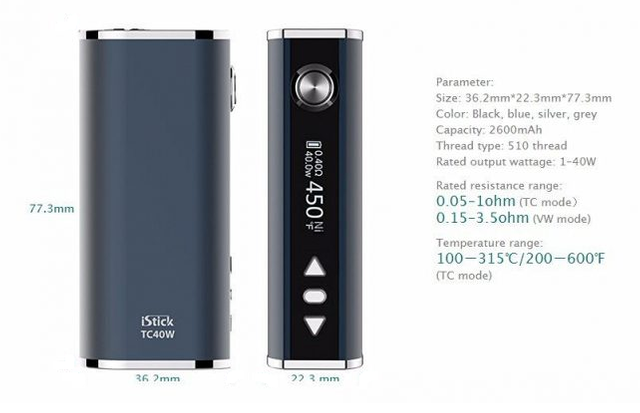 Original Istick Mod
In comparison to original IStick the new one is slightly taller, a little bit wider and little bit fatter than the original one. The top of them looks different because they've moved the position of the actual 510 to the back of vaporizer instead of the front of it. Now it's a good-looking mod and it's just wide enough that it fits a twenty two millimeter tank just perfectly. All of your tanks are going to fit there nicely and it looks really good on there.
Istick TC 40W Box
The box contains Istick mod, GS air tank. The tank is pretty simple it does have a removable drip tip, it has dual o-rings on there, the base comes off of it. Also box contains an adapter for ego which I just don't see people using ego tanks anymore. The manual is actually very well done. The English is good and it's easy to understand. Everything you need to know for a temperature control vaping device in five small pages. A lot of these devices are very complicated and I know that Eleaf likes to make these devices as simple as possible. So if you're entry-level with temp control vaping this mod is going to be really easy for you to use. It'll probably be a good way for you to get started.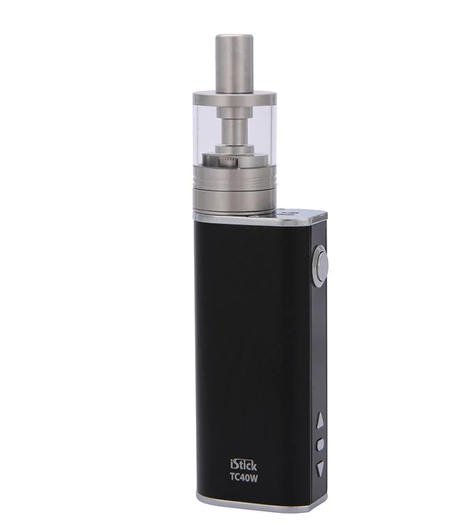 The Button Layout and Display Menus of IStick TC 40W
When the mod is off if you hold the up and down buttons then the screen will flip so you can use it in either orientation. I prefer vaping device in the original one. The middle button is the new button and that's mod's menu button for temperature control.
In order to turn on the mod you have to hit the Fire button five times. After you turned it on you get into the temperature control mode. If you want to take vaporizer out of temp control mode you just hit the little menu button and it gets right into wattage mode. You can go back to the temperature control mode by hitting the menu button again. In TC mode: it has wattage at the bottom of the battery symbol on the screen, you can find ohms above the wattage. Before you fired it or anything else you want to hit the Power button and the UP button and you'll see a little lock on the display. The little lock symbol means that you've locked in your resistance so if the temperature around changes or whatever it's always going to accurately read the resistance of your coil. Then you can adjust your temperature up or down and it goes in ten degree increments. If you go faster when it gets to the top of this it goes into Celsius. In Fahrenheit mode 200 is the lowest temperature and 600 is the highest temperature. On most temp control vape devices you can change the wattage that you're using to drive it. It looks like on this one it's basically at 40 and of course it adjusts as you hit the button and it can go down to 7 watts. When you change power it changes in 0.1 watt increments.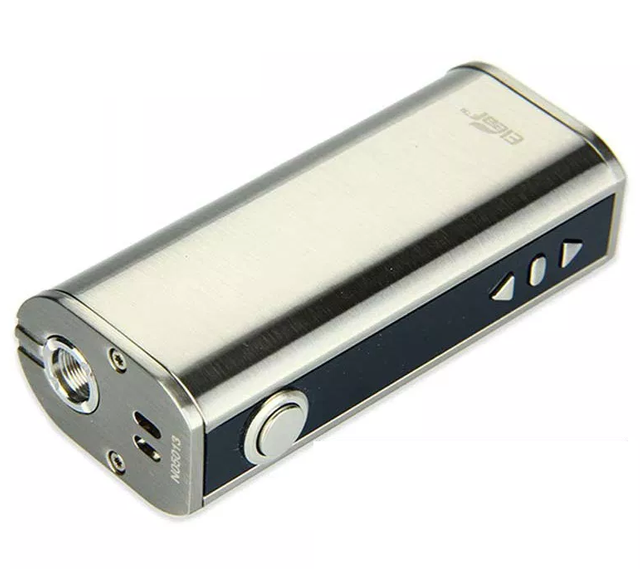 Stealth Mode
If you want to go into stealth mode you can just hold down the down button and the fire button and it goes to stealth. You will see word stealth on the display of the mod before display will get dark, while in stealth mode if you want to see what your settings are, you can just hit the Power button and you can see your settings.
Conclusion
Overall this vaporizer is well designed vaping device, especially for this price range. It isn't flawless. The fire button made from metal, and surrounded by a matching bezel, however mine s slightly loose.Keep in mind that certain people have had problems with the fire buttons on many ISticks vaping devices. In case you are searching for a first TC mod, or something small for taking outside, then the Eleaf Istick TC 40 mod is perfect choice. The battery capacity is fine, but not perfect. When you are vaping above 25 watts or in TC mode it's not going to be charged for the whole day. Although this device is fine for the evening.