Yocan DeLux Wax and Oil 2 in 1 Mod Review And Vaping Experience
Yocan DeLux Innovative Step In Vaping Industry
The Yocan DeLux Wax and Oil 2 in 1 Box Mod is an exceptional 2-in-1 vaporizer that functions with wax and oil. Actually it's not a one vaping device. This vaping set has 2 devices that can operate independently and cooperatively. The bigger one vaporizes wax. It looks pretty ordinary for the vaping mod, however it has a space to store and charge the smaller oil vaporizer. It's a very efficient and original design.
you can find it here
https://pipesarsenal.com/yocan-delux-wax-oil-2-in-1-box-mod-kit-vaporizer-red-t489rd/
Operates with oils and concentrates
Quartz Dual Coil QDC to vape waxes and Ceramic Coil to vape oils
Bigger device 1500mAh and smaller unit 450mAh
Yocan DeLux Variable voltage settings
Compact and portable
Innovative Design
The Yocan Delux is made from steel that has a nice finish and it feels very silky and sturdy when you touch it. It has very excellent design so all parts fit precisely well, so the engineers who worked on this project made a good job. The bigger device has a small storage space that's built to keep the smaller vaporizer inside. When you don't want to carry the oil mod, then you can just keep there a wax container instead of smaller vaping device. It's made to fit precisely, plus it's very comfortable for people who vape wax outside. In general , this product has outstanding design.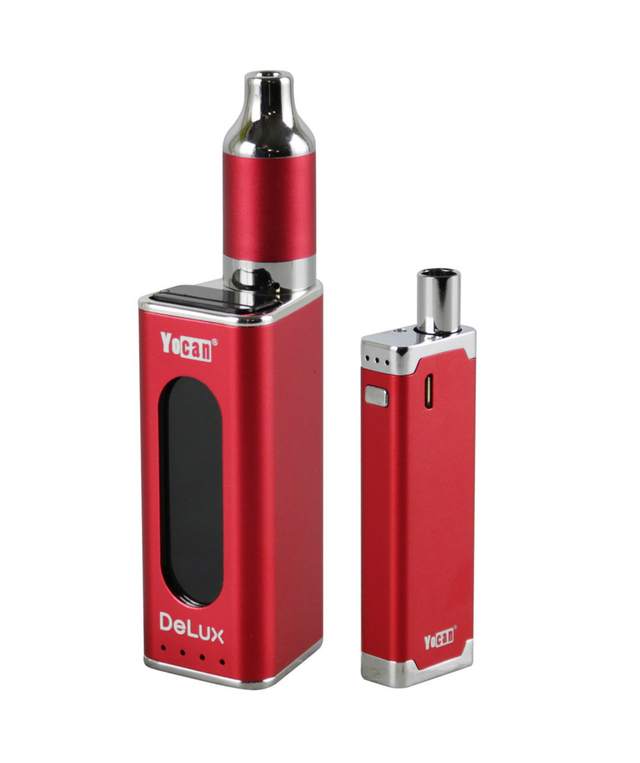 Simple Exterior Design
The Yocan Delux's appearance looks a lot like of a mod and tank e-cig kit. Majority of people will think that it is an e-juice vaping device because of the size and form. I don't see anything bad in the exterior design, however few things they might have done better. The finish is great, and the mod's overall exterior design is good. Although it looks simple, regardless of the great performance. Probably they made it plain deliberately. Perhaps designers wanted for this vaporizer not to get a lot of attention. However they still could make it to look better.
How To Use Yocan DeLux Mod?
You have to click 5 times on power buttons if you want to turn on these units, although 3 fast taps will let you to navigate between temperatures. Before using the bigger device you have to open the magnetic atomizer lid and see the coils. Supply a small quantity of wax to an atomizer and place the mouthpiece on the top. Fine-tune the temperature by the technique mentioned above and then keep the Power button down to start the heater. Then give some time ( like several seconds) for coils to maintain the pre-set temperature before you are going to make the first hit. Let go the power button at the end of your draw to get the best wax vaping experience. The smaller vaporizer functions like standard e-liquid vaping device. To replenish the oil atomizer, take it out from the mod and take off the top of the atomizer.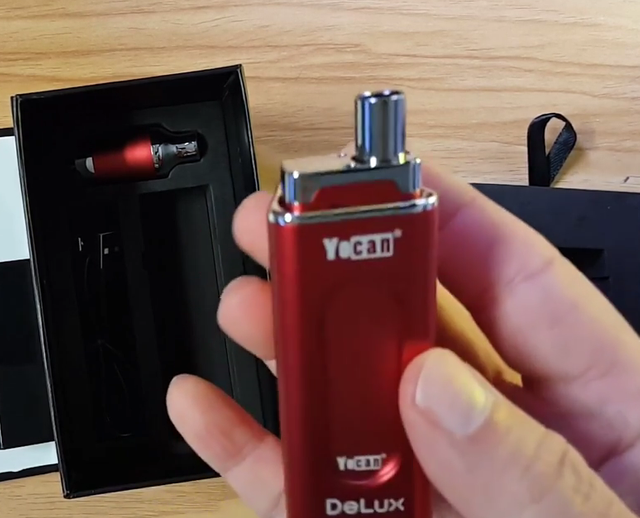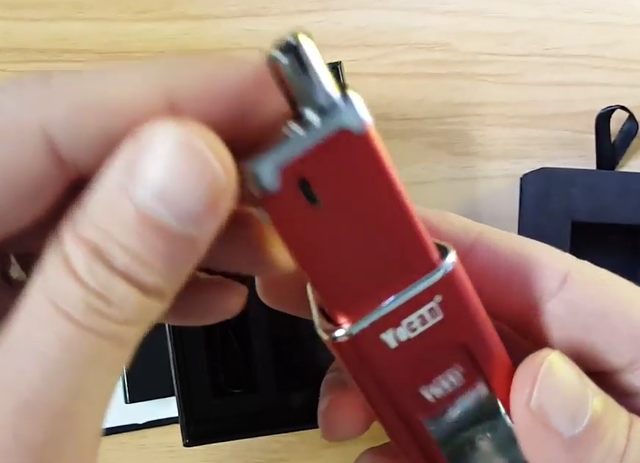 Vapor Production
The bigger wax device produces very high quality vapor. It's not the best vaping vapor producing mod, but it still is very good if you compare to other vaporizers on the market. The vapor quality is much better than the average. The flavor is excellent, it's probably because of the innovative and original chamber's design. Usually, wax vaping devices have an open chamber with the mouthpiece. The mouthpiece stops the wax from getting into the mouth usually. But, the Yocan Delux Mod wax chamber designed with additional component. This vaporizer has the cap with gaps for airflow, and the cover tops the wax chamber. The additional filtration and vapor transfer delivered by the cap greatly enhanced the vapor taste and smooth quality. The smaller oil device functions well too. It's not great, however it gives you fine vapor experience. The oil device has no original innovations in the vapor production department, but performance is fine. The exterior design of the vaping oil pen is very good.
Battery Lifespan Or How Often Do You have To Charge It?
The bigger vaping device has 1500 mAh battery and the smaller oil vaping unit has 450mAh battery. Both of them have decent battery lifespan. If you don't vape often during the day then you will have to charge bigger wax device once in 3 days, but if you vape more often then you have to charge it more frequently. The smaller oil unit of Yocan DeLux has a significantly smaller cell, however it still functions long enough if you don't vape very often during the day. The good advice is to charge it every evening. So you will not have to worry if it charged enough. Don't forget that you can charge the oil device inside of the bigger wax box mod. It's very innovative step in the industry that bigger wax mod serve as the power source for the smaller oil vaporizer. Basically it gives you much more space to carry them around. Totally both of them carry 1950 mAh, it's definitely not bad. If you want to get a hit more often then you need something bigger, but for occasional vaping it's enough.
Conclusion
Overall, I like the innovative design and the idea applied in the Yocan DeLux Wax and Oil 2 in 1 Box Mod. Extract aficionados have to give it a chance due to flavor outstanding quality. Plus two different atomizers guarantee that supplies will not blend. So oil and strain concentrates will never get mixed and you will get 100% clear tastes from both. You can share your vaping experience with someone because you have two devices.