How to make a tincture from shepherd's purse, to use to stop bleeding!
This is a post on how to make tincture from shepherd's purse. I decided instead of just telling you what it was used for to show you how to use it. I hope this helps you make your own tincture. It's not very hard but people seem to be scared of it, so let's just Jump Right In!
Shepherd's purse is an herbal used primarily to stop bleeding.
Here are some pictures of shepherd's purse after I pulled it and laid it on the hood of the car preparing a batch of tincture.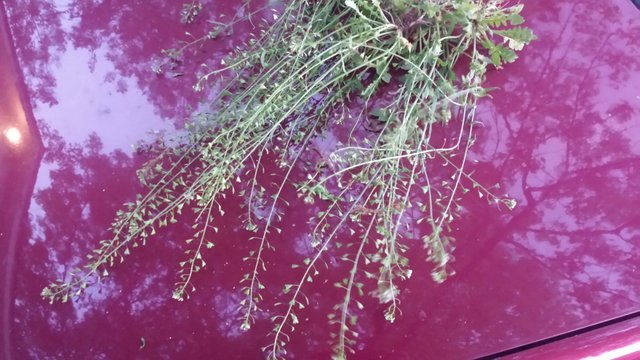 Here is a closer picture to help identify the plant: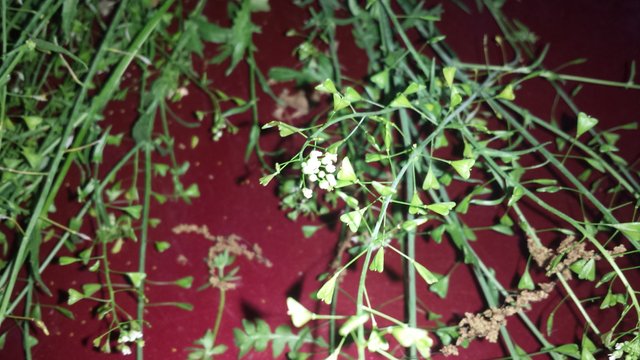 A quick word of caution here, you note in this picture there's a brown round Pollen dropped from local Oak tree. Pick out all foreign matter before you start the cleaning process. I like to wash them with a brush and Pat them dry on a towel. The dryer the better because any water left on the herb will dilute the alcohol and weakened the tincture.

Here is the cleaned herb I'm preparing to cut up to go into the alcohol for extraction. When I'm doing a tincture I like to cut off the roots. If I were doing a decoction I would keep the roots and clean them and add them to the decoction. I feel there to Woody to extract much just buy using straight alcohol.
Here's a picture of the washed herb: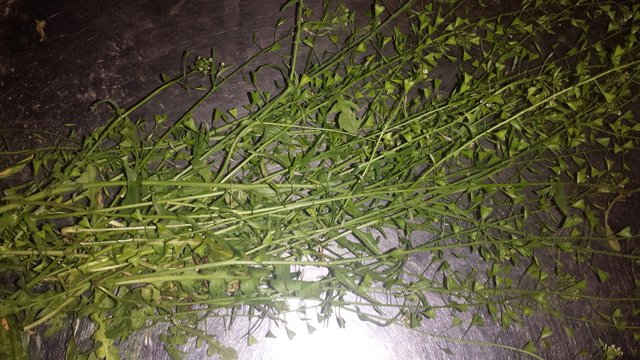 These herbs are cut up, and all sub-standard pieces are removed. I remove the heaviest stems because they won't extract well either. The rest of the herb is then placed in the bottle that I poured half of the Vodka out of. Once filled and Tamp down, I put the Vodka back in the bottlefilling ut to the top. I like to remove all the air I can, no scientific reason, just good practice.
The finished bottle looks like this: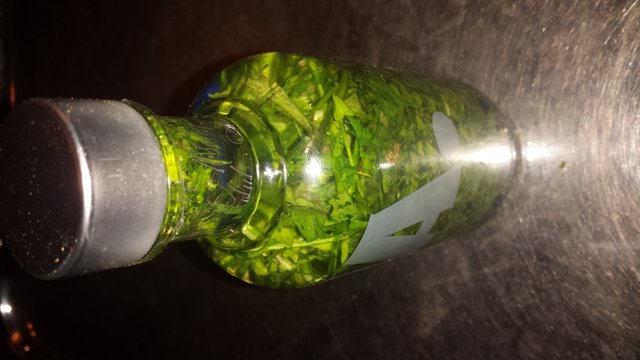 Up close: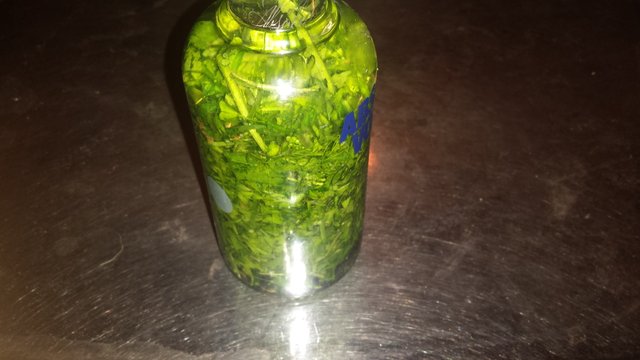 I end up with a bottle ready to diffuse, all that's needed is to place the bottle in a cool dark place for a month to six weeks.
The herbal uses for this weed are varied it's used for:
bladder infections,
bleeding problems,
abnormally heavy periods,
diarrhea,
headache,
kidney disease,
low blood pressure,
menstrual cramps,
and even mild heart failure (diuretic).
Not bad for a weed out of your lawn! Maybe it deserves a little more respect now?
Happy tincturing! :)