Bohemian Chic Project - Would YOU Do This?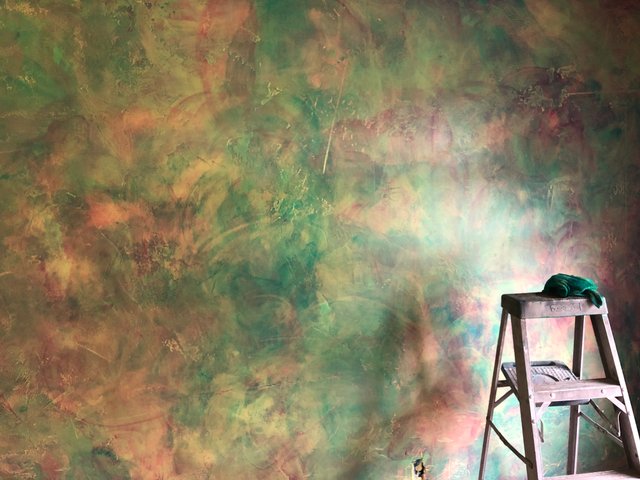 I did this to our bedroom. My sweetie textured the walls years ago with drywall compound and a trowel. The walls were cocoa brown before I did this.
It was pretty easy (and I am NOT a painter - like, regular walls come out really awful when I try!).
I started with a base coat of yellow/mustard/dandelion-ish. Right after finishing a wall, I took a square of an old bath towel and dipped it in water, wrung it out. Then dipped it into some rose/red latex paint and rubbed it all over in circular patterns. Then I did the same with some dark teal latex paint.
The decor I have in mind will probably be just on one wall - distressed white/ivory wood carvings, probably? Or maybe I'll make a big canvas art thingy with layers of media (I have no idea how to describe it!).
The furniture includes two antique dressers from my great grandmother, a big antique wooden shelf from my mom, and this little "cotton craft table" I picked up at an antique mall (has plants on it - I posted a panoramic pic below).
We've got a pretty private backyard, so I'm thinking we might just leave the wood blinds and no other window treatment. Loving seeing the sunrise (we used to have the bed on the window wall - this is better).
Will eventually add a rug (we have 4 dogs and 2 cats - 1 dog is old and incontinent, so... not yet!). I would LOVE to find a chandelier ceiling fan combo, but am not sure that exists! The bedspread is sort of plum colored.
Some say it's weird... I say it's us!