Supper Time Part 6: The most expensive supper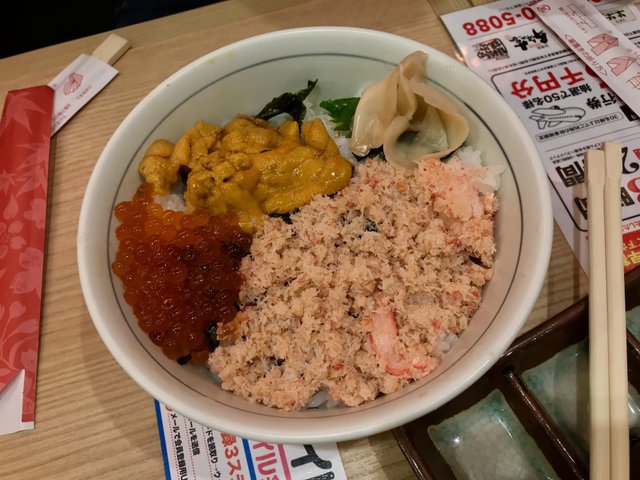 The most expensive among all of the supper I had ate
Why it is the most expensive supper? It is because of the Sea Urchin. Before I left Japan, I tell myself I must try their fresh Sea Urchin no matter what is the price. The Sea Urchin that I got on my bowl is a premium grade and fresh out of the sea, that what the waitress told me using google translation. The Sea Urchin goes together with the crab fresh meat and the fish eggs.
This was my first time trying Sea Urchin, I think I never have this in any other country simply because they're not famous or not easy to get I think but I do not know what the real reason or perhaps I have never pay attention to Sea Urchin not until I reached Japan.
The smooth texture of Sea Urchin, the moment it goes into your mouth, you can taste the full flavour of the Sea Urchin. The flavour is unusual yet so rich, I have never ever tasted something like this before. I would say this is a unique taste that I never try before. The smell of the Sea Urchin, not everyone would love it when the first time they smell it.