We Are Very Excited To Present To You Today Our Newest Creation: Piggericks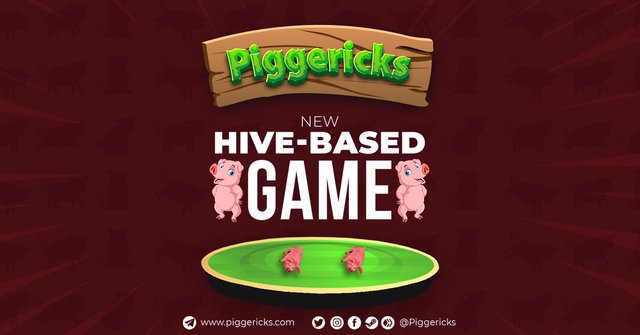 Today we are very excited to announce our newest creation: Piggericks is a competitive and fun skill game we hope you will love to play! It runs on the HIVE blockchain and uses Ethereum as well. This has the advantage that the key assets you work to build up by playing the game are in your control.
As a group of gaming enthusiasts, we have been working on this game for over a year now, making it the best for our players! We hope that recreational and serious game players alike will love playing Piggericks and enjoy some of its virtual spoils.
The game goes Live on July 15.
You will be able to play the game on July 15. Today we are announcing an Exciting Pre-Sale (more below) that is live now. This way you can score some major benefits.
There are two ways you can log into the game: with your existing Hive account or with any ETH address using metamask. Sign-In here.
The Game
The game is about making smart decisions and battling other players. To start, you will need two pigs to compete with the other players. The idea is to collect as many pigs as you can and enhance their attributes and experience. When you tactfully use your pigs to play the game, you can earn rewards in online gaming competitions. More experience of your piggies will lead you to higher levels in the game!
Learn more about the game, here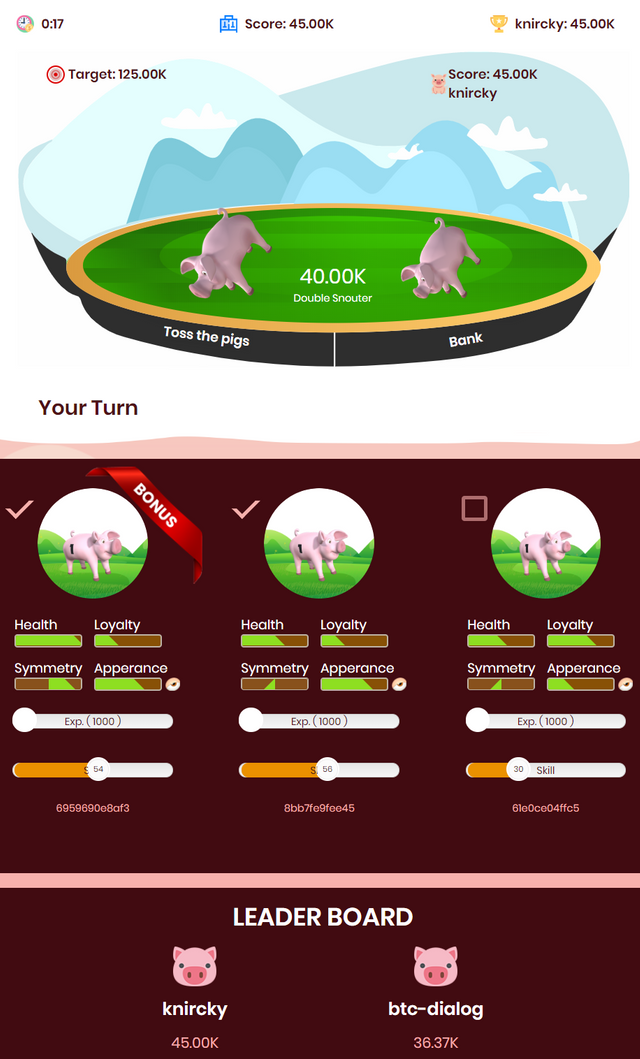 Get Pigs in The Open Market or Our Shop
You can acquire - as well as sell - Piggies in the open marketplace. The game is integrated with OpenSea, the largest marketplace for rare digital goods. We also have a shop where new pigs can be purchased.
Announcing the Pre-Sale: From Now to July 15!
We are excited to offer some very special goodies for our first players. We also understand that jumping into a completely new game may take some convincing at first. So, we want to give you some extra reasons and special benefits of joining the game as one of the first players.
Special Packages Only Available During Pre-Sale
To celebrate the launch of the game, we are offering a limited amount of Packages with extra value that will not be available in the future. To understand what we are offering in the special packages, first, you must have a look at our standard packages that are available throughout the game and are the same on every level.
Here is an example of a standard package offered at Level 1. Other levels will have the same kind of package structures (at corresponding prices).
| | | | | |
| --- | --- | --- | --- | --- |
| Level 1 | Pigs | Bonus Pigs | Grunts | Price |
| Piggy | 1 | 0 | 5% | $1 |
| Piggy Pair | 2 | 0 | 10% | $2 |
| Piggy Bunch | 5 | 1 | 10% | $5 |
Now, for every standard package, we offer regularly, there will be a special package only offered in the Pre-Sale. These packages are limited in quantity and only available for the duration of the Pre-Sale.
The Pre-Sale Packages will have double the Grunts (our VIP points) and an extra Bonus Pig for every pig in the package.
The table below shows the difference that the level 1 special package offers:
| | | | | |
| --- | --- | --- | --- | --- |
| Level 1 | Pigs | Bonus Pigs | Grunts | Price |
| Piggy | 1 | +1 | 5+5=10% | $1 + 0 = $1 |
| Piggy Pair | 2 | +2 | 10+10= 20% | $2 + 0 = $2 |
| Piggy Bunch | 5 | 1 +6=7 | 10+10= 20% | $5 + 0 = $ 5 |
Each of these packages will be available for 500 times or until July 15, whichever comes first.
Giveaway For Our First 1000 Players, 5 Times
It pays to be the first! We are providing a very special giveaway to the first players during the Pre-Sale. We are defining 6 levels: $10, $50, $100, $200, $500 and $1000. The first 1000 that spend these amounts in the shop will receive a giveaway of the same amount issued via our regular packages. And the good news is, players can participate in each level simultaneously. That means you will receive the giveaway of the highest level that you spend as well as all the levels below!
The Giveaway will be paid whenever the first 1000 players have reached the corresponding level or when the promotion expires, whichever comes first.
As a result, you can get anywhere from $10 to $1860 in extra value from this giveaway! Don't you want to score it all?
Referrals
When signing up, players can provide a username as a referral. So if you have a friend, give him your username to use when signing up. Once you have signed up, the referral cannot be changed.
When your friends spend money at the shop, you get rewarded.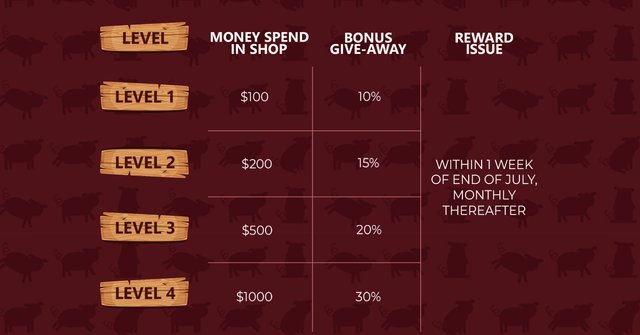 Rewards will also be given as packages or grunts, the details about which will be shared at a later point.
This is a promotional bonus valid until further notice.
Bounties For Content Creators
If you like to write, share posts on social media, or are a video creator we have some special bounties for you!
For video creators, packages ranging from $50 to $750 will be given. Once you create a video based on/linked to Piggericks, we will go through it and rate the video quality and rank them. The best video creator receives bounties worth $750 and subsequently, bounties worth 1x $500, 1x $350, 10 x $100, and 10 x $50 will be given to a maximum of 23 video creators overall!
For blog and social media post creators, packages ranging from $25 to $500 will be given. This works in the same way as the bounties given to video creators. 23 bloggers will get the bounties worth 1x $500, 1x $300, 1x $200, 10 x $50, and 10 x $25.
You can also score all three of these if you are good. You could make a video and then post about it to have a shot at both bounties, or even at all three if you write an article about it as well.
These rewards can later be won in the game! We will share in a separate post how to post links to your content in a way that you are eligible for the bounties.
Isn't it all so exciting? Well, it might be hard for you to say right now but once you get there, we promise you will enjoy everything we just talked about! We will be back with an update on our pre-sale offers and giveaways.
Join Us on Social Media
For more updates and information about the launch and pre-sale offers of Piggericks, you can connect with us on social media.
If you want to chat with us join our Telegram group
If you need support, join our Discord Server
Follow us on: Facebook | Twitter | Instagram | YouTube
We will be back with more information, soon! Till then, get ready to play and earn!
Helpful Links
About Game
How To Play
Game Login
Bonus Pigs
Pre-Sales Offer
Open Marketplace
Game Shop
Bounties For Content Creators