First try with passion and creativity for a pixelart animation
We can't know everything but this keeps us in life! Every day something new, every day something different!
I had never tried to make any pixel art before, but I came across to a contest and I said yes! Let's try this! If anyone was asking me before about pixel art, maybe I could answer that is something not interesting to me, and as the technology is better and better we can enjoy special effects and not a pixeled image.
I did a big mistake, everything has its beauty! It took me about a whole night to finished but it was so nice every moment! It made me think that it is not so easy as it seems and at the same time, it is not so bad "vs" to digital artworks with lighting effects shadows etc..
I tried to do an animated pixel art because I love the "gifs". The theme of the contest is "bugs" so I decided to create a spider as the hero of an old game in a console who trying to walk as far as he can on the wall.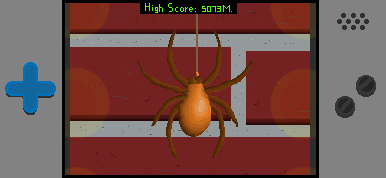 So, this is my entry for Pixel Art Weekly competition by @jonny-clearwater! I hope you like it:)
---
100 % own work
---