1st PixEOS Collage Contest: What did pixEOS leave you in 2019? What do you expect from pixEOS this 2020?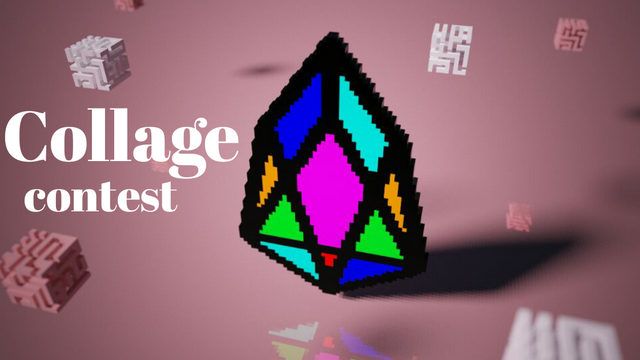 2019 has been an excellent year for the pixEOS team and although it is over, many lessons, contests, dynamics and friendships have emerged thanks to this wonderful community. That is why we wanted to bring you a new contest for you where, with small pieces of art, you can tell us what PixEOS left you this year and / or what you think we have for next year, reflected in a Collage.
What is a collage?
It is a pictorial technique in which different images, textures, colors, photographs, are joined to make a digital or traditional artistic composition.
Competition rules:
• Make a collage where you include how was your 2019 in pixEOS or how you want it to be in 2020.
• Minimum 5 images in the Collage.
• The collage should include the logo of pixEOS (mandatory).
• It can contain photographs, images, drawings, gif, and everything your imagination desires.
• Place the sources of the images if they are not yours.
• Place a text that describes the meaning of the Collage.
• Share the image on Instagram (tag to pixEOS.io) and/or Twitter (tag to @eos_pix) and use the hashtags #pixEOS, #pixEOSart and #pixEOScollage.
• You must upload the links to the Telegram channel of pixEOS.
🏅 AWARDS 🎖
First place: 10000 PIXEOS and 10 EOS
Second Place: 5000 PIXEOS and 6.5 EOS
Third place: 2500 PIXEOS and 3.5 EOS
Each participant who meets the contest rules wins: 500 PIXEOS.
THE CONTEST CLOSES ON SUNDAY, JANUARY 31 AT 11:59 PM UTC.
We will announce the Winner on MONDAY 3.
If you have any concerns, you can ask one of the Team members.
---
1er Concurso de Collage de pixEOS: ¿Qué te dejó pixEOS en el 2019?¿Que esperas de pixEOS este 2020?
El 2019 ha sido un año excelente para el equipo de pixEOS y aunque ya terminó, muchos aprendizajes, concursos, dinámicas y amistades han surgido gracias a esta maravillosa comunidad. Es por eso que hemos querido traerles un nuevo concursos para ustedes en dónde con pequeños retazos de arte puedan decirnos que les dejó pixEOS este año y/o que creen que tengamos para el año que viene, reflejado en un Collage.
¿Que es un collage?
Es un técnica pictórica en la que diferentes imágenes, texturas, colores, fotografías, son unidas para realizar una composición artística digital o tradicional.
Bases del Concurso:
• Realiza un collage dónde incluyas como fue tu 2019 en pixEOS o como quieres que sea en el 2020.
• Mínimo 5 imágenes en el Collage.
• El collage debe incluir el logo de pixEOS (obligatorio).
• Puede contener fotografías, imágenes, dibujos, gif, y todo cuánto tu imaginación desee.
• Colocar las fuentes de las imágenes si no son propias.
• Colocar un texto que describa el significado del Collage.
• Comparte la imagen en Instagram (etiqueta a pixEOS.io) y/o Twitter (etiqueta a @eos_pix) y utiliza los hashtags #pixEOS, #pixEOSart y #pixEOScollage.
• Debes subir los links al canal de Telegram de pixEOS.
🏅 PREMIOS 🎖
Primer lugar: 10000 PIXEOS y 10 EOS
Segundo Lugar: 5000 PIXEOS y 6.5 EOS
Tercer lugar: 2500 PIXEOS y 3.5 EOS
Cada participante que cumpla con las bases del concurso gana: 500 PIXEOS.
EL CONCURSO CIERRA EL DOMINGO 31 DE ENERO A LAS 11:59PM UTC.
Anunciaremos al Ganador el LUNES 03.
Si tienes alguna inquietud no dudes en preguntarle a alguno de los miembros del Team.

Social media:
Twitter LATAM and Twitter internacional - Instagram - Facebook - YouTube - Steem - Trybe

Telegram
pixEOS in spanish - pixEOS USA - Anuncios

Main pixEOS sites
Main Website
pixEOS Hub (All pixel dApps in one place)
Roadmap
Paint dApp
Game Center (Have fun playing and earn PIXEOS tokens)