Huge #PizzaGate News! Comet Ping Pong is officially UNDER Investigation by DCMPD!
Huge #PizzaGate News! Comet Ping Pong is officially UNDER Investigation by DCMPD!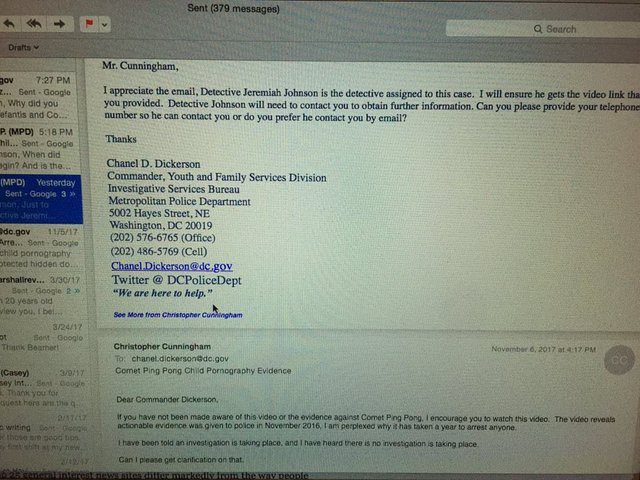 Film Summary
Hey everyone! This is great news and I just can't wait to tell you about it. Comet Ping Pong is under investigation for the Child Porn = Cheese Pizza they were selling on their server on the encrypted section of the Comet website. This is now in the hands of the Police who are doing their job!
Let's all thank god for the good people at the DCMPD who are doing their job and going up against this sick disgusting behaviour by the "untouchable" elites in the swamp. I pray we see justice for this and I pray for protection for the DC Police.
Tweet with Email from DC Police confirming Detective Jeremiah Johnson has been assigned to the case: https://twitter.com/Cunningham623/status/928467958090878976
Video by @Defango: https://youtu.be/Z6A-pWnn-E0
Interview with the Hacker "BigFish": https://youtu.be/HTRewHDOr90
The troll account created by "Jeff C", to discredit me and to make personal attacks on me: https://twitter.com/TightAssFroth
I know it was "Jeff C" aka Free Radio Revolution for multiple reasons, the "parody" account which it is not a parody it is a slanderous account aimed at making personal attacks at me for exposing PizzaGate, uses "twoof" and "tight ass". Jeff C literally in a tweet to my from his actual account called me a "tight ass shill", and the parody account revealed information about issues I was having in DM's (not publicly available) with him and some other youtubers when I could not get anyone to join my STWT show for a few weeks awhile ago. Only a few people even had access to that information and only one of them has turned on me since, that is Jeff C the actual shill. Proof: https://twitter.com/ImperatorTruth/status/928610818027073538
Thanks for watching everyone! I appreciate the help. Let's keep the pressure on and make sure that people are aware of what is going on and let's get justice against these sick fucks at comet ping pong.
BTW YouTube has demonetized basically every video I have put up recently including this one. Please join steemit and or patreon to support me for the work I have been doing to expose these elite at the cost of my own personal life for almost a full year. Links below.
Enjoy My YouTube Video:
This Video is Also Available on Alternative Video Platforms (Vote with Your Views):
Alternate Platforms:
Vid.Me: https://vid.me/efxkl
Help me out by up-voting and re-steeming this and or by making me an Independent Journalist by funding me on Patreon with monthly support. My Patreon

Don't forget to follow me @TitusFrost for more of my work coming in the near future...


You can also connect with me on: