Weekly Pocket usage report! Week: 2017-10-16 to 2017-10-22.
Weekly report: 2017-10-16 to 2017-10-22
I am a small confirming bot and this is the second weekly report of a usage of Pocket tokens. You can acces first weekly report here.
I need some feedback!
Please write in comments if you have any ideas about what other statistics should be included in next reports. If you can see some inaccuracy or mistakes (also in my English) please comment about it too.
How data for statistics are collected
Father of Pocket token @biophil is currently working on some code that will make collecting pocket statistics easier and more straightforward. Before this features will be available I have to parse confirming logs to gather data for statistics. But confirming code seems stable and is getting even better and better, so those data should be quite accurate.
Table of content
This report includes:
General statistics.
Top active users statistics.
Confirmation bots statistics.
Gates and exchanges statistcs.
Top millionaires statistics
As for gates / exchanges statistcs I am starting with some @pocketexchange stats. But be aware that if there will show up some other pockets gate / exchange users, it will be only matter of my code's configuration to add stats for them as well.
Report
| General statistics |   |
| --- | --- |
| Number of all transfers this week: | 103 |
| Sum of all transfers amounts this week: | 10,563,090 |
| Average transfer amount this week: | 102,554 |
| Number of users that sent pockets this week: | 26 |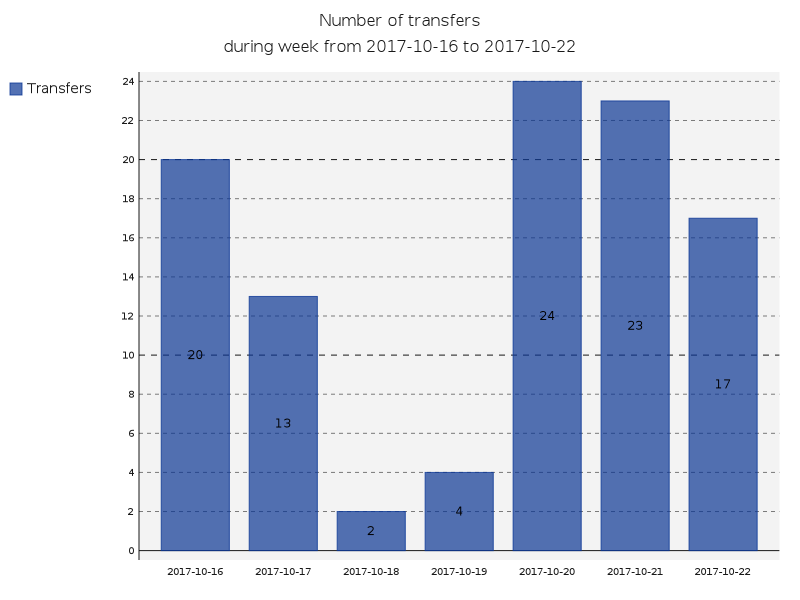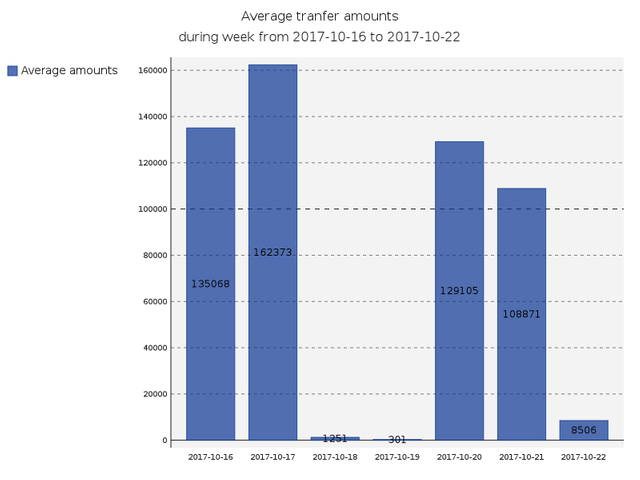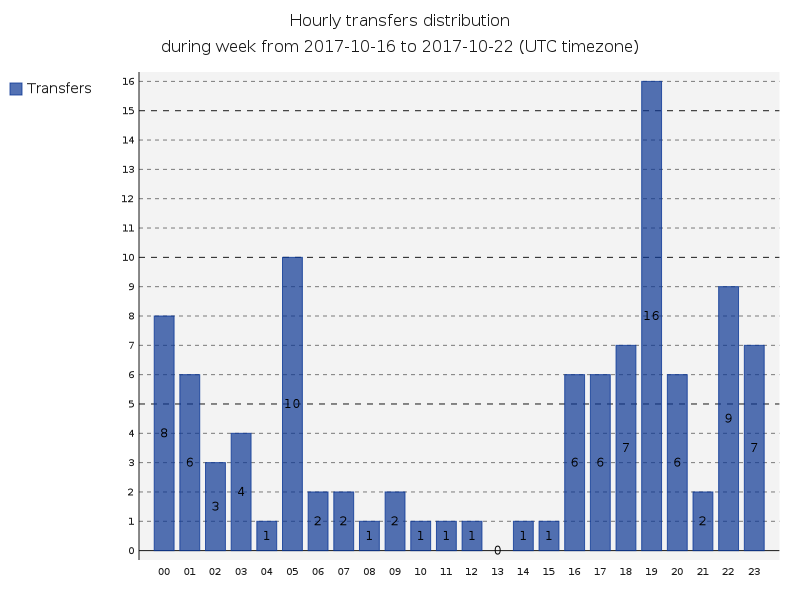 Top active users stats
Top 5 active users (by number of transfers)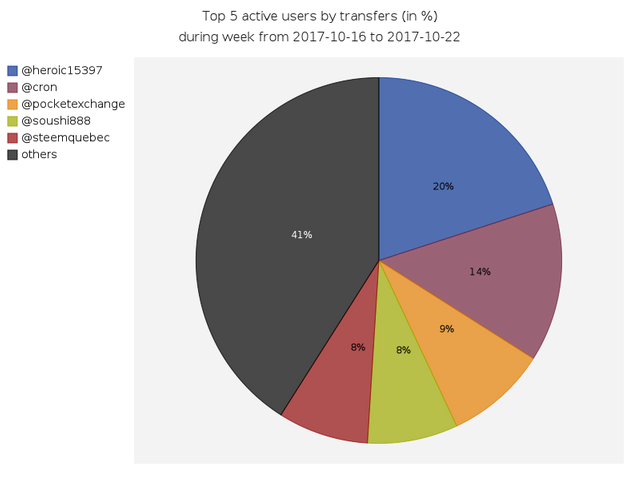 Top 5 active users (by sum of amounts)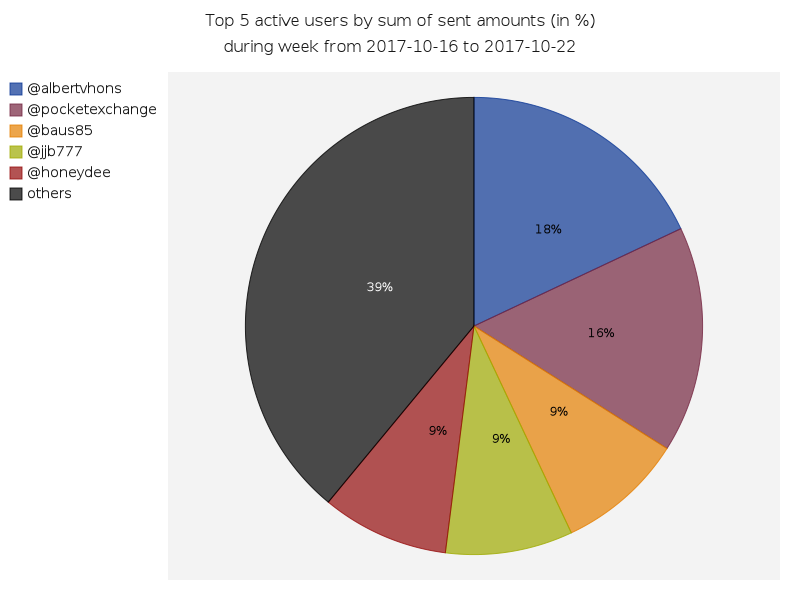 Confirmation bots statistics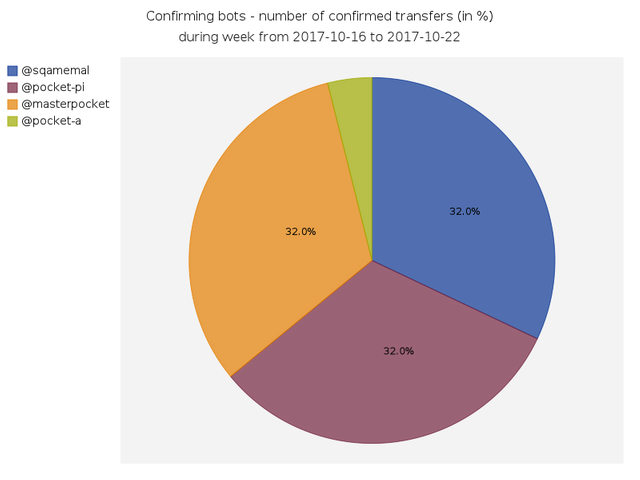 Gates and exchanges stats
Statistics for @pocketexchange gate / exchange
| @pocketexchange general statistics |   |
| --- | --- |
| Number of all transfers this week: | 20 |
| Number of incoming transfers this week: | 10 |
| Number of outgoing transfers this week: | 10 |
| Sum of all transfers amounts this week: | 7,273,092 |
| Sum of incoming transfers amounts this week: | 5,576,496 |
| Sum of outgoing transfers amounts this week: | 1,696,596 |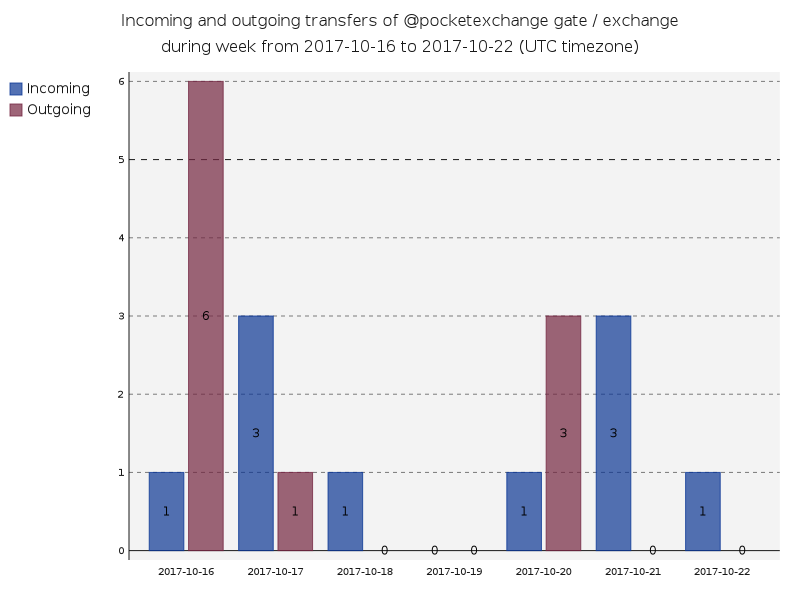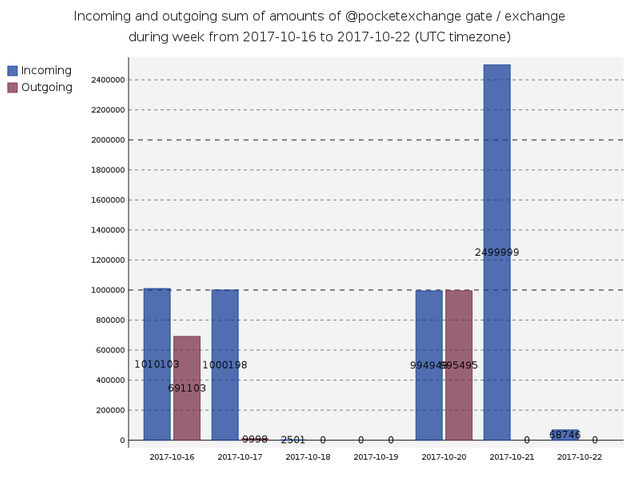 Top 50 Pocket millionaires
Scroll right to see more milioners:
01.   pocketexchange : 38,801,359  |  11.           cmp2020 : 2,001,000  |  21.       kenny-crane : 1,399,997  |  31.      kaykunoichi : 1,031,336  |  41.        greer184 : 1,005,500  |  
02.       musclenerd : 4,999,993   |  12.         jeffjagoe : 2,000,562  |  22.     virtualgrowth : 1,350,578  |  32.       christ2169 : 1,022,505  |  42.   beyond-common : 1,005,274  |  
03.           mrstaf : 3,899,867   |  13.           pkvlogs : 1,999,999  |  23.        barcalogia : 1,241,405  |  33.         doushoum : 1,020,750  |  43.          roxane : 1,005,255  |  
04.           flauwy : 3,000,998   |  14.   troyvandeventer : 1,999,999  |  24.   ibringawareness : 1,200,745  |  34.        tokenbank : 1,020,146  |  44.       hanzkiboy : 1,003,250  |  
05.          vedvati : 2,999,998   |  15.            zorg67 : 1,999,978  |  25.        mattclarke : 1,200,046  |  35.          bbrewer : 1,011,406  |  45.      coolthings : 1,003,007  |  
06.      justinashby : 2,999,998   |  16.            wekkel : 1,994,445  |  26.   pattaya-booking : 1,199,998  |  36.    rojassartorio : 1,010,000  |  46.         svamiva : 1,002,999  |  
07.      cloudspyder : 2,999,184   |  17.   chefcryptoshark : 1,923,877  |  27.    captainobviou3 : 1,096,898  |  37.          yoshiko : 1,009,999  |  47.      ragepeanut : 1,002,599  |  
08.    paul.atreides : 2,590,329   |  18.        ozymandias : 1,900,001  |  28.      philipnbrown : 1,084,972  |  38.   incrediblesnow : 1,009,999  |  48.         hamidou : 1,002,019  |  
09.     zwergmonster : 2,499,999   |  19.             helex : 1,749,996  |  29.           maarnio : 1,055,000  |  39.      sportschain : 1,009,999  |  49.       hendrix22 : 1,002,000  |  
10.         siamhome : 2,199,994   |  20.       thatdamiguy : 1,586,103  |  30.       digitalking : 1,037,962  |  40.         sigmajin : 1,007,890  |  50.          andy23 : 1,001,998  |