Exchange P.O.C.K.E.T. tokens between Steem and bitshares
Please respond to this post with your requests to exchange P.O.C.K.E.T. tokens between Steem(it) and bitshares for the week of Sunday, September 24th to Saturday, September 30th.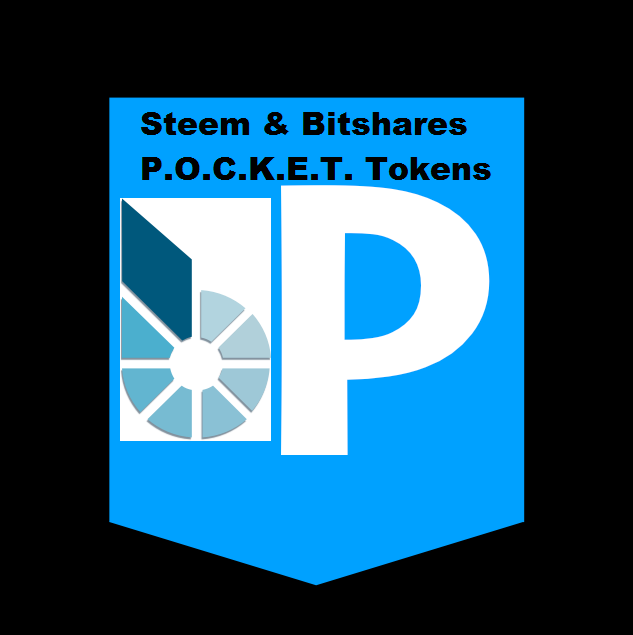 Sending POCKET to @pocketexchange for POCKET on bitshares
Leave a reply comment on this post with your request in the following format:
Format: pocketsend:<amount>@<account>,<optional memo>
NOTE: Remember the comma
To send your (100) POCKET to @pocketexchange type: pocketsend:[email protected], memo: bitshares name and change the number 100 to the amount you wish to send and receive on bitshares. Note there will be a 1% fee for this transaction exchange. Be sure to include your correct bitshares name to be properly credited.
POCKET markets on bitshares
These will be potential markets on bitshares for the POCKET tokens
POCKET / BTS
POCKET / OPEN.BTC
POCKET / OPEN.SBD
POCKET / OPEN.STEEM
POCKET / bitUSD
Initial issuance of POCKET tokens on bitshares will be from pocket-issue
Sending POCKET on bitshares to POCKET on steem(it)
To send POCKET from bitshares to steem(it) send your POCKET tokens to pocketexchange on bitshares and include your steemit username in the memo field.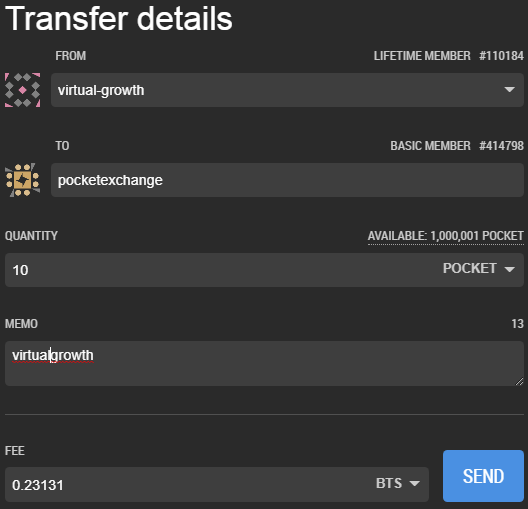 virtual-growth sent 10 POCKET to pocketexchange memo: virtualgrowth
pocketexchange: pocketsend:[email protected]
Successful Send of 10
Sending Account: pocketexchange
Receiving Account: virtualgrowth
Fee: 1
Fee of of 1% has been chosen due to @nepd's response of "I'd like to transfer my POCKET to Bitshares please. I'd pay 1% of my tokens."
This service is offered by @virtualgrowth as an idea and effort to help establish a market to expand upon the POCKET protocol experiment. Anyone else may offer a similar service once they have tokens that they may exchange. This service may be terminated in the future but will be open and available for some time.
The balances of both @pocketexchange accounts on bitshares and steem(it) may be checked and verified where @pocketexchange's balance of POCKET tokens will be relative to the amount of POCKET tokens issued on bitshares with a difference of fees. Minimum amounts for this service may be increased at any time.
Have fun with your POCKET tokens on steem(it) and bitshares!
Lastly this is an alpha experiment, use at your own risk.
Follow / Visit @pocketexchange