STRENGHT!!!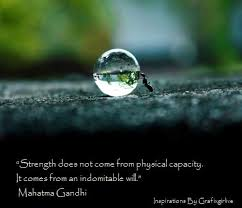 ---
WHAT DOES IT MEAN TO BE STRONG?
No one is ever born with super strength, it's been developed like any other skill. It consist of willpower, self-discipline ,persistent, the ability to concentrate and peace of mind.
We all have our own personal philosophy of what a positive state of mind or a positive attitude means to us.
*INNER strength includes all sorts of things such as being honest and open, communicating with integrity or anything else. I believe having inner strength is the opposite of aggression. People can act aggressively out of defense when they feels they are not strong enough to resolve a situation.
*AGGRESSION
Is a means of covering weakness.
You can be the most psychologically resilient individual and break down mentally if you lose a few days of sleep.
Being grateful and thankful for yourself will also help you find inner strength,even when you are feeling down, just look around yourself and say thanks for everything that you have at the moment.
Building inner strength is a LIFELONG task. If done right,not only will it pay of when difficulty arises,it will become habit and eventually a part of your identity.BE STRONG.
DASILVA!!!