ARMAGEDDON COME!!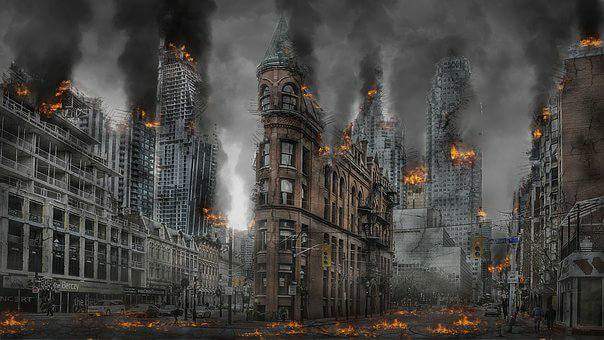 AYE!!!
The ruins of men peer at skies
From behind soulless eyes;
Upon the fall of a sacred darkness
Wherein the blood of sight
Is splattered upon the altar of end.
Cants to the heavenlies;
All men remain blind.
Armageddon come!!!
Shall he find an empty house,
A greenless tree;
Black spittle and grey seas?
Indeed. Ruins. The ruins;
Like rubbles riddling the earth;
Say, what has life but does not live?
What has death but does not die?
And the gods know not the answer.
Chants from hells;
All men have lost victory!
The battered men weep for joy.
The shovel readies for use;
Earth from earth to darkness;
Armageddon come!!
The night of days is lighted with old lamps;
Old creaky lamps like the aging fireflies..
Whom then shall the gods see and be appeased?
Stones and bones, stones and blood.
The temple stills for the requiem.
Choruses from earth;
All voices of a zillion despair.
Armageddon come!!
The valley rises to kiss the black bird;
Before the ashen bodies grope
For the most pleasant grave spot.
Armageddon come!!!