Red Field (A Poem)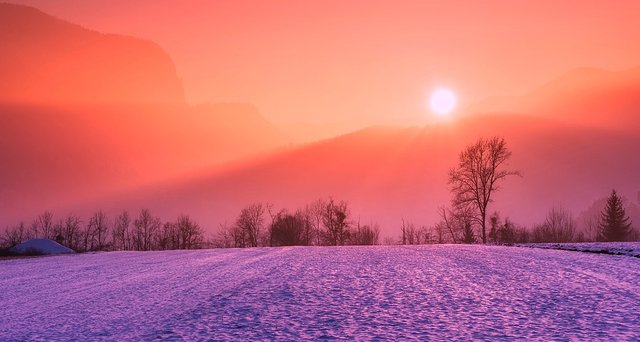 He watches the field turn red
And as the sun's about to kiss day goodbye
He stared at the peeking silvery moon
Slowly spreading its soft silver glow
He sighed at amazement while
His emotions going in disarray
Another day is about to end but what's lost
Hasn't been found—slowly,
A shadow creeps inside his ears
Whispering words of despair
Love, why is it so painful
His lover, is she not coming back?
How long will he wait?
His heart started cracking
Unable to sleep—emotions
Going out of control while looking
At the red field...
---
"I would never sleep. I knew that. Not with my blood ringing in my ears, and my heart beating an angry staccato rhythm in my chest. I would never relax." ? Ruth Ware, The Woman in Cabin 10
CCO Creative Commons Images from Pixabay [1] [2]
Bags of Goodness
Join PIVOT and earn free BTC just by reading and sharing articles! Register by clicking the link below! PIVOT Registration
Got some extra time? Then join one of the oldest and best Bitcoin faucet on the face of the internet! Just click the link below to register!Freebitco.in Registration
If this post is older than 7 days, please support by upvoting my latest post

latest post

latest post
---